Last month I posted a write-up about a trip I am planning with some friends to go dual sport riding in Costa Rica this coming February. Since there aren't any motorcycle races this weekend, it seems like an opportune time to post a little update.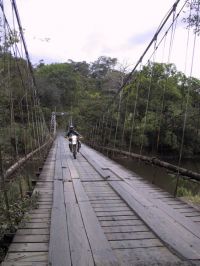 First, one detail has changed. In my first posting I mentioned that we would be riding Suzuki DRs. Well, Todd spent a couple of weeks talking to motorcycle rental companies in Costa Rica and eventually settled on Wilhelm von Breymann's Costa Rica Motorcycle Rental Company. We will be renting KTM 640LC4s from Wilhelm though I'm sure Todd momentarily considered the additional entertainment he would get watching me try to wrestle a 950 Adventure through the jungle before settling on the smaller bike. The KTM LC4 should be a great bike for our Costa Rica trip since it has enough power to make time when the roads will support it while still being small enough to explore trails off the beaten track.
With the books reserved, we booked the plane tickets through America West flying through Phoenix. This means that I'm only six hours from a hospital that will accept my medical insurance once we start the return trip.
The focus our our ride in Costa Rica will focus on two main areas. Exploring the Nicoya Peninsula while staying at a hotel in the town of Montezuma on the southern coast. Then we'll relocate to the town of Puerto Jimenez where we will explore the Osa Peninsula. My guess as to our itinerary is:
- Saturday - Fly into Costa Rica, check into air port. Drink like fish to celebrate our arrival.
- Sunday - Wake up hungover and grumpy. Pick up KTMs. Ride north out of San Jose, do a big loop around Arenal volcano involving little known trails, dangerous animals, flaming lava and unfriendly natives. Turn south after going around the north shore of Lake Arenal. Ride to the southern tip of the Nicoya Peninsula arriving in Montezuma late at night exhausted, battered and pissed off. Drink like fish.
- Monday/Tuesday - either ride around the Nicoya Peninsula or sit in hammocks on the beach trying to recover from the broken bones earned during the first day of riding. Drink like fish.
- Wednesday - Ride back up the Nicoya Peninsula and then down the Pacific coast to the town of Porto Jimenez on the Osa Peninsula. Despite the seemingly easy day, I'm sure something will come up which will have us wading through chest deep water on a goat path that hasn't been used this century and which will result in us arriving last at night exhausted, battered and pissed off. Drink like fish.
- Thursday/Friday - either ride around the Osa Peninsula or sit in hammocks on the beach trying to recover from the snake bites earned on Wednesday. Drink like fish.
- Saturday - Try to repair all the damage to the bikes so we don't lose our damage deposit. Return to San Jose broke, exhausted, battered and pissed off. Drink like fish.
- Sunday - Fly back to the US, bragging about how everything went perfectly according to plan and it was the greatest time ever. Make plans do it again soon.
One thing I decided is that I need a good 3/4 length enduro jacket to bring on the trip. I need something with armor so that I can minimize the damage riders often get when riding with Todd but it also needs to flow air to deal with the tropical heat and have good rain protection in case the rainy season hits early next year. Based on the research I've done online I think the First Gear Kilimanjaro Air Mesh jacket is just the ticket. Now i need to find a local dealer that stocks the thing so that I can figure out which size works. If I can't find one in the next few weeks, I'll just wait till November 19th and see if any of the dealers at the Cycle World International Motorcycle Show have the jacket for sale.
As always, if anyone has any suggestions or opinions about gear or riding in Costa Rica please post a comment. I'll post some more later once more of the plans for the trip have come together.
[image from the Wild Rider Costa Rica web site.]