Author: site admin
Category: Uncategorized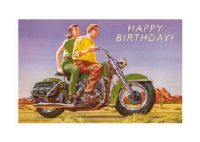 This past weekend marked the one year anniversary since I was stupid enough to tinker around with a blog. At the time, I just thought I'd post a few things to see how it worked and then move on to something more important like creating a Wiki of motorcycle racing information. However, this minor side trip into the world of online information quickly became an obsession and the Wiki never got beyond the initial install point.
As for the blog, for my first year I set myself the goal of writing one article per day of the work week and then taking weekends off to have something that resembled a life. As a result I have typed up nearly 250 articles and have kept to my schedule except for when vacations have pulled me away from the computer. I've covered almost every MotoGP, AMA and World Superbike race. I've also covered many of the AMA Supercross and Motocross races, some of the Supermoto races and done entries about the major motorcycle shows. In addition to motorcycle content I've tried to inject my perspective and strong opinions about the topics I cover rather than just regurgitating press releases or web pages. Finally, I've experimented with creative approaches to things in the hopes that I will improve as a writer and it prove interesting to readers.
In some cases I think I've been successful while re-reading some of the postings show they are pretty lame. On one hand I'm thrilled that I was able to successfully follow such a strict publishing schedule and that the sheer number of postings meant that I could cover so many different aspects of motorcycling. On the other hand, many of the postings seem rushed with perhaps more quantity than quality. Additionally, it takes between two and three hours for me to create, proof and publish each article which is a pretty significant time investment, no matter how much I enjoy maintaining the blog.
For the second year of my blog, I'm going to take on a more relaxed publishing schedule. I plan to continue writing when I have a topic in mind but won't necessarily be posting every day. Hopefully, this will mean I have some extra time to do data collection and proof-reading on some of my postings rather than feeling pressured to keep up my daily postings. Maybe I'll even find some time to start on that Wiki idea…
Finally, I want to say "Thank you" to everyone that has read my blog. My web stats show around 2,000 hits per month on my main blog page and another 2,000 per month as rss feeds. I'm indebted to everyone that has taken the time to read any of my writings and doubly appreciative of those who repeatedly visit my site. My birthhday wish for the blog is to hope that everyone who visits finds something interesting, enjoyable or informative.
Thanks for your support!
[image from the Allposters.com web site.]