Author: site admin
Category: Bike reviews
A couple of weeks ago, I did a motorcycle show intro about the British NEC show. This was a follow-up to postings I'd done earlier about this Fall's Paris and Tokyo motorcycle shows. Well, this coming week is the last and biggest of the major shows: The International Motorcycle Exhibition in Milan, Italy. Since this is the final of this year's major expos expect any manufacturer that hasn't already blown its marketing wad to unveil new products and interesting concept bikes this coming week. Since the Milan show is the granddaddy of all bike shows, at least in terms for floor space set up for exhibitors, it is more of a spectacle than any of the other shows.
Historically the Milan show, like the Munich and Paris shows, has been a biennial event but it's popularity has grown to the point that it is now going to be held annually. Lets throw out a few numbers to show just how popular this thing really is. First, over 1,500 exhibitors are scheduled to be at the Milan Show. Think about that for a second…that kind of turn-out highlights just how incredible the motorcycle market is in Italy. Next up, the exhibition area is nearly 700,000 sq ft in size indoors and over 600,000 sq ft outside. In addition to the traditional booths and displays that will be set up inside the Nuova Fiera Milano convention center there will be a large number of activities happening in the outside space including freestyle motocross demos, supermotard and supercross races, trials performances, riding classes, motorcycle and scooter test drives and live concerts. Wow.
You know, reading the descriptions of what all happens at the NEC and Milan shows really brings to light how the Cycle World International Motorcycle Show is incredibly lame. If, somehow, the Cycle World show in Denver could be combined with the CycleFest held annually at Copper Mountain (with demo rides, supermoto racing, organized rides, etc) then it would be getting close to the scope of one of these major international shows. One can always dream that the US motorcycle market will eventually grow to the point where an American expo will be considered equal to a Paris, a NEC, a Tokyo or a Milan show. 'Course, given the current grown in the US motorcycle market such a show would probably be made up primarily choppers anyway. Sigh.
…but I digress. Now where was I? Oh yes, talking about the Milan show. Well, the excitement has built continually all Fall as each of these major shows has revealed an increasing number of new bike announcements and radical prototypes unveillings. Thus Milan is bound to have a few surprises in store. The current rumors are: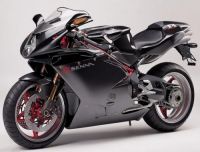 First, MV Agusta will announce the new F4 Senna which is their Ayrton Senna replica but using the 1000cc F4 1000S instead of the earlier 750cc version. Likewise, MV Agusta should also show off their 910R Brutale naked bike. It is hard to beat a MV when it comes to a lustworthy and exclusive bike, so expect their showing to be the biggest news coming out of Milan.
Benelli, freshly returned from the dead thanks to a last minute infusion of money, are rumored to be showing two versions of their three cylinder Tornado sport bike and an updated version of their TNT naked bike. The Benelli triple was an innovative bike when it was first made a decade ago but their lingering financial problems have prevented development and the bikes are pretty dated now. They need to find about 20 hp and do a redesign to get the bikes up to modern spec.
Aprilia, also saved from bankruptcy after being purchased by Piaggio last year, is starting to show some movement. Their big news at Milan should be the overhauled RSV Mille sport bike, as well as updates to their European bread-n-butter two stroke sport bikes like the RS-125 and RS-250. I think the RSV Mille Factory is one of the prettiest sport bikes available so hopefully their updates have been aimed at keeping it competitive in a market where performance is improving year to year. I'm looking forward to seeing one of the new Milles when they finally make it to the states.
Bimota, yes yet another Italian motorcycle company that was out of money just twelve months ago but is now back in business. In this case, a consortium of Italians raised the money to start making Bimota motorcycles again. All the new Bimotas will use Ducati engines but very little is known about the new model they are expected to announce other than that the name will be the Delirio.
Ducati has already shown its new bikes but the Monster S4RS which uses the S4R frame but with the water cooled three valve motor from the Multistrada should be officially announced. Otherwise, not much excited from Ducati at their home expo.
The last of the Italian motorcycle companies rumored to be showing new product next week is the small manufacturer Moto Morini. This company is…wait for it…back from a bankruptcy induced dormancy that has lasted for the past decade. They have designed their own 1200cc V-Twin and are creating a line of bikes around this motor. The first was the Corsaro sport bike and now their follow-up, the 9.5 naked bike, should be unwrapped in Milan.
Naturally, the main players in the Italian scooter market like Piaggio (aka Vespa), Cagiva, Gilera, Aprilia will be showing new step throughs, as will Peugeot. The Japanese all pulled the cover off their scooters at the Tokyo show so its up to the Europeans to answer with their own prototypes and concept scooters.
But the Italians aren't the only ones popping off some surprises in Milan. BMW is expected to announce some new models as a follow-up to their NEC show unveilings. First is a sport-touring version their newly announced 800cc parallel twin which will be called the F800ST. Keeping with the sporting trend they will roll out the R1200S sport bike and a K1200GT.
Finally, KTM is also bringing the big guns to Italy with two versions of their Adventure using the 990cc motor, a factory built enduro using the 950cc motor and probably showing off their 990cc sport bike prototype again. In my opinion, KTM has now completely overtaken Ducati as the most innovative and rapidly reacting motorcycle company in the market. Now if they could just get that big 990cc certified in the US so they could import all these cool bikes…
Alright, so I'm again jealous of the motorcycle treasures which are cascaded upon the heads of the European motorcycles. As if our government wasn't enough of a reason for me to head across the pond now these shows are adding even more temptation. With the race season over, the silly season nearly settled and now the bike shows finishing up, it is starting to look like a long winter is ahead…
[image from the Beaudry Motorsports web site.]