Author: site admin
Category: MotoGP
With the echos of the thundering MotoGP bikes still echoing off the grandstands in Valencia from last weekend's last race and the trophies still warm from the hands of the championship winners it was immediately time to roll up the shirt sleeves and start work for the 2006 season. On Monday, the day after the final race, much of the MotoGP paddock was back in action testing bike parts and new tires. The main reason for such a prompt turn around from racing to testing is because there are only three weeks before the mandatory test ban which starts in December.
As I mentioned last year, I think the test ban is particularly difficult on the smaller teams and that was true again this year as neither TeamKR nor WCM were in attendance this week. However, the big dogs of Honda, Yamaha, Kawasaki, Suzuki and Ducati were all present and accounted for as soon as the track was available.
The first order of business was giving the press a chance to sample the bikes. In the past only the top one or two bikes from a given year were handed over to the hoards of crazed journalists for a flogging but over the past three years it has become a tradition for nearly all the bikes to be ridden back-to-back in the same day by the scribes. Honda is the only standout as they prefer for their bike not to be directly compared to the other bikes so a separate press outing on the RC211V is always scheduled after the end of the season. For the other manufacturers their 2005 bikes are put through their paces by the pen pushers and then the smoking ruins which are left behind are hastily rebuilt so that proper testing for the factory teams can begin the next day.
In the past it was always the run of the mill press hacks which were set loose on the GP bikes but that has changed over the past few years as professional riders have been brought in by some magazines to test the bikes a little closer to their limits. The big names riding the bikes for the press this year were current 250GP racer Jakub Smrz and ex-500GP winner Luca Cadalora. Presumably the magazines running reports from these guys may actually contain accurate information about the bike's performance and the feedback from these riders may actually be useful for the teams. A real win-win…
When the scribes were done it was time for the company big wigs to give out some complimentary rides as a year end bonus. For Honda, this mean handing the key to a RC211V over to 2005 125GP champion Thomas Luthi, 250GP rider Andrea Dovizioso who finished third this year and World Superbike rookie Max Neukirchner. All three were being rewarded for their hard work on Honda's behalf this year but their test ride also shows that Honda is looking to them as possible future MotoGP racers. Meanwhile, Yamaha and Honda both looked to the past as well by offering rides on their bikes to past Grand Prix greats Giacomo Agostini and Fausto Gresini. Yamaha let 15 time World Champ Agostini out for a spin on Rossi's M1 while Honda allowed Fortuna Honda manager Gresini take one of his teams' bikes out for a few laps. (As an aside, a certifiable motorcycle racing geek like myself would give up a kidney to watch someone like Agostini or Gresini ride so this was really an pretty rare and amazing event. Anyone that got to watch it should consider themselves very lucky.)
Next up was the task of testing prospective riders for near season. This year a few of the second string teams were in a position to scope out new talent so a few racers suited up in an effort to earn a job. First up were ex-WCM rider James Ellison and ex-GP and current WSBK rider Jose Luis Cardoso who both went out on the D'Antin Ducati. It looks as if the D'Antin team will have access to near factory spec 2006 Desmosedici bikes and may also have the funding to run a two rider team next year. While it seems likely that Roby Rolfo will be one of the riders there may still be an open seat alongside him. Ellison would seem the more obvious choice of the two new testers, given is age and recent GP experience. However, Cardoso has a long history of racing with D'Antin and, like nearly any rider with a Spanish passport, probably brings wads of sponsorship bucks with him.
A less obvious try out was Kurtis Roberts who stuck around after racing his father's bike last weekend to turn a few laps on the Suzuki GSV-R that was recently vacated by his older brother. It would seem that Suzuki is already full up for next season with Hopkins and Vermeulen on their bikes but appeared to be checking out Kurtis nonetheless. It seems unlikely that this test would progress to anything further with Suzuki but the experience on the V4 will probably be helpful if Kurtis races his father's Honda powered Proton in '06.
Speaking of which, Kenny Roberts Jr was scheduled to test a Honda this week but his wrist injury from the Phillip Island crash prevented this. Like his bro's test ride on the Suzi, having KRJr test a Honda probably wouldn't have been for a ride (though there my still be a Pons seat available) but would likely have been arranged to give TeamKR's prospective lead rider some time to get acquainted with the Honda motor. Too bad that KRJr was unable to make the ride and given Kurtis' rocky relationship with Honda of late it wasn't bloody likely that Big Red was going to let him try out the bike…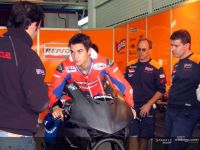 Finally, it was time to get down to the business of testing bikes. The most exciting part of this was getting a first glance at the riders who are new to the series or at least on a new team for next season. Unfortunately, the weather didn't cooperate so relatively little testing was actually done over the three days available but each of the riders did get a little time aboard their new bikes.
Honda had a few fresh faces in the garage with two time 250GP title holder Dani Pedrosa making his debut on the Repsol Honda and ex-Yamaha rider Toni Elias throwing his leg over the Gresini Fortuna Honda. In the next garage over, ex-Ducati pilot Carlos Checa (unofficially the second Pons rider) and his new teamate 250GP runner up Casey Stoner were giving their now unsponsored Honda a run down. Checa went a little further by also testing the crash-worthiness of the bike on lap three of his inagural ride. Ouch! Just down the paddock row ex-Honda racer Sete Gibernau was able to get his first laps aboard the Marlboro Ducati. Finally, two MotoGP rookies were becoming acquainted with their slower bikes as WSBK runner-up Chris Vermeulen checked to see if the Suzuki is faster than his old Ten Kate Honda World Superbike and 250GP front runner Randy De Puniet stretched the Kawasaki's throttle cables trying to keep his old rivals Stoner and Pedrosa in sight.
In addition to the newcomers, most of the old guard were back in action starting their serious testing for next year. MotoGP runner ups Marco Melandri and Nicky Hayden were both testing suspension, frame and tire improvements for Honda. Ducati brought out their test rider Vittoriano Guareschi to help sift through new parts for the Duc. Kawasaki test rider Olivier Jacque was doing the same testing of evolutionary changes to the ZX-RR. Under the Suzuki tent, both John Hopkins and test rider Nobuatsu Aoki were punching the clock to start their winter test program with the hopes of finding some more power for their bikes.
There were a few notable absentees, in addition to TeamKR and WCM. First and most interesting was World Champion Valentino Rossi who skipped out on the week of testing to go off and drive a Ferrari F1 car for a few days. Likewise, his teammate Colin Edwards was a no-show leaving Yamaha with no testing during this first window of opportunity. Kawasaki's Shinya Nakano was scheduled to test but instead flew back to Japan to have the hand that was injured in his pre-race Valencia highside looked at by a doctor. Another Japanese disappearance was Monitron Konica Minolta's Makoto Tamada who had apparently flown back to Japan after last weekend's race.
In the end cold weather and rain washed out most of the three days of testing though a few determined riders like Nicky Hayden did venture out to test rain tires today. Many of the teams will be back in action over the next three weeks, most of them at Sepang this coming weekend, as they try to put new parts through their final paces before being integrated into the 2006 bikes. Laps times this early in the year are generally meaningless but as would be expected it was the two young Honda riders who topped the time sheets this week at Valencia. Of the class rookies, Casey Stoner was the fastest just a second or so off Hayden's fastest times during the test. Of those testing or getting guest rides it looks like James Ellison was the fastest, just 1.5 seconds down on Hayden's high water mark. In fact, of the times that were reported, the young racers were all clustered in a 10 second window with elders Agostini and Gresini another 10 or so seconds off the slowest times of the other riders. (Still for a 44 year old team owner like Gresini to turn in laps just 20 seconds off the fastest time of the test after having not ridden a bike in 10 years is pretty impressive stuff!).
This was just our first glimpse of the new teams, the new sponsors and the new riders. Expect their potential to shake out at the tests this month and then to really start to shine when they start testing the 2006 bikes early next year.
[image from the Official MotoGP web site.]