Author: site admin
Category: MotoGP
With the '05 MotoGP season finally over I have a lot of thoughts about the season that I'll be posting over the next week. Here is one of them…
Nature is a fascinating thing. Millions of years of evolution have created an amazing amount of biological diversity. Plants, in particular, illuminate this spectacular variation. There is a ruthless war happening in the taxonomical landscape that is your back yard: insects, bacteria, UV rays and even other plants are making a constant assault on the flora and fauna. For its own defense the vegetation has adapted to these attacks with the full spectrum of biological weaponry. Some plants have thorns or spines, others secrete toxic chemicals, others hide or mimic other varieties and some others grow armour. Every species reacts differently but they all react. But this blog is about motorcycles not botany so what's the point you might ask?
Well, there has been a ruthless assault taking place in the MotoGP paddock this year and the aggressor has been one Valentino Rossi. What has been intriguing to watch is how the other riders have developed their own unique defense mechanisms to protect their egos. Here is my take on a few of the racers and their strategies for protecting their self image.
First up is the most obvious example of a Rossi target: Honda's Sete Gibernau. The history of the champs' psychological barrage on the Spaniard has been well documented in the motorcycle press since it started at the 2004 Qatar GP. What hasn't really been highlighted as been the public response from Sete. Reading back through the post race interviews with Gibernau this season I regularly hear the Honda rider talking about his races in the first person plural grammatical form. For example, he might say "We had some bad luck.". As my co-worker Jeff once said "We? What, does he race with a mouse in his pocket?" It seems to me like this is a pretty straight forward attempt to avoid taking personal responsibility for bad results. By talking about "we" rather than "I" there is an implication that the team was also to blame. In some cases this may be true but in others, like Gibernau's tour of so many of the gravel traps at this season's circuits, it is just case of outright rider mistakes.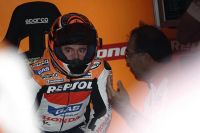 The second rider to view the MotoGP Rorschach ink blot and see a menacing Vale is Honda's Max Biaggi. The veteran Italian has been squarely in the sights of Rossi since 2000 when Valentino joined the premier class. Max has always struggled to develop an effective shield but his most common method of defense is to blame the bike. In fact, he was so adamant about problems with his RC211V this year that he has talked himself right out of a coveted Honda ride in 2006. One of the first rules of a motorcycle racer is to promote the company and that means when you win, it is because of the bike and when you lose, it is because of a mistake by the rider. Thus racers have to possess a particularly thick skin so they can take the blame for problems while still promoting the bike. Clearly Biaggi has fallen down in this regard. What's more, he is complaining about what is probably the best bike in the world while he is the star rider for the best organized team in MotoGP and while he has one of the most experienced GP tuners as his adviser. Everyone else on the grid would love to have those kinds of bike issues. Nope, I think the truth is that Max failed to lead development of the 2005 RC211V in a positive direction and that is why he has struggled. The finger needs to point back at the rider. Sometimes the truth hurts…
Less clear is the case of Honda mounted youngster Marco Melandri. After a weak 2004 season on the Yamaha M1, the Italian moved to the Gresini Honda team this year. He quickly came of age as a MotoGP rider in 2005 and was a serious threat to Rossi as early in the season as Assen. The two Italians had been friends at the beginning of the season but that didn't stop Rossi from leveling some strong criticism at Melandri as soon as he accomplished a confidence sapping defeat of the younger rider at the Dutch circuit. Melandri then went into a mid-season slump that was characterized by successive crashes at Laguna Seca and Donnington then two results outside the top five at Sachsenring and Brno. It was only after the accident and resulting injury in Japan that he regained his mojo and finished the season strong. What's more, Melandri's response to the mind games was to basically quit talking. His comments in Honda press releases were short and somewhat robotic. It is as if he was just trying to disappear off Rossi's radar rather than submit himself to the whithering glare of his friend. Clearly Melandri has shaken off those concerns the last five races of the year and is now the strongest contender for the champ going into 2006. What's more, he has also found a way to maintain his friendship with his rival, something Gibernau was unable to do in 2004.
Another rider with an interesting reaction to suddenly being considered a championship contender is Honda's Nicky Hayden. The Kentucky Kid said early in his MotoGP career that he wasn't intimidated by the GP regulars because he had grown up being schooled by AMA dirt track riders like Scotty Parker, Jay Springsteen and Chris Carr (not to mention in roadracing by the master Matt Mladin). Nonetheless, it seems that Hayden's advancement as a MotoGP front runner took a definite side track in the middle of the 2004 season and then started out slow in 2005. Being beaten by Rossi can really rock a rider's self-image and while Hayden rarely talks trash he does sometimes appear to defer to his ex-teammate in press releases. I think that for awhile Nicky honestly doubted whether he could beat the Italian superstar and it was only his competitive ride at Assen, followed by his break through win at Laguna, that finally erased those doubts. Perhaps Nicky has shrugged the doubt demon off his back and will start next year with his head eld high and his eye on the prize.
Finally, lets look at Rossi's current teammate at Yamaha, Colin Edwards. It is bad enough to be racing during the reign of a dominant rider like Rossi without having the additional pressure of sharing a garage with the guy. If anyone can pull it off the laid back Texan could be the one. Nonetheless, I think even Edwards has wrestled with the psychological effects of being soundly beaten by Valentino while riding what is basically the same bike. The biggest outward sign of this is that Edwards basically abandoned his previous Superbike inspired form of riding that relies on squaring off corners for strong acceleration and has tried to re-develop a riding style more like that used by 250GP riders who rely on high mid-corner speed for a good lap time. I think that Colin, no matter how talented he may be, is groping for an answer as to why Rossi is winning while Edwards is fighting at the tail end of the top ten. This is especially baffling since the pre-season talk centered around how similar Edwards' setup is to that used by Rossi. Same bike, same setup but different lap times. Ouch. To his credit at least the American has reacted by knuckling down to the hard task of becoming a better rider rather than just shrugging it off as a bike or team problem.
Alright, so I'm hardly an arm chair psychologist. Outside of a few classes in college (a *long* time ago) I have no training whatsoever in the study of the mind. What I am is a racing enthusiast and someone that listens when riders talk. Rossi is phenomenal and I think every rider has to find a way to protect their self-image when racing against the master. I don't blame the riders, in fact I think it is a necessary form of mental self-preservation. However, I also think their are productive ways to respond and non-productive. What's more, I think the results of these non-productive defense mechanisms can be plainly seen in the results turned in by Gibernau and Biaggi during the 2005 season while the more productive methods are reflected by the other rider's clustering in the second through fourth places in the championship standings.
Perhaps in 2006 we'll get a chance to see what Rossi's defense mechanism will be if he finds himself being pressured for a change.
[image from the Max Biaggi web site.]