Author: site admin
Category: MotoGP
We would all like to think that MotoGP is all about the best riders on the best bikes and that those two factors alone would guide the sport.. Well, not so…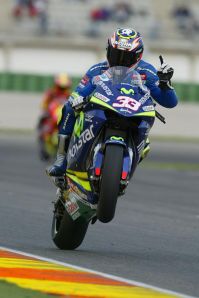 One of the big surprises for the '06 season is that with Sete Gibernau leaving Team Gresini Honda for Ducati and with rising Spanish superstar Dani Pedrosa being moved to the official factory Repsol Honda team Spanish company Telefonica Movistar is pulling their money out of MotoGP and heading to Formula One. Altadis, who is mad at Yamaha, is then moving their Fortuna brand (and the associated sponsorship bucks) to follow Spaniard Toni Elias in his move to the Gresini team as Marco Melandri's teammate. This leads to the chicken and egg question of whether Fortuna is following Elias or whether Fortuna moved to Gresini and bringing Elias with them. In other words, who is calling the shots out there? The factory? The team owner? The sponsor? The rider?
The answer to those questions becomes even more clouded when you look further down the paddock. First, there is the whole Honda-Camel-Biaggi deal going on where Honda is upset with Biaggi because of some comments he made in the press and are refusing him a ride in 2006. Camel, a major personal sponsor of Mad Max, got involved and in a huff pulled their sponsorship of Sito Pons' team. It is likely that if someone can find a seat for Max next year they will also get a big fat check from Camel in return. Who knows who will step up to stick their logo on the side of the Pons bike.
Then there is the Yamaha-Rossi-Altadis legal battle which really clouds the issue of exactly how important sponsorship is in the high dollar (or perhaps high Euro or high Yen) world of motorcycle racing. One would assume that Yamaha would want all the financial help they can get in order to offset the monsterous cost of Rossi's salary (rumored to be somewhere north of $15 million for one year!). However, Rossi doesn't want to run in Gauloises colors next year since that could complicate his hopes of testing Ferrari's F1 car in 2006 (since Ferrari is sponsored by Marlboro). As a result, Yamaha plans to run Rossi with his own private sponsors and that has really pissed off Altadis, the owner of the Gauloises brand. A lot of lawyers have been seen walking in and out of the Yamaha HQ of late. Apparently money isn't the only thing guiding policy in the Yamaha garages.
But back to the original issue which is Telefonica leaving MotoGP and being replaced by Fortuna as main sponsor of the Gresini Honda squad. This change up could end up being very important to Marco Melandri. Honda's contract with major sponsor Repsol has for years stated that only the official factory Repsol bikes could get the latest development parts from HRC. This has always meant that the "best" Hondas were the Repsol Hondas and parts only trickled down to the other Honda teams after the mid-point of the season. Well, last year Movistar (a telecommunications giant) and Respol (a multi-national oil empire) started doing business together. As a result of that corporate intermingling it appears that Repsol was willing to loosen the contractual leash on HRC which allowed Sete Gibernau to have a "third" factory bike starting at the beginning of the year.
The assumption for '06 was that the good stuff would be given to Melandri who, along with Repsol rider Nicky Hayden, would develop the RC211V in '06. But now Movistar is no longer in the picture. While none of us, outside of a few Japanese lawyers, will ever really know what is or isn't in the Repsol contract, it is possible that Gresini will not be eligiable for the fancy parts since Respol may not be obligated to share their HRC access with Fortuna. This could mean could shake up both Melandri and HRC's plans.
However, sponsorship isn't the be all, end all of the MotoGP story. Some teams, most notably Suzuki, have been running without any outside money for a few years. Then again, it seems like Suzuki could have a few extra pennies in their bank account to fund engine development so maybe they aren't the best example. Two other teams, WCM and Kawasaki, have gotten by with relatively little additional funding. Then again, I suspect their rider salaries aren't anywhere near the dosh being spilled out by Honda and Yamaha so again this may not tell us much.
It will be facinating to watch all these stories lines shake themselves out over the next few months. For now the only answer to any of these questions is that money is always going to be a major issue as the costs of competing in MotoGP continue to spiral.
[image from the Roadracing World & Motorcycle Technology web site.]