Author: site admin
Category: MotoGP
It is a well known saying that you shouldn't wait till the last minute to do something. Well, that was the theme for this weekend's MotoGP finale at the Valencia Circuit in Spain.
The first person to wait a little too long to take care of business was the 2006 MotoGP champ, Valentino Rossi. When qualifying got underway Rossi was one of the first to show he had the pace to win at Valencia. He was consistently running laps at the anticipated race pace and was turning in laps early in the session that indicated he had what it would take to start from the front row. This being particularly important at Valencia because passing is so difficult. Unfortunately, he waited until late in the session to put on his first Q tire and then had an uncharacteristic crash which destroyed his number one bike. Vale was uninjured but wasn't able to get things together in time to improve his qualifying time. The result was an atrocious 15th place starting position which meant he would be lining up on the fifth row.
While Rossi waited too long, the Movistar Honda riders did everything right to end up with Gibernau on pole with a new lap record followed by his young teammate Melandri. Hayden finished out the session in third to create the second successive all Honda front row of this year. While Gibernau hasn't done any winning this season he has put in exceptional qualifying performances at each round. This consistency was good enough to win him a new BMW M5 car because of a contest the German company was sponsoring to reward the best qualifier of the year. The second row of the grid was a mix of brands with Checa on the Duc, Biaggi on the Honda and Edwards on the Yamaha. Capirossi headed up row three with Barros separating him from Nakano…this being important because the two came together in practice which resulted in both crashing. Shinya was okay but then had a nasty highside later in the day which beat up his left hand pretty well. Loris is riding with tender lungs after his crash at Phillip Island but fortunately wasn't further hurt in his crash.
Biaggi, perhaps not wanting Nakano, Capirossi and Hoffmann (who is still recovering from a broken foot) to feel bad, crashed his bike in the morning practice before the race and banged up his side. Clearly the Honda rider was waiting until the last minute to throw his RC211V into the kitty litter so he would have a better excuse for a poor ride than a mysterious front end chatter. However, his team put in a super human effort to get the A bike put back together before the race erasing that possible defense. Still, Mad Max's accident meant three guys out the top 10 were riding with help from Dr. Costa.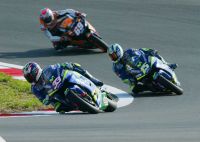 Some 124,000 fans packed into the Valencia circuit to watch the last race of the 2005 season. Stop and let that sink in for a second as that is over twice the crowd that showed up on Sunday this year at Laguna Seca. Clearly, all eyes would be on Rossi to see what he would do with his fifteenth place starting position. Perhaps the crowd should have watched that all Honda front row instead, because all three riders got off to a great start. Then again, had the fan's focus been slightly further back they would have seen Rolfo bump with Nakano in the first turn which resulted in the Ducati rider getting punted into the gravel.
Melandri decided not to delay punching the clock and instantly started throwing down lap record laps back-to-back. This opened up a small gap over his teammate Gibernau and Hayden who were holding down 2nd and 3rd. On lap four ominous smoke started pouring from the Spaniard's motor and he pulled off with a frag'ed motor giving Hayden an open invitation to run down Melandri. While the intra-Honda scrap was going on Rossi was busy making the rest of the grid look like chumps by charging from 15th to 3rd in just four laps. Vale could basically pass anyone, anywhere.
Next came the laps of shame for some of the back markers as first Aoki pulled out with a mysterious electrical failure on the Suzuki. Then Kurtis Roberts wheeled the TeamKR V5 into the garage on lap 17. Finally, Ellison dropped out on the WCM. Lessee, if one considers WCM, TeamKR, D'Antin Ducati and Suzuki are all racing to not finish a race in last place then it seems clear that their 50% failure rate ruined their competition this weekend. (Battaini eventually earned the highly coveted "back of the pack" award when the racing was done for the day.)
Back at the sharp end of the pack, Hayden shadowed Melandri for the entire race. Rossi worked his way up to third pretty easily but by lap four he was six seconds down on the leading pair and was unable to close the gap once he had clear track ahead of him. At various times during the race both Melandri and Hayden turned in laps faster than Rossi's best time for the day though on average Rossi was slightly quicker which meant he slowly whittled down the gap. Ultimately, the champ just didn't have time to overcome the advantage he gifted to the two youngsters during those first four laps and crossed the line around two seconds behind the leaders.
With two laps to go and with the Kentucky Kid parked on his rear wheel Melandri uped the pace. Hayden was able to match the Italian's speed and closed up again for a last lap pass. Unfortunately, Nicky left it too late to make his move. Melandri got the rear tire spinning on the entrance to the last left hand turn but that threw Hayden off as he was bearing down for a pass at the exit of the turn. Hayden hesitated for a moment to see whether he should go inside or outside and that was all it took for Marco to close the door. The American couldn't go around the outside and didn't get a good enough drive for a draft pass. Melandri won with Hayden second and Rossi third. Next came the Geritol brigade with Checa, Barros, Biaggi and Capirossi all in a parade across the stripe. Further back Edwards lead Tamada with Elias, Nakano, Kiyonari, Hopkins, Hofmann, Xaus and Battaini rounding out the finishers.
Clearly Melandri and Hayden both showed they have stepped up to become the new challengers for Rossi's crown. It was too little, too late, in terms of stopping the juggernaut that was Rossi in 2005 but their performance at Valencia is bound to leave every MotoGP team chomping at the bit for the '06 season to get underway. Having the season end in such an exciting way is perhaps the best thing Dorna and the FIM could have hoped for in terms of keeping interest in the series going over the winter. Now the governing body just has to figure out how to manage costs so that they can keep the smaller players in the game for another year.
When the bean counters finished with the math Melandri earned second in the championship by 14 points over Hayden in third. Proving consistency beats race wins, fourth went to Edwards and fifth to Biaggi despite neither winning a race. Two time winner Capirossi held on to sixth despite missing races with his lung injury. Gibernau somehow got seventh despite spending a much time in the gravel traps as on the track. Barros may have won in Portugal but he could only manage eighth in the overall championship followed by Checa and Nakano to close out the top ten.
Elias got the rookie of the year award due to his 12th place overall but really there were no other rookies for competition except some wild card rides and the guys on the back-o-tha-pack gang.
Finally, there was a whole slew of of silly season news most of which centered around Honda. Gibernau confirmed his plans with Ducati which freed up a spot at Gresini Honda which was then taken by Toni Elias. Next Honda implied that they would not be resigning Biaggi for '06 because of some negative comments he made about Big Red in an interview. This suddenly opened the door for Casey Stoner to get a surprise offer to ride for Sito Pons. Biaggi's dismissal ticked off Camel, Pons' sponsor, who promptly yanked their considerable dollars away from the Honda team. (I suspect WCM, D'Antin, TeamKR, Suzuki and Kawasaki all burned up the speed dial on their cell phones calling Camel once that news leaked out!) Without someone holding the corporate money bags for next year, Pons then stalled on his offer to Carlos Checa who, coming full circle, was let go from Ducati to make room for Gibernau. Who will get the Pons seat? Biaggi? Checa? Barros? Either way, you can be sure the rider will be closer to an AARP membership than any of the other racers currently signed with Honda for next year.
Finally, TeamKR confirmed their plans to run a Honda motor in 2006 and hope to have a modified version of their frame available for winter testing by early December. They may find it cold when they do go testing because, as I mentioned in an earlier posting, Hell has undoubtedly frozen over if Roberts and Honda are working together.
The off season officially starts now with just four and a half months until the first green flag of the '06 season…but don't wait till the last minute to start following the season as the first testing starts his week at Valencia.
[image from the Honda Racing web site.]