One thing I've generally avoided on this blog are posts which basically just bitch and moan about things I don't like. There is enough negativity in the world without another self righteous blogger spewing bile on his web site. Nonetheless, there have been rare occasions when I use the blog to complain about something and I'm sorry to say that I'll be doing that again today…
This past Tuesday SpeedTV televised shows which chronicled the two rounds of the FIM World Endurance Championship's Master of Endurance mini-series. This series highlights the two most famous motorcycle endurance races in the world with the Bol D'Or at the Magny Cours Circuit and the 24 Hours of Le Mans at the Bugatti Le Mans Circuit.
So SpeedTV shows motorcycle racing and I find something to whine about, I can hear you thinking…what kind of ungrateful sourpuss am I? Well, its not the that they showed the endurance races that is the problem but instead the format of their footage. SpeedTV chose half hour episodes with which to cover the two races. These are 24 hour endurance races so that is a huge amount of content to be cutting down to a 30 minute show. Throw in 10 commercials and you only have 20 minutes of race coverage.
Now let me take a moment here to talk a bit about motorcycle endurance racing. Unlike the MotoGP, World Superbike and AMA races that I traditionally cover here on the blog endurance racing is a very different form of two wheeled competition. Sprint races are usually a little over 1/2 hour in length with a single racer on the bike and usually involves riding as fast as the person can go for the duration of the event. There are factors like tire life and race strategy when running with other racers but these are usually secondary to just squeezing every last bit of speed out of the bike.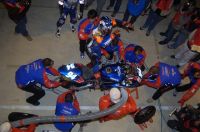 Endurance racing, on the other hand, is as much a mathematical game as a contest of speed. It is a team sport rather than an individual effort so it is important to find racers who work well together, can all use roughly the same ergonomic configuration and can use the same chassis settings. When it comes to race strategy there is a long list of variables to be considered. How long should the rider's stint be? A pit stop can take anywhere from 10 to 30 seconds depending on the equipment available and the components being changed. Longer stints mean fewer pit stops but that means tire life, gas loads and rider endurance must all be adjusted to compensate. Tires have to chosen…softer tires mean faster lap times but more time killing tire changes. Likewise, less fuel means faster laps but more frequent gas tops. Running hard means faster laps but puts more stress on engine and brake components have to last 24 hours or be changed during the race. It is also challenging to pick rider order: putting the fastest rider on first may mean jumping out to an early lead but then means you have to wait a few hours before you can put that rider back on the bike if you need to make up time against the competition. Even during the race there are hard decisions. Do you do longer pit stops and change tires, brakes, oil, filters each time or just splash in gas and run parts as long as possible. What do you do if you crash? Some duct tape and bailing wire can quickly fix up a bike but may mean slower lap times than taking longer to install new parts. If other teams crash then the race may be red flagged which gives everyone free time to make repairs and change tires. Do you risk running longer stints knowing that the time you save could be pointless if a red flag brings all the riders back to the pits. Decisions, decisions.
What I'm really trying to get at here is the fact that while a 22 lap road race may be cut down to a 40 minute TV show (with 20 minutes lost to commercials) without losing the gist of the event, trying to turn 24 hours of endurance racing into a 20 minute show is ridiculous and pointless. The guys at SpeedTV are predominantly car guys…specifically, they are NASCAR guys. These folks spend their days putting together shows about races that last two or three hours. Most of the NASCAR coverage on SpeedTV show the races full length but some of their enthusiast shows cover a race in a single one hour segment. These NASCAR guys wouldn't dare think they could cover a NASCAR race, with all its pit strategy and race tactics, in just half an hour. Then how could they think they could cover a motorcycle race that is twelve times that long in such a short program?
Basically, the race coverage for both the Bol D'Or and the LeMans races was horrible. There was barely enough time to to show the start, a few laps of the race, some crashes, a few highlights and then a quick shot of the winners on the podium. No coverage of the various team's race strategies, no play-by-play of the team's pit stops and certainly no narrative of how the race progressed as crashes, mechanical problems, pit tractics and lap times separated the field.
I want to see more, not less, motorcycle racing coverage on SpeedTV but I have to say that the hour they devoted to the Master of Endurance series was wasted time. If they can fill hour after hour of their broadcast day with crap like "Texas Hardtails", "Build or Bust", "Kyle Petty Charity Ride" and "Corbin's Ride On" then they can find the time to give better treatment to their coverage of endurance racing.
[image from the GMT 94 web site.]