So some interesting news filtered out onto the 'net back in early October but I've been so busy with other things that I haven't had time to give it any attention for a blog write-up. Now that race season is nearly over I am finding more time to go through my backlog of things that I've wanted to write about this summer.
So the big October news was that the Canadian Province of Nova Scotia has decided to host a road race in 2006. By "road race" I don't mean an event on a race track but instead a good old fashioned race on real roads just like the Isle of Man TT, the North West 200, the Ulster GP and the Macau GP. The press release, done by Vibe Marketing (a Nova Scotia based marketing firm that sounds more like it should be selling "adult" products than promoting motorcycle races), announces an event called the Cape Breton Festival of Speed.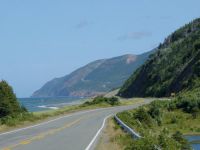 This event is being done in partnership with the body which has managed the Isle of Man TT for the past few years and should feature some of the big names of the TT like Ian Lougher who was involved in the press conference which announced the event. The track is still being laid out but is expected to take place on a 32 mile long loop near Sydney, Nova Scotia. This is near the Cabot Trail which is a famous scenic drive around Cape Breton and should thus be a beautiful area in which to race motorcycles. All in all, this sounds like a pretty good thing, right?
Well, yes but I do have a few concerns:
First is the safety issue. The Isle of Man TT is on very shaky ground after several high profile deaths in the past few years. With the 100th anniversary of the historic race just around the corner (in 2007) there is a ever increasing buzz that the TT will soon come to an end. Likewise, the Macau GP has a reputation that is not better than the TT, even if the safety record is slightly better. Classic road circuit races in Europe have been shutting down for the past decade and this trend looks to continue until only Ireland and the Isle of Man actually host the events. One thing this Cape Breton Festival of Speed has going for it will be its newness. With no prior history and thus no longstanding tradition to adhere to they may be able to lay out a route which is challenging to ride while still being safer than the existing loops like the Isle of Man circuit or the Macau layout.
My next concern is the weather. While Nova Scotia is warmed by the Gulf Stream and thus has different weather than may be initially pictured when considering its northern location I still think that the conditions could be unpredictable during the late September dates for which the event is scheduled. It will be hard enough to get sufficient crowds of people to make the trek to remote Canada for a motorcycle race without throwing in the risk of an ice storm cancelling the whole shebang.
Third is the condition of the roads. I've been going through a bunch of my old VCR tapes lately and in particular have found episodes of the Canadian Superbike series from over the past four years. One thing that seems to be a recurring theme is that the track surfaces at their purpose built race tracks is pretty bad. One race I watched at Mosport in Ontario showed the rear wheel of the bikes hammer up and down so bad I thought there was a bike problem but it turned out to just be bad pavement. As I can attest from our roads here in Colorado, extreme variation in seasonal temperature is just the thing for turning nice, new asphalt into a crumbling mass of gravel and dust. Frost heaves stretch the pavement in the winter, a boiling sun shrinks it in the summer. Road circuit racing is dangerous enough without having a surface more appropriate to adventure touring bikes than to race machines. They will have to pave this coming summer to be ready for a race in 2006 and then re-pave regularly to keep the roads in good condition. Does Nova Scotia really have that kind of tax money sitting around? Maybe they should turn it into a 32 mile long supermoto race!
Money…this leads me to my final concern. It is tough to generate a big enough crowd anywhere on this continent to support a motorcycle race. The MotoGP race at Laguna Seca this past summer was a massive success but the difference between the GP's attendance and that of an AMA superbike race (or, worse yet, a Canadian Superbike race) is dramatic. For Cape Breton to support a huge event like they one they have planned will require a large influx of visitors in order to generate the necessary injection of money into the local economy. No local or provincial government will want to continually fund road improvements, staff costs and other budgetary items for a big motorcycle festival. I just don't think motorcycle racing is popular enough in the Americas to support this event. There might be a critical mass around a major city like Toronto or Calgary but I don't see it happening on a remote northern coast of a remote peninsula of Nova Scotia. I hope the people that are putting this thing together are made up of more business people than marketing people…
Alright, so I'm a cynic and a skeptic and a downer. Its not that I dislike races on public roads, or that I think Canadian race organizers are idiots or that I have some great insight into the economics of Nova Scotia. In fact, I love the idea of a 32 mile long street circuit, so long as they have safety has a primary concern when figuring out the track layout. I'm all about travel and would love to visit Nova Scotia, with or without a motorcycle race. For me, this sounds like a great thing. But then again, I am willing to do all kinds of silly things to watch a race since I'm obsessed. Its just that other people aren't obsessed like me and the folks putting on the Cape Breton Festival of Speed can't rely on a small population of moto-addicts to bouy their event. The Isle of Man TT has nearly 100 years of heritage, not to mention the entire population of Europe to draw from. This will be an uphill battle from the beginning. I hope to hear more over the next twelve months that will allay my fears.
Who knows, maybe I'll be able to go join those crazy Cannucks next September to watch some road racing!
[image from the Nova Scotia's Tourism web site.]