I've written a couple of times now about my upcoming motorcycle trip to Costa Rica…first in September and then again in October. Well, the trip is now just a couple of weeks away, so I thought I should do one last update before leaving…
The first big news is that our little gang of adventurers has grown from three to five with the addition of my buddies Flash and Dork Shoei coming on board, in addition to myself, Todd Unpronounceable and Hubert. This could be bordering on too big a group, if only because different riding styles, different personalities and just plain group dynamics can be an issue. Fortunately, I've ridden with all these guys before so I think we'll be alright. Besides, since I am at the sucky end of the dirt riding skill spectrum it is possible I'll end up being the one pissing everyone off…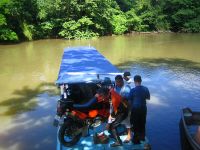 We are all pretty excited about the ride. As I mentioned in the October update, our plan is to split our riding time between the Nicoya Peninsula and the Osa Peninsula. At that time we had the bike rental and airplane tickets but not much else.
Since then we have booked reservations at hotels in San Jose, Montezuma and Puerto Juminez. While having hotel reservations locks us into a set schedule, it also frees us up to ride all day without having to get to the day's destination early in order to find lodging. Additionally, by basing ourselves out of one town in each of the two places we want to check out we can leave our bike's luggage at the hotel for the days we are out out exploring rather than having to lug it everywhere we ride.
Also checked off the list since the October posting is stocking up on info about Costa Rica. I bought a Fodor's Costa Rica 2005 guide book, as well as a nice National Geographic map of the country. I doubt the map will be all that helpful, as I understand the roads aren't well marked, but if nothing else it will give me something to read while the other guys figure out where we are. I also found a website with GPS data for Central America but the Costa Rica data looks pretty bad since the coastline of the Bay of Nicoya doesn't exist. Nonetheless, I've loaded up my Garmin Quest anyway. Perhaps between the GPS and the map I can at least determine where I am, even if I can't figure out how to get where I want to go.
I decided not to bring my trusty one piece Aerostich Roadcrafter suit so I bought a Kilimanjaro Air Jacket made by First Gear. My only complaint with the Kili Air is the rather wimpy armor that is included so I upgraded the shoulder and elbow armor with a kit from Bohn Armor. The kit is excellent but unfortunately, the back protector won't fit in the small pocket sewn into the Kili so I'll have to use the stock foam until I can cut down the Bohn unit. I'll be using my ancient Shoei helmet, Alpinestar gloves, Aerostich Combat touring boots and a basic pair of motocross pants and a jersey. Oh, and I'll have a Camelbak as well…
Perhaps the first adventure of the trip took place before I even left the old US of A. I made the mistake of wandering into a travel clinic last week to see what immunizations were recommended for Costa Rica (and Tibet, where I'll be travelling in August). If you believe the nurses at a travel clinic, the entire world is a huge, dank cess pool of disease. It took me a while to shake off their fear message and focus on what I was really worried about…stuff that might kill me rather than just make me sick. I left with a sore arm, a shot for Hepetitis A & B and some Malarone pills for malaria. I haven't decided yet if I'll take the malaria medicine but I don't have to make that choice until two days before I leave. I guess that if I come back with yellow fever, typhoid, rabies, polio, influenza or measles then I'll look like an idiot but I feel like having some crazy mixture of vaccinations could be unhealthy as getting the tropical disease I'm trying to avoid… I still have to go back two more times to finish up the Hep A & B shots so I can always get additional vaccinations for Tibet after returning from the Costa Rica trip.
I'm also considering joining the Diver's Alert Network. I don't (yet) scuba dive but one of their membership benefits is $100,000 in Emergency Medical Evacuation. Any time I'm going riding with Todd I carefully examine my medical insurance but since my current policy only covers the bare minimum if I'm out of the country it wouldn't hurt for me to have some extra protection. If nothing else, DAN guarantees to be able to get my broken and battered corpse back to the US if Todd leads me off a cliff or something.
I've also spent the past week pre-packing all my gear. The only luggage we'll have on the KTM LC4 is a tail trunk. Since I have to fit everything in such a small space I'm trying to carefully organize everything. At the moment my clothes, shaving kit and miscellaneous other gear all fit in a 10″x10″x10″ space so I think I'm okay. I've made duplicate copies of all my paperwork but should be able to leave that with my gear duffel at the rental place so won't have to carry that on the bike. Between my Garmin GPS and Canon digital camera I'm the designated geek…hopefully I'll make it back with stuff or else my wife will kill me when I try to replace it. I wonder if DAN's insurance covers spousal danger? Otherwise, I'm just taking a pair of motocross riding pants, three dirt jerseys, some bicycling shorts, three pair of socks, my shaving kit and a pair of sandals. Travelin' light…
Flash is packing the tools so the rest of us can save that space. Dork Shoei is covering the basic first aid kit, though I'm donating some Cipro and Immodium in case one of us drinks some bad water (or in case I, as the vegetarian, gets forced into eating the dreaded raw vegetable salad and spends the next week with GI "issues"…). Hubert has been voted into the role of our interpreter. He doesn't know Spanish but since he is Swiss we figure he already knows some other language besides English and is thus one step ahead of the rest of us. He registered a complaint at this assignment but as we are functioning as a democracy we out-voted him. I have no idea what Todd's contribution to this trip will be other than that it was his idea in the first place.
So that's about it. Just a few loose ends to finish up and then its time to head south for some warm weather and motorcycle riding. A stark contrast to the current weather in the mountains of Colorado where its freezing, we've just recieved a foot of snow and my bikes are languishing in the garage hooked up to battery chargers. I'll post a trip report once we get back. If I don't get something posted by late February someone please call the US Embassy in Costa Rica and see if five Juan Does have been found pinned under motorcycles in some remote corner of the Osa Peninsula.
[image from the Costa Rica Motorcycle Tours web site.]