Author: site admin
Category: MotoGP
With Kawasaki's Alex Hoffman out with a wrist injury for the next five weeks, Team Green has found itself in need of a quality rider for the next two races. The upcoming race is at the new track in China in a little over a week with the following race at Le Mans in France two weeks later. Since every rider will be equally challenged at the new Shanghai facility, team owner Harald Eckl needed to find a rider that knows Le Mans. He has decided to turn to part-time Moriwaki test rider Olivier Jacque.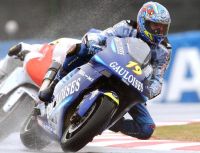 Jacque's resume is mainly anchored by his 250GP World Championship in 2000. That season he raced his Yamaha teammate and title challenger Shinya Nakano all season long and narrowly won the last race at Phillip Island to earn the championship. Before the 2000 season, Jacque had been a talented 250 racer but had only occasional notable finishes. Following his 250 title, he and teammate Nakano where brought into the 500cc Gran Prix class on second tier Yamahas with the Herve Poncharal Gauloises team but both failed to make much of an impression. With the change to four strokes in 2002, both riders struggled with the finicky M1 for a few seasons before being let go from Yamaha at the end of 2003. For 2004 Nakano moved on to Kawasaki and is in the middle of an amazing resurgence. For 2004 Jacque moved to being a French motorcycle magazine reporter and filling in on one-off MotoGP rides for Moriwaki and WCM. Now, for the next two races, the pair will again be teammates. The sense of deja vu is amplified because ex-Yamaha GP project leader Ichiro Yoda is now the technical director for the Kawasaki team.
While the Frenchman never seemed to find his stride with the four stroke MotoGP bikes, he now seems to have found his calling as the person teams call when they need a solid rider who already knows the tracks, teams and the politics of the Grand Prix circus. In this regard, he joins the ranks of other riders who have become better known as pinch hitters than Grand Prix race winners like Jean-Michel Bayle, David De Gea, Gregorio Lavilla and even Anthony Gobert. However, it would seem that being a stand-in for injured Kawasaki riders pays off more than with other teams. Alex Hoffman got his start with Kawasaki as a substitute rider for an injured Hitoyasu Izutsu. Izutsu, in turn, did some testing work for Kawasaki when then MotoGP test rider Akira Yanagawa was injured in 2002. Andrew Pitt, a Kawasaki factory MotoGP rider in 2003, also sub'ed for the injured Yanagawa. Clearly Eckl has a history of later hiring his substitute riders…
Personally, I don't expect great results from Jacque. Any GP bike requires a lot of testing to really master so its unrealistic to expect him to jump on the bike and immediately be up at the front. However, having a second rider, particularly one with as much experience as Jacque, is bound to help the Kawasaki team continue to improve the ZX-RR. It is always possible that Olivier's home field advantage at Le Mans, when teamed with a strong desire to impress team owners and hopefully get back into MotoGP full time, will lead to an inspired ride in three weeks. If nothing else, the Kawasaki ride should keep his skills honed so that when he gets his Moriwaki wild card rides later in the season he'll be ready to race.
Being the guy that gets called in as a substitute rider isn't all bad. It certainly wouldn't suck to be the guy that periodically gets called to fly to some exotic location and ride a 250hp MotoGP bike around for a weekend.
[image from the Olivier Jacque web site.]