Yamaha and Honda both lay claim to the title of best motorcycle company based on their engineering prowness in the battlefield of the MotoGP series. For the past two seasons, it has been obvious that these two companies can out research, out design, out innovate, out test and out spend all the other manufacturers in their quest to build the fastest prototype racing motorcycles in the world. The Honda RC211V and Yamaha M1 have dominated for two years and look to continue that in 2005. However, if the yard stick for measuring a motorcycle company's success is production racing, then this year it appears Suzuki has all comers covered.
This weekend there are three different major Superbike races: World Superbike at Valencia Spain, AMA at Barber Motorsports Park in Alabama and British Superbike at Mallory Park. In two of those series the Suzuki GSXR 1000 has already stamped its authority in just the first few rounds. In the third, the chances are good that Suzuki will soon flex its muscle. As I said in a posting last month about Suzuki's strong showing early in the year the Marketing department at Suzuki is set to have a busy year.
Lets start with the bad news: The British Superbike Series. After being the fastest guy at the first pre-season test for the BSB series, Suzuki rider and defending champ John Reynolds had a serious crash which resulted in a shattered right leg. Amazingly, he has come back in an amazingly short time and ridden at the first races of the season but he has been in such a poor state of fitness that he couldn't hang with the front runners. With each passing day, his leg is mending and he will soon be back to fitness. Whether he will be able to challenge the current season's undefeated race winner, Honda's Ryuichi Kiyonari, this weekend at Mallory Park remains to be seen but you can be sure JR will run up front once he's healthy. Reynold's young team mate, Scott Smart, still has some learning before he'll be a title contender but what better teacher than a two time BSB champion? Expect the Suzuki name to be back on the podium later in the season.
In World Superbike action the races have been a Suzuki ad as the two Alstare Corona riders, Troy Corser and Yukio Kagayama, have lead every race by a proverbial mile. The dominance of the GSXR1000 is shocking, considering that World Superbike has been the property of Ducati for so long. That the new bike can not only be competitive but actually monopolize the results has to shake the series faithful to the core. Suzuki and Alstare team owner Francis Batta have put a huge amount of effort into this series because if you want to get your new bike noticed in the show room, having it reign at the race track is a good start. Expect the two GSXR riders to continue this trend this weekend in Spain.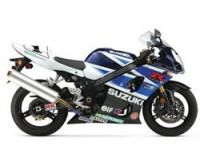 Finally, there is the AMA series where the three Suzukis have been in the top four fastest in every test session and during the race at Daytona. Mat Mladin has topped everything at every track. No matter what your opinion of the guy's personality, there is no getting around his riding prowess. The force he wields over the AMA Superbike field is incredible, both with his equipment, his skill and his psychological warfare. Last year Suzuki had a GSXR1000 Mat Mladin replica for sale, showing just how confident they were that Mladin's win on Sunday would translate into sales on Monday. Mladin was consistently the fastest guy, sometimes by over a second, at the recent AMA test at Barber. Just like Daytona, I think Mladin will use that speed to pull away early and control the race from the front. That's just the image Suzuki wants in people's minds…
While Suzuki's GSV-R MotoGP bike is getting is ass handed to it by Yamaha and Honda, they have found a different way to showcase their engineering strength and its a method that probably gets more potential buyers into showrooms. If Suzuki can sell more bikes by focusing on Superbike racing, do they really care if they stand atop the MotoGP podium?
The rest of the teams stack up like this:
BSB - Honda has kept a perfect win record so far, with Kiyonari and has captured second place two times in four races thanks to Michael Rutter's performance. The only rider to put pressure on the two Hondas thus far as been Ducati mounted ex-WSBK star Gregorio Lavilla.
WSBK - The Hondas, Yamahas and Ducatis are all a half-step behind the Alstare squad but it looks like Ducati mounted Regis Laconi has the best chance of bridging the gap. There are a lot of young riders in WSBK this year (Muggeridge, Vermeulen, Neukirchner, Pitt, Lanzi), so maybe those guys still have some growth left in them as well.
AMA - I think Ducati's Neil Hodgson is the only guy that can challenge the three Yoshimura Suzuki riders at this point. Honda are still struggling to build their bikes, Eric Bostrom is still trying to figure out the front end of the 999 and the Jordan Suzuki team is still trying to gel.
[image from the Powersports Network web site.]