Author: site admin
Category: Bike reviews
Lately I've been doing a write up for each of the major international motorcycle expos like Paris, Tokyo, Birmingham and Milan. All of these shows represent the pinnacle of motorcycle marketing. The major manufacturers, along with hundreds of aftermarket companies, spend significant portions of their annual budget to make a big splash at these shows. From the stand point of a fan I'll admit that getting an opportunity to attend one of these shows would be an incredible experience. Unfortunately, the cost associated with jetting off to Europe for a couple of days just doesn't match up with my current salary no matter how much I fantasize about being able to do so.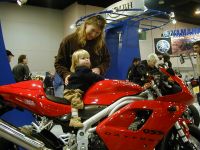 However, I do have the time and money to attend the much more mundane Cycle World International Motorcycle Show which has been occurring at the Colorado Convention Center in Denver for the past four years. An international show like the International Motorcycle Exhibition that is going on in Milan, Italy this week will be characterized by amazing concept bikes, surprise new bike announcements, hundreds of vendors, test ride courses, on-site race events, live music and more. Sadly, the smaller Cycle World Show is lacking much of this and is instead more like an uber dealership where one can ogle the latest bikes, try on some of the more popular bits of gear and see some popular accessories like tires and exhausts. The show in Denver will often have some kind of stunt show, either trails demo or a freestyle MX crew, that is pretty much the extent of the entertainment.
On the positive side, most of the major manufacturers have a presence at the Cycle World show and this year it looks like Honda, Yamaha, Suzuki, Kawasaki, BMW, Ducati, Harley Davidson, Buell, Aprilia, Cagiva, Polaris/Victory, Star, Triumph and Ural will all have bikes on display. Sadly, the expo will once again lack participation from KTM…the fourth straight year that the Austrian company has stood up show goers.
Let me take a moment to pull out my soap box here. What the hell is KTM thinking? They are gaining market share in the US faster than any other motorcycle company. KTM has made a recent push to build a line of street bikes that they hope will be as popular as their off road models. The KTM Adventure has enjoyed strong sales in the US and they are launching new street bikes like the 950 Supermoto this year. KTM is competing directly with BMW, Triumph and Ducati for street bike sales in America. Surely only a small increase in bike sales would be all that is necessary to offset the relatively minor hit to their marketing budget that would be required to have a booth at the show. Then again, maybe its better they don't show since then I'd have to bitch them out for not importing the 990 Super Duke.
Okay, back to the show. The bikes, gear and parts aren't the only things going on at the show this weekend. They will again have the BOSS brothers and their Ball of Steel stunt show. Additionally, newly signed Yamaha racer Eric Bostrom will be at representing the Racing 2 Save Lives charity. There will also be a display of vintage bikes which is always a highlight of the show. Beyond that, though, the appeal drops off dramatically. The food court chow is both unappealing and expensive. Parking sucks. Oh, and there is a lot of stuff is packed into a relatively small display area so some of the walkways are more crowded than necessary.
So why am I going? Well, first of all my wife needs a new electric vest and I want to have her try on the electric jacket liner from Gerbing. Second, I want to pick up a Kilimanjaro Air Mesh jacket for my upcoming trip to Costa Rica. Third, I always enjoying seeing the new bikes in person and seeing them all in one place is more convenient that driving around to all the dealerships. Finally, well, $12 is much cheaper than a flight to Milan…
[image from my photo collection.]