So I, like most of the official motorcycle press, spent a lot of time last year heralding the new guys that were joining the sport of bike racing. Guys like James Stewart, Ben Spies, Max Neukirchner, and Marco Melandri got more than their fair share of bits and bytes at the beginning of the season. However, as it turns out, 2005 was a good year to be one of the old folks. Despite many current racers being considered near retirement age, the old guys generally stuck it to the youngsters last year. What is really amazing is that this trend was pretty consistent across all disciplines of motorcycle racing.
First off, the sports of Supercross and Motocross have always been considered a young man's sport. They are two of the most physically intensive sports in the world and the combination of jumps, ruts and crashes can exact a harsh toll on the body. The top news story at the beginning of the 2005 AMA Supercross season was the 19 year old sensation James Stewart. However, at the end of the season, it was the seasoned veteran Ricky Carmichael, at 25 years old, who swept both premier AMA Supercross and Motocross classes. In SX, 23 year old Chad Reed was second overall but the runner-up in the outdoor series was Kevin Windham who is two years older than Carmichael. Impressive stuff for guys on the second half of their twenties but the real surprises are found just a little further down the championship points listing.
As I pointed out in a blog posting last season, old timer Mike Larocco embarrassed most of the factory teams by bringing his privateer Honda home in 5th place in championship. Not bad for a then 33 year old. Even 34 year old Jeremy McGrath turned in some strong riders in his one-off appearances in '05, showing that the King of Supercross can still teach the youngsters a thing or two.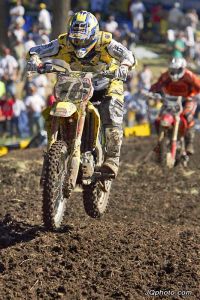 Want to really blow your mind? Take a look at the AMA Motocross points table for 2005. Despite competing in the most physically demanding form of dirt bike racing, 40 year old John Dowd managed to snag 7th overall in the AMA Motocross division aboard his privateer Suzuki! This guy was born in 1965, turned pro in 1988 and was the 1998 West Coast 125cc Supercross Championship…the year Dowd start racing in the Pro ranks James Bubba Stewart was two years old and Chad Reed had just turned six. For a little perspective, remember that Reed finished the '05 season in 8th, 15 points *behind* Dowd, while Stewart finished up in 12th a staggering 135 points down on the vet. Lets all say it together now…"JD is the man!"
Alright, so the more experienced riders did well in the premier class. Surely the young guys made their mark in the entry level 125 classes. I mean, there has to be a whole hoard of teenagers out there just waiting for their chance to race with the twenty-somethings, right? Well, sorry to disappoint but the stats don't bare that out either. The 125 champs, Grant Langton (1st in 125 SX East and 4th in 125 MX) and Ivan Tedesco (1st in SX West and 1st in 125 MX), are both already in their twenties. Langston was 23 last year and and Tedesco a year older. Not exactly ready to hand up their riding boots but not representative of a youth movement either.
Fortunately, things in the dirt world aren't totally bleak. James Stewart looks to have turned around a miserable '05 and is riding strong this year and starting to live up to the hype. The teenage Alessi brothers seemed to have knocked the edge off their egos and are steadily improving as riders. Ryan Sipes, who had some strong showings in the 125 class last season, is just barely breaking the twenty mark. The two Ryans, Villopoto and Mills, are still in their teens and both are riding well so far in this year's Supercross Lites class. Hopefully these are the guys that can step it up and run with the grey hairs. Frankly, I think they will have to if they want to justify their getting a factory ride in the year couple of years.
Okay, lets shift gears now and look at my personal favorite: Road racing. Its generally understood that road racing is an environment where older and more experienced riders can be competitive against the young up-and-comers. Still, the stats for 2005 have to be a little disappointing for the folks that are looking to the younger generation for the next big thing. Of the four championships crowned in the AMA series, three of them went to riders who are in their thirties. Matt Mladin won his *sixth* AMA Superbike title while at the same time celebrating birthday number 33. His 32 year old teammate Aaron Yates topped the ultra-competitive Superstock class to put a third championship trophy on his mantle. Miguel Duhamel, the elder statesman of the AMA series, brought home his seventh AMA title by winning the Formula Xtreme class despite being just a couple years shy of forty. Even Tommy Hayden, the relative spring chicken of the 2005 AMA champions, isn't exactly representing the youth movement since he was 27 when he sewed up his second straight AMA Supersport title. This trend towards old riders is generally true across the entire AMA Superbike paddock with only a handful of riders under the drinking age and all of them eligible to vote.
Okay, lets look a little further afield. 2005 World Superbike Champ Troy Corser was 34 when he lofted the title trophy last summer. In fact, the WSBK paddock has more riders over the age of 25 than they have riders under that age and the series appear to be skewing their average even higher in 2006 with ex-GP castaways like Alex Barros, Troy Bayliss and Max Biaggi rumored to be racing there. It is nearing the point where WSBK teams should drop sponsorship from youth oriented companies like Corona or Koji and switch over to old foggie brands like Geritol and Metamucil.
Alright, since I mentioned the topic of MotoGP up there I'll admit that things are looking better in the Grand Prix paddock. While seven time World Champ and 2005 title winner Valentino Rossi isn't exactly a rookie at 26 he's also a decade years younger than some of his competitors were in '05. Things really start to look up when checking the stats of second place Marco Melandri (23) and third place Nicky Hayden (24). The outlook is even brighter when checking the age of the new comers to MotoGP for '06 as Dani Pedrosa, Casey Stoner and Chris Vermeulen are all under 25. Finally, things are downright heartening in the 250 and 125 classes were the average age on the podium is regularly under 20.
Alright, how about a couple more quick examples of how old age and experience is overcoming the exuberance of youth? In the world of AMA Flat track racing, it has been Chris Carr who has dominated for the past half decade. The younger riders in series look up to him as a mentor and, at 37, its a good thing they do because he is old enough to be their father.
Finally, as a sign of respect, I've saved the oldest for last. Logic would dictate that a rider that is 44 years of age shouldn't be able to win at anything in competitive motorcycle racing. Yet the legendary Jeff Ward did just that in 2004 by tying up the premier class in the AMA Supermoto series and it was only a stalled bike in the final round that prevented him from winning it in 2005 as well. In fact, the past three seasons have netted Ward one Supermoto championship and two second place finishes…not bad for a guy who won seven AMA Motocross championships in the 80s.
I want to see the various forms of motorcycle racing grow and thus I'm always looking at the young guys to see who will be the next big thing. However, for 2006, I have to say "Viva la Veterans!".
[image from the Motocross.com web site.]