Author: site admin
Category: MotoGP
There is an old proverb that says "The devil is in the details". The idea is that no matter how good the overall plan the minor things are what make or break any project. Well, this past week the Sepang track held the first tests of the year for the MotoGP teams and for many the success or failure of their upcoming race season will be determined in these next couple of tests. For today's blog entry I'll be talking about the teams and what some of those devilish details may be for each of them.
First up, lets look at the various Honda teams. The factory Repsol Honda team had a busy test program for Sepang. Primarily, they have to realign the development of their 2006 RC211V behind their new lead rider, Nicky Hayden, after focusing on Max Biaggi last season. Since Max and Nicky have dramatically different riding styles this means that the Honda engineers may have had to make dramatic changes to their bike between '05 and '06. This will be Hayden's first time developing a MotoGP bike so he will have to learn quickly how to hone in on problems so that he can provide accurate feedback to the engineers after just a few laps. He will have to quickly and efficiently go through all the myriad options for the new bike to find the best base configuration. Then he can start the fine adjustments necessary to optimize the package. If he picks the wrong path this week he will probably be chasing his tail on setup all season long.
Next on the Repsol team's list was the continuing effort to get MotoGP rookie Dani Pedrosa up to speed on the bigger four stroke after he spent the past two seasons dominating the 250GP series. The Spaniard's small physical stature, as well as his lower muscular strength, means that the bike has to be adapted to fit him and Pedrosa has to develop the endurance needed to ride the bigger bike. Dani's crew has to get the bike adjusted to match the rider, then get the rider up to speed on the bike and only then can they start to develop the combination of the two to get ready for the upcoming season.
The satellite Honda teams have their own challenges. The Konica Minolta Team has the biggest challenge because they haven't made either of the official MotoGP tests since the last race of '05 and have thus not even started their development program. Their absence is probably due to the costs required to travel to and take part in these tests but their chance of being competitive in '06 are dramatically reduced by missing these tests. This is a real pity because rider Makoto Tamada seems capable of running up front but will likely be unable to do so until the team has had a chance to find the correct setup for his new model RC211V…something that is particularly difficult to do during the race season.
On the opposite end of that spectrum is Team Gresini rider Marco Melandri. Like Hayden, Melandri is leading development of his team's bikes and is returning to a team as the top rider. He'll have the support of his team but will also have the added pressure of stepping into a lead development role after being the "B" rider behind Sete Gibernau in '05. Its unclear how soon Melandri will get an '06 RC211V so he could be doing his Sepang test work with a final model of the '05 bike or maybe he is already working with an '06 model. His new teammate, Toni Elias, on the other hand is having to learn a new bike having moved from Yamaha to Honda this year. In Elias' favor is that he's working with the same sponsor, Fortuna, from '05 while the rest of Team Gresini have to learn the responsibilities that come with representing a new company.
Finally, there is the smallest and newest Honda satellite team, Lucio Cechinello's new MotoGP squad with rider Casey Stoner. Stoner has the advantage of having ridden a RC211V at the test last November but at that time it was with the now defunct Pons team. Now Stoner has to work out the kinks with a different team while also adapting to the big MotoGP bikes after a few seasons racing with Pedrosa in the 250 two stroke class. Fortunately, he raced for Cechinello's team in 250s so he already knows his crew but it appears sponsor Carrera isn't making the leap to the premier class so who knows who much money the team will have to support their '06 effort.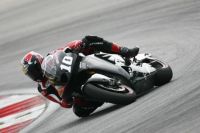 As long as I'm talking about Honda, I should also talk about Kenny Roberts, Sr's TeamKR. After nearly withdrawing from MotoGP at the end of last year they are back for this season with a Honda motor in their custom made frame. Kenny Roberts, Jr was finally confirmed as their rider and was riding the new KR211V at Sepang. The big devil for them is adapting their chassis to the Honda motor in the short amount of time between the end of the previous season and the start of the next one. Based on their comments after this week's test it appear their current frame is too stiff and this means the bike isn't handling as well when leaned over as will be required to be competitive. They will have a new frame for the next test but it won't have any alterations based on their Sepang tests, just an alternate geometry based on their initial designs from last Fall. Time is working against the TeamKR folks to get in enough testing to fully develop their new bike before the first race of the season. Worse yet, they can't really test tires or suspension or engine electronics until they have the frame dialed in.
In this same boat is the Suzuki team. John Hopkins as been tasked with leading the GSV-R development which appears to be all, or at least mostly, new for '06. This means he'll have to find the direction needed to guide development of a new bike, as opposed to working off an iterative design like Hayden is doing with the Honda. On the positive side, the old Suzuki seemed to have serious power problems so hopefully Hopper is working with a better motor this time around. Rumors have it that Suzuki may be trying out pneumatic valves and enhanced electronics, in addition to the normal chassis adjustments, exhaust configurations, suspension components and tires so there will be plenty of options to work through. On the negative side, he'll be somewhat alone in this engineering work since his teammate Chris Vermeulen is a MotoGP rookie who is still trying to come up to speed on riding such a powerful bike. Fortunately, Suzuki test rider Kousuke Akiyoshi was on hand at Sepang to help out the two factory riders.
Kawasaki is a step ahead of Suzuki by working with an evolutionary design of their ZX-RR Ninja and also by having returning rider Shinya Nakano as their lead rider. On the other hand, they appear to be trying out another variation of the big bang firing order for their motor which means less peak power and more stress on the motor. Based on Kawasaki's improvement the past two seasons it would appear that Nakano is an excellent development rider so they are probably in good hands in this regard. His teammate, on the other hand, is MotoGP rookie Randy de Puniet who will be learning to ride the big Kwack at these initial tests. Like Suzuki, this means that all the testing is dependent on a single rider. They are racing to speed up their development with the front running manufacturers while being hampered with the smallest R&D budget of the bunch and only minor sponsorship. Money is definitely the detail they have to overcome.
Even further down the testing path is the factory Yamaha team. They have two returning riders, a championship winning bike with only evolutionary improvements, an experienced crew and a big money sponsor behind them. The only things waiting to trip up this team will be of their own making. For Valentino Rossi, this is likely to be over confidence. It seems unlikely that Rossi would underestimate his opponents but given his apparent focus on testing Formula One cars in '06 it is possible that he'll lose some of his focus. The only reason I think he would undertake these driving tests are because he feels certain that he can win in MotoGP while also learning a new form of racing. It is possible, however improbable, that this could finally be the chink his armor that his rivals have needed for the past five years. For his teammate, Colin Edwards, it will be finding the confidence to perform at his peak while being in the shadow of his spectacular teammate. The path to gaining this confidence took a small hit at Sepang when Edwards crashed during testing and his M1 burst into flames. The other impediment to gaining this confidence is knowing that development is based primarily on Rossi's, rather than Edwards' feedback, so the Texan will effectively be riding someone else's bike. The claim as always been that Edwards and Rossi have similar riding styles so perhaps this year's test results will finally prove or disprove that assertion. The only other trap waiting to catch the Yamaha team is the impending legal battle with Altadis over the claimed breech of the Gauloises agreement. if the litigation goes bad for the Japanese company they may end up paying significant penalties to their ex-sponsor. This is money badly needed to pay Rossi's extravagant salary, development costs of the 800cc bike for '07 and to keep the current M1 successful in 2006.
Unlike the factory team, the only satellite Yamaha team this season is starting out with a lot of obvious pre-season challenges to overcome. First, the Herve Poncharal lead Tech 3 team is still working out how many riders they will have. At the moment, Brit James Ellison is confirmed but rumors are swirling about that Carlos Checa may be added before the next test at Phillip Island. Second, if Checa is added it is likely that they will then have to deal with having two different tire manufacturers supplying their team since Ellison is sponsored by Dunlop while Checa has a long standing association with Michelin. Third, the team is still looking for sponsorship after being abandoned by Fortuna during the Rossi-Gauloises fiasco. So with a new rider, new tires and no money the team will have to develop their bike for the upcoming season while also being distracted with rider, tire and sponsorship negotiations. It is not even the little details that will hamper these guys it is the overall chaos of their big plan.
With that depressing situation out of the way lets cheer up a bit by looking at the Ducati team. Lead rider Loris Capirossi is back and helping develop this sixth generation of the Desmosedici MotoGP bike. In addition, he has been teamed with star rider Sete Gibernau who has previous experience at developing bikes from his '05 stint with Team Gresini. Both racers have been turning fast lap times and both ended the Sepang test with bragging rights as the top two riders. The modifications to last year's GP5 model seem to have again improved the Duck's handling while maintaining it's class leading power output. It also appears that Ducati learned from their '05 pre-season tests mistakes where a dramatically new slipper clutch/engine management system was forced on the riders and resulted in crashes and injuries. These in turn reduced testing time and eroded rider confidence in the bikes. Perhaps Ducati's devil's were washed out last year and they have a solid plan in place for this one.
Or perhaps they have just shoved those vexing details down to their satellite team D'Antin Ducati. Where the factory team is set with experienced riders and a strong sponsor, the D'Antin team is struggling. They recently signed ex-Kawasaki rider Alex Hoffman and recent World Superbike racer Jose Luis Cardoso as riders but both missed the first test back in November. Neither have raced a Ducati before, though Cardoso has raced for D'Antin in the past and Hoffman did race in MotoGP last year. The two riders will have to come up to speed on the customer GP6 Duc before they can begin to adjust the bike to try to improve their lap times. What the team does have going for it is an even closer level of cooperation with the Ducati factory compared to last year and a current version of the bike, rather than the one generation old version they have raced in the past. What they are going to be hampered by is the lack of sponsorship and thus the costs associated with both testing and racing.
Finally, the underdog of the season is the WCM-Bimota team who, like the Konica Minolta team, didn't have the funding to run the pre-season tests. They are, in fact, at an even greater disadvantage because they are only a couple of months away from the first race and don't yet have any signed riders or a running motorcycle. The current rumors are the Brit veteran Jeremy McWilliams and American GP rookie Jason Perez will be riding their bike and it is assumed they will be running a KTM powered bike that is somehow badged as a Bimota. However, until they show up for the first race of the year I think that their participation, as well as certainly their competitiveness, will be very much in question.
Let me say one more word about how the devil is in the details during testing. It is always risky to make assumptions about a team or rider's preparedness based on the lap times given for a test. On the one hand, you never know when the rider is testing components and when they are focusing on a fast lap. Likewise, you never know when they are or aren't throwing down fast laps with super sticky qualifying tires as opposed to testing at race pace on harder tires. However, there are two bits of data that are very useful and that is seeing all the lap times and the number of consecutive laps run throughout the entire test. Unfortunately, this data isn't generally available and, if it is, it may come from the teams rather than an unbiased third party like the FIM and thus be of questionable accuracy. Only if we could see the times that riders have run consistently and the average lap times over a simulation of race distance would we be able to make some real predictions about the upcoming season.
However, the one abstraction of this that is available is to at least see who consistently shows up at the top of the lap charts that are released since those riders are the ones most likely to be doing their test and development work at a fast enough pace to be helpful. For example, the Ducati riders were fast the second and third days of the test. It is possible that this was due to their access to the spectacular Bridgestone qualifying tires but it is also likely that they wouldn't have wasted the time on qualifying tires unless they felt their setup was pretty solid. If not, they would likely have continued to focus on their development work by running race simulations on race compound tires.
In contrast, a rider like Kenny Roberts Jr is consistently near the bottom of the lap time charts because he is currently running about three seconds off the pace of the front runners. Any development he does on the bike right now, aside from collecting data on their frame stiffness issue, is unlikely to be useful later because the frame, suspension and tires will all react differently when dealing with the stresses created when running a faster pace. The sooner the frame is fixed, and no longer holding KRJR back, the sooner he can push up the lap times and start developing the bike at the speed it needs to run to be at the front.
Like the past few seasons, at this stage of testing it looks like the factory Ducati, Honda and Yamaha teams have done the best job of exorcising their pre-season demons. It looks like Gresini Honda are well positioned and that Kawasaki is again well placed to improve. Less clear is the situation at Suzuki though it does appear they are putting forth their strongest effort yet. Finally, it looks like the others are going to be struggling throughout pre-season testing and probably into the early part of the '06 season.
[image from the Yahoo Sports UK web site.]