For this year I've decided to add a monthly blog entry mentioning some interesting motorcycle related dates that will be happening each month. Unfortunately, I was such a slacker during January that I'm just now getting around to posting it. I'll try to be more prompt with the February posting.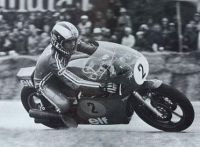 Phil Read - born 1/1/38 - This Brit grew up to become one of the greatest roadracers in history. He rode for Yamaha in the late 60s winning six championships in the 125 and 250GP classes. In 1973 he moved to the primer 500cc class with the factory MV Agusta team. He then promptly won two championships there in 1973 and 1974. Perhaps one sign of how great he was as a GP racer is that he is one of only three riders to have won world championships in three different Grand Prix classes. The other two are Mike Hailwood and Valentino Rossi. In addition to his GP victories Read also won eight Isle of Man TTs. Despite his 67 years of age, he continues to race vintages races in England.
Kel Carruthers - born 1/3/37 - Although Carruthers has a distinguished career as a racef, among other things he was the 1969 250GP World Champion, he is probably best remembered for his role as the team manager and mentor for Kenny Roberts. The Australian rider raced, and achieved victory, throughout the 1960s in the World 250GP class, at the Isle of Man TT and in AMA road racing here in America. However, in 1973 he was hired by Yamaha to run their US road racing team and he immediately began to coach a young Kenny Roberts. This continued into the 80s where Carruthers guided Roberts to three 500cc World Championships. Kel Carruthers was at the USGP at Laguna Seca this past summer showing that he still maintains a connection to the motorcycle racing community.
Craig Jones - born 1/16/85 - This young British rider will be making his World Superbike debut this year on the Foggy Petronas FP1. However, he is not an unknown on the other side of the pond, as he has steadily risen through the ranks of the British championship and finished up the 2005 season in second place in the dog eat dog world of Supersport racing. Sadly, I doubt the Foggy bike will allow him to showcase his potential but it will give him an opportunity to learn the tracks and continue to develop as a racer.
Ivan Clementi - born 1/18/75 - Clementi is one of the multitude of Italian privateers who have been racing the World Superbike series for the past few years. His first year in WSBK was in 2002 aboard a privateer Kawasaki. He has continued to race in the series since then usually on Kawasakis but he did spent part of the 2005 season aboard a privateer Ducati. As with most non-factory riders, the hallmark of his career thus far has been struggling to earn a top ten finish. His best finish to date has been a 7th at Assen in 2003. For 2006 he will continue in World Superbike riding a privateer Ducati for Team Pedercini.
Aaron Slight - born 1/19/66 - This New Zealand rider was a mainstay of the World Superbike championship for most of the 90s and was a perennial front runner throughout his career. In fact, my favorite stat from Slight's career is that he finished in the top three of the championship every year between 1993 and 1999 and was runner up two of those times in '96 and '98. He is perhaps best defined by his rivals which include World Superbike greats like Troy Corser, Carl Fogarty, Scott Russell and Colin Edwards. Slighty retired from racing in 2000 after having a brain aneurism and is now racing cars in New Zealand.
Gary Nixon - born 1/25/38 - Nixon is one of the legends of AMA racing. He was a front runner in both dirt track and road racing throughout the '60s. He won the AMA Grand National championship in 1967 for Triumph, back when earning that meant winning on dirt and pavement. He also raced internationally during his careering including winning the famous 1976 Formula 750 World Championship for Kawasaki before a controversial decision by the FIM nullified the points from one of the races and dropped him back to second in points. He retired from professional racing soon after. However, he continues to race vintage bikes with AHRMA and to tutor up-and-coming riders including MotoGP star Nicky Hayden.
Dale Quarterley - born 1/25/60 - Quarterley is probably the most successful and most popular privateer racer the AMA Superbike series has ever seen. He came up through the ranks of the AMA racing in the support classes. He then stepped to race Kawasakis and Ducatis in Superbike from 1989 until 1995 reaching two important high water marks . First, he is the last privateer to have won an AMA Superbike race, winning at Mid-Ohio in 1993. Second, he ended the 1993 season in second place in the championship, another feat which has not been repeated by a privateer since then. However, I think he will be best remembered for his incredible ability as a privateer to bring in outside sponsorship when even the factory teams struggled to do this. I thus primarily remember him for his Teenage Mutant Ninja Turtles Kawasaki ZX-7RR from the 1993 season. He has spent the last half decade racing NASCAR stock cars.
Bubba Shobert - born 1/29/61 - Shobert was another in the incredible string of multi-talented American racers to rise to fame in the 1980s. He was a three time AMA Grand National Dirt Track Champion riding for Team Honda between 1985 and 1987 and then earned the 1988 AMA Superbike Championship riding a Honda VFR750. In 1989, Shobert followed the path to Grand Prix which had been blazed by other American racers such as Kenny Roberts, Freddie Spencer, Eddie Lawson and Wayne Rainey. Sadly, the famous Kevin Magee post-race burnout accident at the 1989 Laguna Seca GP resulted in severe head injuries. Thankfully, he recovered but those injuries ended his career as motorcycle racer. He now lives in Texas running his family's jerky business.
Fabien Foret - born 1/29/73 - This French rider has campaigned the World Superbike series for the past four years, winning that title in 2002 for the Ten Kate Honda team. He was fourth in the 2005 WSS season but is being promoted to World Supebike in 2006 with the Alstare Corona Suzuki team. If you don't remember him for his World Superbike championship then perhaps you remember him for his habit of continually looking behind him while racing…a trait that has lost him a few races over the past few years.
Davide Tardozzi - born 1/30/59 - This Italian rider raced Bimotas during the infancy of the World Superbike series in 1988 and 1989. However, reliability problems with the bike kept him from winning a championship either year. He then switched to privateer Ducati's for 1990 and 1991, again without championship success. In 1992, he was hired as the Ducati test rider and then promoted to Ducati Factory Team Manager in 1993. He has since guided the Italian company to 11 Manufacturer's Championships and 8 Rider's Championship. He will again be managing the factory Xerox Ducati team this coming season with riders Troy Bayliss and Lorenzo Lanzi.
Finally, it was 1/22/98 when AMA dirt track champ Ricky Graham died in fire at his home. The story of Graham's meteoric rise to fame as an American dirt tracker in the early 80s is bookended by a sad story of depression and an attempted comeback in the 90s. Graham's death was a tragedy as it appeared in 1989 that he was finally beginning to triumph over some of the demons he had been fighting for over a decade.
Alright, that's it for my first attempt at a monthly calendar of motorcycle related dates. If you know of an interesting date in the month of January let me know and I'll add it to my database os that I can mention it next year.
[image from the Permalink | Trackback URL | RSS Feed | TechnoLinks
TagIt! in:
del.icio.us •
Spurl •
Furl