I thought that things would be so slow during the winter that I wouldn't have enough unmentioned news items each month to do my monthly "Odds and Ends" postings. However, I have slacked off so much in my posting schedule that I now find it is the last day of January and there is a long list of things that I'd intended to talk about this month. So here is is, a January edition of the "Odds and Ends" postings.
The theme of this entry is going to be "dirty movies". Sorry, this isn't a review of porn but instead the topics here are motorcycle movies and off-road racing. I'll wait to talk about the MotoGP, World Superbike and AMA news in postings in mid-February (once I get back from Costa Rica). I haven't been ignoring everything that is going on in the racing world, just haven't had the time yet to talk about them in depth…its coming!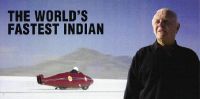 First up in the movie category has to be The World's Fastest Indian. In the September '05 Odds and Ends posting I mentioned that this movie had been released in New Zealand but that it probably wouldn't be coming to the US. Well, I'm happy to say that I was wrong and that the movie is now starting a national release this coming Friday, February 3rd. Given that the last motorcycle related movies to make it to the big screen were Torque and Biker Boyz, I think it is fantastic that a film is being shown that doesn't make all motorcyclists look like the Las Vegas Extremes crew. From the movie trailer and the clips I've seen it looks like Anthony Hopkins does a great job with his portrayal of New Zealand bike builder Bert Munro. The plot should ring true to many riders since it is the story of one rider's obsession with his bike and his desire to push the boundaries of speed. The supporting actor in the movie is Munro's 1920s Indian motorcycle which Munro modified over a 25 year period into a Bonneville Salt Flats land speed bike. A fascinating story, a great actor and lot of cool motorcycle images. Alright, bikers, get out there and support this movie!
If you read the above statement criticizing the last motorcycle movies to make the big screen and thought I'd forgotten Dust to Glory, I didn't. I just didn't include it because it is technically only half about motorcycles since it covers the entire Baja 1000, cages and all. However, I recently bought the DVD and loved it. It is obvious that Dana Brown, like his father, has a soft spot for motorcycles and that he has a real talent for documenting the excitement of motorcycle racing. If you haven't seen Dust to Glory, make sure you buy, rent or borrow it. It will have you talking about Mouse McCoy with your co-workers and talking about getting some Mexican dirt on your dual sport bike with your riding buddies.
Lets step away from the big screen now and dive into the DVD offerings. I recently borrowed Bang Production's Enduro at Erzberg DVD from by buddy MikeDz and thought it was amazing. The Rodeo-X Enduro at the Iron Giant in Erzberg, Austria is won of the mind-bogglingly difficult races that was won by Brit David Knight in '05. While the focus of the movie is primarily on Travis Pastrana, it is the racing that really amazes (though Pastrana's attempted back flip in the middle of a hill climb is pretty impressive as well). I think the best part of the movie is actually one of the pieces of bonus footage: a five minute long aerial shot from a helicopter following Knight on his final decent of the mountain. I'll be buying a copy of this for my DVD collection.
One thing I've already added to my DVD shelf is the Bruce Brown's Moto Classics boxed set. Unlike his previous releases, which were collections of unused film from the 'On Any Sunday" film reels, this new boxed set is actually a set of three DVDs covering four races that Bruce Brown taped for ABC's Wild World of Sports in the 60s: The 1968 Baja 1000, a 1967 Hare & Hound race through the Mojave desert, the 1967 Hopetown Classic and the 1970 Ascot TT. If you're a fan of motorcycle history this is a really enjoyable set of DVDs to watch. I was fortunate enough to get them the weekend I came down with the flu so I spent a weekend glued to the TV (and glued to a box of lotion Puffs tissue). This is real "when men were men" stuff…no suspension, no brakes, unreliable motorcycles and tough courses. Some of the giants of our sport were caught on these tapes like Joel Robert, Roger de Coster, Mert Lawwill, Skip vanLeeuwen and J.N. Roberts. It almost makes we want to own an old Triumph but the DVD doesn't have dodgy electrics and doesn't strain your back when you pick it up.
Finally, when I get around to buying the Enduro at Erzberg DVD, I'll also be buying a copy of Troy Lee Design's 2 Laps 2 Go. I haven't seen this one yet but I'm a big fan of Supermoto racing and I enjoyed the races during the 2004 season that I saw and I think Jeff Ward is a demi-god for winning the championship that year. The DVD should offer plenty of entertainment even if it just follows Ward backing his Honda into every corner at every track.
Alright, leaving the boob tube behind, let me get on to talking about the off-road racing that I mentioned at the start…the dirt part of the dirty movie theme.
The winner of the Enduro at Erzberg was the 2005 off-road superstar David Knight. The guy won Erzberg, won at the 2005 ISDE, won the 2005 World Enduro 3 Championship, won the AMA EnduroCross and cleaned up at the Red Bull Last Man Standing event. So how does a guy with that kind of record follow up? Well, by winning everything he enters in 2006, of course. The enduro giant, both figuratively and literally, won the UK's Tough One event, a two hour extreme hare scrambles race split between daylight and nighttime. As the reigning champ from '05, Knight was forced to penalize himself with a self-selected handicap at the start of the race. He chose to start by having to sprint 1/4 mile to his bike when the green flag flew, putting him at the back of the 30 rider deep field in the Premier class. Yet despite his deficit, he still managed to lap the entire field including not only the Premier class but while also having to work his way past 30 Expert and 30 Clubman riders. The man is an animal.
Not content to rest on his laurels from the Tough One, Knight then headed over to Austria to compete in the Rodex-X indoor arena enduro that is part of the Die Bike Austrian Motorcycle show. As a quick aside, remember back in December when I was complaining about how lame the American motorcycle show is compared to the ones held in Europe? Consider this indoor enduro another data point to back that assertion up. Anyway, where was I? Oh yes, the enduro… Despite being held indoors the event is run in sub-zero temperatures and has a difficult man made terrain course like the one recently seen in the AMA EuduroCross. Naturally, Knight won both races but added another twist to impress the fans by finishing over two laps ahead of his nearest competitor. If anyone is placing best on the '06 World Enduro series, I think you better be putting that money on Knight. Oh, and if SpeedTV is considering whether they should continue showing the World Enduro races like they did in 2005, consider this a big vote "yes".
Thats it for this month.
[image from the Indian Motorbikes web site.]