Author: site admin
Category: MotoGP
The way to make a diamond is to take the proper material, basically raw carbon, and then put it under tremendous pressure for a long time. In the end, the black carbon is transformed into a naturally clear, incredibly hard diamond. Well, perhaps the best sign that Hayden has finally come of age is that he is now being subjected to the famous Rossi pressure.
After qualifying it was birthday boy Hayden's Honda that would be lining up on pole position for the German GP. During the post-qualifying press conference Vale fired his first shot at Nicky by publicly stating that Gibernau and Biaggi are the threats at the Sachsenring circuit, not Hayden. In the past, Rossi has focused his psychological death ray on Biaggi, Gibernau and Melandri…to devastating effects in all three cases. That he is now spending some time bad mouthing Hayden is perhaps the strongest sign yet that he considers the Kentucky Kid a threat.
When the bikes lined up in front of an amazing 95,000 fans it was time to see how Hayden would respond to this first attack. He did so by launching off the line and immediately pulling an eight tenths of a second gap over chasing Rossi. So far, so good. Then John Hopkins got sent into low earth orbit after getting high sided off his Suzuki which resulted in a vicious landing. As Hopkins lay writhing on the track, the race was red flagged. On the re-start, it was again Hayden with the hole shot but Rossi was much closer and quickly took the lead. Gibernau, also under pressure to beat both Rossi and Melandri in order to reclaim his position as a viable MotoGP champ, then charged forward passing both riders to take the lead. Unlike past races where Hayden seemed tapped out just to hang with the leaders this time he was able to take the fight forward to his fellow competitors. He passed Rossi and took off after Gibernau. As the laps wound down Rossi again put the squeeze on Hayden, eventually forcing the pass, and started to apply his patented pressure to Gibernau. On the last lap, Sete again cracked under the strain and ran wide in the first corner. Valentino took his eighth win of the season, Sete recovered to save the runner up spot and Nicky returned to the rostrum for his second time in three races.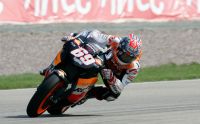 I know I've focused on Nicky Hayden a few times lately but I'm still thrilled to see him growing so much this season after stalling out most of last season. I think that one thing he still has to learn (in addition to learning how to race in the rain!) is dealing with pressure, both in the press and on the track. Being a great racer isn't good enough.,,Biaggi, Gibernau and Melandri all fit that mold. To beat Rossi, it takes more than just talent, work ethic and an amazing bike. It also takes a mental toughness that seems generally lacking in the MotoGP paddock these days. The real test of whether Hayden will ever be a MotoGP champion is how well he parries to the Rossi attack. He got a little taste of the battle before the race but also spent quite a few laps with the Italian breathing down this neck on Sunday. While Rossi ultimately won the race, Hayden was able to get some important schooling…lessons from which he was able to learn. As long as the 24 year old can keep growing as a rider, his hopes for a world title aren't misplaced.
As for Gibernau, he needs the upcoming three week break more than anyone. He's been crushed season after season and needs to regroup after being badly pummelled over the last couple of months. Its been over a year since his last win and its been his own mistakes that have plagued him since the first race of the 2005 season…he is still feeling the tremors from that last corner bump back at Jerez.
Biaggi is also continuing a trend, mainly that he qualifies and starts poorly but comes on strong to rescue a reasonable finishing position, a forth in this case. Honda is rumored to have a new frame and Biaggi is rumored to have run it at the Sachsenring. I think Max needs more than new bike parts to fix his problems, after all Melandri, Gibernau, Hayden and Barros have all run at the front this season. Like Gibernau, Max is being played by Rossi like a puppet and desperately needs to get back to racing on his own terms rather than on Vale's terms. He's had his best shot at getting his head together over the past few months because he was off Rossi's radar. His Repsol seat probably has Pedrosa's name on it already so now all he can hope for is to salvage a Honda satellite ride for next year. That's a lot to think about for three long days…
Melandri seems to have come apart like a cheap tissue since his incredible performance at Assen. It was at the Dutch track that The Doctor dropped his psychological bomb on Marco and the stats at ground zero don't look good: a crash at Laguna, a crash at Donington and now a seventh in Germany. He is just barely maintaining his second place in the standings and has probably lost all hope of taking the MotoGP title this year. Melandri has to regroup and come back strong at the Brno circuit in order to salvage any confidence for 2006. At least he'll be fighting for runner-up against fellow Rossi victims Gibernau and Biaggi…
Ducati and Suzuki both desperately need the three week break, perhaps worse than anyone else. Both teams have been mired mid-pack for most of the season despite their riders putting forth heroic efforts. Roberts' second place in the rain not withstanding, all the Bridgestone teams have been struggling just to see the tail end of the Honda/Yamaha bullet train. Whether this is a tire problem or a bike problem is hard to tell but Kawasaki's brief flashes of improvement haven't been mirrored in the other two team's results. Suzuki needs the break doubly bad since John Hopkins' two crashes this weekend mean he needs to cram a six week recovery time for his broken foot into the MotoGP mid-summer 21 day vacation. Given how many times Ducati's Carlos Checa has crashed this season, its amazing he isn't nursing broken bones as well. Still, he'll probably need the break to turn down the volume of that bell ringing noise in his ears.
And finally, Rossi needs to take a little break as well. Why? Well, he's been doing quadruple duty this season by racing for Yamaha, educating the young guys, crushing the old guys and sticking it to Honda all at the same. He's gotta be tired! Besides, he needs to build up his energy for 2006 when he'll be doing it all over again.
[image from the Nicky Hayden web site.]