Author: site admin
Category: MotoGP
KTM has, perhaps, been the motorcycle success story of this decade. Like Triumph in the 90s, the little Austrian company has grown from a small niche market company to one of the major players in the European bike market. Their product line has exploded from a purely competition dirt focus to a line-up that includes motorcycles for dual sport, adventure touring, supermoto, MX/SX, trail riding, and may soon add a sport bike. With last month's announcement of a 25% stock purchase by Polaris, KTM may now have the capital to grow even more. This may mean they finally get their awesome 990 SuperDuke homologated in the US and may also guarantee production of their RC8 Venom sport bike. Expect the 990cc version of their engine to show up in their other bikes like the Adventure and Supermoto, should they get it cleared through the US DOT with the SuperDuke. But I generally talk about road racing, to let me take a moment to focus on their recent accomplishments in that arena:
KTM entered the 125GP road racing class in 2003 using a bike designed by noted two stroke expert Harald Bartol. (Bartol's involvement was key as he had previous success with Grand Prix engine design at both Yamaha and Derbi.) At the time, the plan was clear: To built a 125 bike and get a few years of experience in the Grand Prix world before unleashing a big four stroke GP bike on the MotoGP class. The rationale apparently being that this would break them out of their reputation as a two-stroke dirt bike company and pave the way for competing for street bike sales against established companies like Ducati, BMW, Triumph and the "Big Four" Japanese manufacturers….sort of like win on Sunday, sell on Monday but instead being compete successfully in a new field of racing and gain immediate street cred in that arena.
By their second year in the 125 GP Championship, KTM had scored their first victories with Casey Stoner and scored a top-10 finish. This year they announced an increased effort with a three rider team and so far they have been challenging for the title since the first races. For this year KTM also announced that its plans had changed: they would no longer be running a team in the MotoGP series (cost being sighted as the factor in that decision) but that they would instead be building a 250cc two stroke for the 250GP class. Additionally, just before the start of the 2005 season, it was announced that Kenny Roberts would be running the KTM V-four engine had been building for MotoGP in his Proton chassis and would be running KTM's traditional orange colors. Clearly, KTM was still going to make a splash in the Grand Prix world.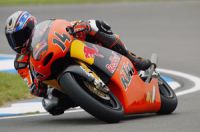 The introduction of KTM's new 250cc Grand Prix bike was delayed until the soggy Donington round of the MotoGP championship this past July. Given that the bike had only been tested once prior to the race and the fact that this would be a learning season for KTM in this class (just as the 2003 season had been in the 125 class) it would be fair to have expected a less then stellar debut. Unfortunately no one told that to rider Ant West, once pegged by none other than the legendary Michael Doohan as a future GP champ, who proceeded to run an astounding race to earn an eventual second place finish. The rain is always an equalizer and it not only took out a bunch of front runners due to crashes but also played to the strengths of wet weather specialist West. Still, a second place finish on the bike's first outing was fantastic not matter what the contributing factors might have been. Perhaps even more encouraging is that West followed that up with a 10th place finish in the dry at the next round at the Sachsenring in Germany. It seems that the 250, like the company's 125s, has made the leap from drawing board to competitive racer in a very short time.
In the premier class the KR Proton/KTM collaboration has been less successful. Going up against Honda, et al, has always been a David versus Goliath story for Kenny Roberts but the switch to four stroke bikes has caused the costs of development to sky rocket. While KTM's motor appears to be good, both parties lack the funds necessary to further develop it. It remains to be seen what this means for 2006 or, worse yet, for 2007 when all the engines are restricted to 800cc. I would love to see KTM in MotoGP but given the struggles of much bigger companies like Suzuki and Kawasaki, I don't think they'll really take the plunge. Likewise, Team KR doesn't have the funding to build an entirely new engine on their own. I'm afraid the MotoGP partnership has a pretty bleak future.
Outside of their newfound roadracing success, KTM has continued to find victory in their traditional avenues of off-road racing. This past winter they earned their fifth straight Dakar victory, capping off a year in which they won 17 world titles including World MX2, World Euduro2, World Euduro1 and World Supermoto S1. KTM even had a strong showing in the US Motocross and Supercross events which are more prestigious than the World MX and SX series.
It seems Team Orange is really on the move. BMW, Triumph, Ducati, Aprilia and all the other European manufacturers better keep a close eye over their shoulders. KTM is coming for them and is coming strong.
[image from the webBikeWorld web site.]