Author: site admin
Category: WSBK
Back in May I did my write up of the Silverstone round of the World Superbike Series by comparing various riders with some famous Winston Churchill quotes. I've decided to do something similar for this past weekend's Brands Hatch round but using J.R.R. Tolkien quotes as the jumping off point.
"From the ashes a fire shall be woken, A light from the shadows shall spring; Renewed shall be blade that was broken: The crownless again shall be king." - Troy Corser - Alright, so this quote has more to do with the season as a whole than the specific race at Brands Hatch but there is no doubt that Corser personifies the reforged sword. Corser was "The Man" aboard the factory Ducati in the late 90s but then went into the dark years when he signed a four year contract with Fogarty to help develop the Petronas. Now, springing forth from the shadows, the Aussie is again shining brightly. At Brands he fought tooth and nail (and probably needlessly) with Haga in both races. The Yamaha Japanese ace is well back in the points and thus isn't a threat for the championship but the veteran Suzuki man went for the wins anyway. He looked the faster rider displaying his trademark smoothness while holding enough in reserve to make a last lap pass in both races. The rope-a-dope tactic worked in race one but an uncharacteristic mistake after his masterful pass in race two put him back to second (and nearly into the gravel). The 1-2 finishes extended his points lead in the title fight to an incredible 110. Look for the 1996 champ to be re-crowned at Assen in three weeks.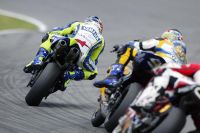 "All that is gold does not glitter; not all those that wander are lost." - Noriyuki Haga - So Haga is not taking home championship treasure this season…he is currently fifth in the title hunt and a staggering 177 points down on Corser. However, he has glittered blindingly strong the past two race weekends. The Yamaha team seemed lost for the first half of the season but apparently found their way at Brno. Whatever the equipment change, Noriyuki looked like the "Nitro Nori" of old at Brands. He was on the edge every lap, either a sign of his confidence on the bike or a clear indication that all the R1's demons haven't yet been exorcised, with the rear lighting up at each corner exit. This looks like the Haga of 2000 who rode (and at times crashed) his Yamaha into every fan's consciousness. Haga seemed determined to lead and most of his laps where about a half second faster than nearly everyone else on the track (the exception being the calm, cool and collected Corser). Despite being passed for the lead in both races, and basically being handed the race two win after Troy out-braked himself) Haga looked like the World Superbike superstar he has been for nearly a decade. At one time, Haga was the most popular motorcycle racer in England and his showing this past weekend will have put him on track to regain that title.
"Little by little, one travels far." - Chris Walker - If Yamaha went from mid-pack to leading races in just one quick Czech weekend, the Kawasaki squad has chipped away at it all season. They started off squarely mid-pack, then moved up among the front runners at Valencia, then faded a bit and have now come on strong again since Brno. How much of this can be credited to the bike and how much to Chris' riding is debatable but Brands certainly gave some credence to the rider portion of that equation. Walker seemed to be grabbing the ferocious Kwacker by the scruff of the neck and physically forcing it to his will. Perhaps his dual fourth place finishes should earn him a rodeo belt buckle because he rode the ZX like it was an angry bull. Rarely would I say that just missing the podium two times in a row qualifies as a brilliant weekend but Walker did an amazing job to show so well in front of his home crowd. Perhaps he should be given a shot at the evil handling Ducati MotoGP bike (instead of Checa) since it would obviously suit his riding style…
"Faithless is he that says farewell when the road darkens." - Chris Vermeulen - The Ten Kate Honda rider has sat second in points for most of the year but a poor qualifying session had him starting both races in eighth. His forth place finish in race one was an excellent job of damage control but was really enhanced by his third in race two. It is debatable whether the Aussie would have had the speed of Haga/Corser in the second race but he was definitely faster than everyone else once he worked his way through the pack. His 4-3 finishes allowed him to keep a faint glimmer of hope alive in the championship race. He may well have to focus on defending against third place Laconi now as much as chase first place Corser…
"It needs more to make a king than a piece of elvish glass, or a rabble such as this." - Regis Laconi - Ducati continues to pin its hopes on the Frenchman Laconi but it seems that no matter how hard he rides, and he rides very hard, it doesn't seem that the bike can quite give him what he needs. After his wins at Silverstone and Misano, it looked like Ducati had turned a corner but at Brands they seemed to have taken a step back. Regis' 3-4 finishes may not seem like a sign of impending doom but watching how hard Laconi had to push just to stay on the tail of the Haga/Corser battle shows that the big v-twin doesn't have the acceleration, especially off the side of the tire, that the Suzuki and Yamaha could deliver. Ducati's Superbike weapon has evolved from a bike renowned for its mid-range grunt to a high speed, high rpm rocketship that does best when it can stretch its legs. Fortunately, the flowing Assen circuit may play back into the Duc's strong points.
"His head was swimming, and he was far from certain even of the direction they had been going in when he had his fall. He guessed as well as he could, and crawled along for a good way, till suddenly his hand met what felt like a tiny ring of cold metal lying on the floor of the tunnel. It was a turning point in his career, but he did not know it." - Karl Muggeridge - Karl had a mixed weekend, at least on paper, with a sixth in the first event and a crash in the second. However, for a Superbike rookie the sixth was a great finish and the fact that he ran with the front runners for a while in both races shows he's taken another step forward, perhaps his biggest since his 4-6 finishes at Monza earlier this season. Muggas is proving that Ten Kate was right putting the historically crash prone Aussie on their superbike this year.
"It's like things are in the world. Hopes fail. An end comes. We have only a little time to wait now." - James Toseland - Sadly, Toseland only has a little time to wait until he has to relinquish his 2004 superbike crown. Despite some strong rides at Silverstone, Misano and Brno, the Brit's hopes for a repeat title have definitely diminished. The final blow was having his bike quit in race one leaving him to make a long, sad walk back to the pits. Even in race two, he started strong but then faded back as one by one the other front runners passed him and pulled away. Last season, Toseland constantly showed his optimistic attitude and worked harder and harder to take the title over his star teammate. I hope this season's misfortunes don't dampen to much of that spirit as he's a much better rider than his sixth place in the championship shows.
"The burned hand teaches best." - Andrew Pitt - For the first races of this season, the best performing Yamaha wasn't Haga or Abe or Nieto or Cardoso or Gimbert but was instead the quiet Aussie Andrew Pitt. However, the hallmark of his rides was that he would qualify strong, blitz off the line into the leading pack and then hold up the other riders as they slowly worked their way past. When Pitt wasn't going in reverse, he was tossing the R1 into the gravel. Well, it seems that all this trauma has been a good teacher as Pitt carded 7-6 results at Brands. The one thing he still has to learn would appear to be controlled aggressiveness as Laconi and Walker looked much more assertive in their race two battle with Vermeulen and Toseland than did Pitt. In fact, Pitt looked content to follow for most of the race. Nonetheless, to see Pitt actually make a pass on someone else, as he did to Toseland, shows that he's still improving.
"Still round the corner there may wait, a new road or a secret gate." - Lorenzo Lanzi - One rider that deserves more press than he's gotten thus far is Ducati's chosen son Lanzi. He started the season on the privateer SC Caracchi Ducati and was finishing mid-pack. Over the past three or four race weekends he has continually improved and has scored six straight top tens, including a pair of eighths this weekend. Don't be surprised if Lanzi travels a new road aboard a factory Ducati next season. In the meantime, he has definitely proven himself to be the best privateer in the series this year.
"Courage is found in unlikely places." - Yukio Kagayama - Okay, so maybe it isn't unlikely that the gritty Japanese rider would show courage, after all he came back from a horrible injury last year to win races in the British Superbike Series. Kagayama definitely showed the lion's share of bravery at Brands riding to double ninth place finishes after a monster high-side in practice on Friday. The crash broke some ribs, generally battered the Suzuki rider and may have earned him enough air time to qualify him for a pilots' license. Despite the painful injuries, Yukio did Superpole on Saturday and, after having his rib cage bound to restrict movement, went on to race in both events on Sunday. Gritty indeed!
"It must often be so, Sam, when things are in danger: someone has to give them up, lose them, so that others may keep them." - Frankie Chili - Chili definitely had to give something up at Brands, mainly his streak of top ten finishes this season and his history of strong races at the Kent circuit. Unlike last year when he challenged for the lead, this year the popular Italian was mired well down the field. He had a bike problem in race one and finished unlucky thirteen in race two.
"It's a job that's never started that takes the longest to finish." - Ben Bostrom - For whatever reason, the Renegade Honda team and their rider Benny B have never really gotten started this season. Whether this is a machine problem, a rider problem or a combination of the two may never be known but any time a rider of Bostrom's talent has a weekend with 12-10 finishes you know things aren't right. At the moment the team is an abysmal 15th place in the championship, the most disastrous season in their history. We can only hope that BBoz has another year left on his contract and that Renegade can make the same breakthrough with the CBR as the Ten Kate team have done.
"He should not vow to walk in the dark, who has not seen the nightfall." - Garry McCoy - McCoy's downward spiral continues, both in the macro view of the entire season and the micro view of this particular race weekend. The Aussie was once the golden child of the GP paddock but faded from glory there. He had brief moments of success on a privateer Duc in WSBK last season but this year moved to the star-crossed Foggy Petronas team with predictably poor results. In race one, he earned his tenth DNF of the season and then was the last place finisher in race two for an 18th place result. While much of the blame can be firmly placed on the machine there is also the question of whether McCoy knew the FP1 was this bad before signing on for the season. The Sultan of Slide is rapidly slipping into obscurity.
"It's a dangerous business, going out your door. You step onto the road, and if you don't keep your feet, theres no knowing where you might be swept off to." - Pere Riba - Spaniard and ex-GP rider Riba got the phone call to replace the injured Mauro Sanchini as Walker's teammate on the PSG-1 Kawasaki squad. Riba scored a fourteenth in the first race and a twelfth in the second, putting him in points earning positions in both races. Certainly an acceptable weekend from a rider that hasn't race since June of last year and one on par with the results put in this season by the man he is replacing.
"A star shone at the hour of our meeting." - Fonsi Nieto - Unfortunately, it turned out to be a bad moon rather than a lucky star. Just a couple of years ago, Nieto was on the verge of winning a 250GP title and was the great hope of the Spanish moto-journalists. Crashes ruining that shot at a 250 championship and the repercussions were felt for the next two seasons. This year it seemed he had a chance to step back and regroup but has instead gone from GP disaster to WSBK disaster. His dual DNFs this weekend were his seventh and eighth of the year with the only highlight of the season being a fifth at Phillip Island. Nieto may be the best test case yet for whether Spanish nationality alone is sufficient for a rider to keep their ride despite dismal results…
"This thing all things devours: Birds, beasts, trees, flowers: Gnaws iron, bites steel: Grinds hard stones to meal: Slays king, ruins town, And beats high mountains down! Time." - Ducati - This weekend was, in my opinion, the final nail in the coffin for Ducati's chances of claiming their 14th manufacturer's title and their 12th rider's title. Time has marched on and the dominance of the v-twins from Bologna may be at its end. If WSBK, like so many of the national superbike championships, commits to freezing the rules for a few years then the big red machines may struggle more and more against their four cylinder competition. Only time will tell if Ducati introduces a Superbike version of their V-four MotoGP bike (especially when GP rules go to 800cc in 2007) or if a more competitive v-twin can yet be built.
[image from the Yamaha Racing web site.]