Author: site admin
Category: AMA Superbikes
After this summer's USGP nearly all the motorcycle web sites were abuzz with the news of which movie, TV and rock stars were spotted at the Laguna Seca race. Brad Pitt, Matt LeBlanc, David Alan Grier, Vanessa Marcil, Orlando Jones, Ahman Rashad and even porn star Brianna Banks all found their names in unfamiliar territory as magazines, newspapers and web sites mentioned them in their MotoGP reports.
Now I'll admit up front that I'm not particularly in touch with pop culture. I don't really follow movies, TV or the Billboard 200 to see who's who and what's hot. I don't know most actors and actresses by name, nor do I know the faces of most of the stars in the hot TV shows. On the contrary, I'm a full blown motorcycle geek and nearly all of mypop trivia knowledge is centered around two-wheels. As a result, I'd much rather know what Andrew Pitt is doing on weekends instead of Brad Pitt. While fans, and even some of the racers, were wondering where Brad's girlfriend was during the MotoGP weekend, I was ticked off that some yahoo's helicopter was making so damned much noise while I was trying to listen to the track PA system.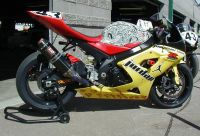 All that said, there is one VIP that I think deserves mention each and every weekend. That superstar is Michael Jordan. Sure, I know he's an amazingly famous basketball hero and that he's constantly surrounded by an entourage of stick-n-ball devotees but the reason he deserves every ounce of respect that motorcycle fans can give him is that he's spending his money and working with his personal sponsors to improve our sport. Brad Pitt's picture in People magazine may make some people think our sport is getting greater recognition but I bet photos of Brad Pitt at a polo match have been shown in People and I don't see ESPN scrambling to increase their coverage of those well-heeled horse jockeys. Until Mr. Pitt decides to spend some of this copious bank to support bike racing, he'll just be another anonymous face in the crowd to me. But His Airness? The crowds at racing events should part like the Red Sea as he walks through. He should receive a standing ovation whenever he appears and should have his mug posted on small shrines throughout the pits. Jordan is putting his money where his heart is and that's in motorcycle racing. Now *that* qualifies as a star in my book!
Perhaps even more compelling, he is working to bring his own personal sponsors into the sport. Nike, Giant RV, Upper Deck and Gatorade are all helping out the Michael Jordan Motorsports team. All of these are companies that are not traditionally associated with motorcycles, nor are they the types of companies that have historically been involved with bikes: Tobacco companies, movie/entertainment/media firms and soft drink mega-corporations. With tobacco logos becoming verboten in many countries, and with corporate sponsorship of AMA teams drying up faster than race fuel spilled on hot asphalt, anyone that can bring in fresh money will seen as a miracle worker. Add in that MJ is bringing friends like Kid Rock and Chris Chelios to the track, both of whom have expressed at least a passing interest in getting involved with motorcycle racing, and there is another dimension where he is helping expand our sport. I hope Jordan stays with the sport for a long time but I hope the presence of his contacts will be felt even longer.
[image from my photo collection.]