Author: site admin
Category: MotoGP
There isn't any racing among the major series this weekend, though our local MRA club is racing at Pueblo Motorsports Park. With the MotoGP squad going on their traditional mid-summer break, this seems like a good time to reflect on one of the riders that I haven't mentioned much this year. The person most deserving of some press despite what the raw statistics would indicate is Suzuki rider John Hopkins.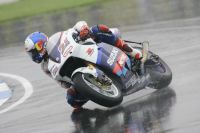 From what I can tell, John is the hardest working guy in MotoGP racing. Since he entered the MotoGP paddock in 2002 he has been saddled with an underachieving bike. In 2002, Hopkins dove right into the Grand Prix world turning fast laps and turning heads despite being on a two-stroke Yamaha at the dawn of the four stroke era. Over the course of the season he had four top ten finishes, including a best place finish of seventh at Assen, which was a very respectable showing for a GP rookie. Unfortunately, his enthusiasm for riding the bike despite being outclassed by the new 990cc four strokes also lead to crashes. Despite some top ten finishes at the end of the season he was only ranked 15th in the championship.
That display of hard riding then earned him a two year contract with the Suzuki factory to ride their GSV-R MotoGP bike. While getting a factory ride was a step forward the bike was, like Hopkin's old 500cc two stroke Yamaha, not up to the task of running with the super fast Hondas, Yamahas and Ducatis. Hopper responding by over riding that bike for two straight seasons. He again had some outstanding rides including a 2003 season best of seventh at Jerez and sixth at Estoril in 2004 but also had a rather long list of DNFs thanks to both the bike crapping out and him throwing Suzuki down the track. When his Suzuki contract came to an end his standings in the title chase were a lowly 17th in '03 and 16th in '04. For 2005, he resigned with Suzuki and has another season of ups and downs…his best result this year has been another seventh, this time in China but he has also had three DNFs. He currently sits 15th in the 2005 championship.
Based on results alone, it may be hard for someone to understand why I'm so impressed with the 22 year old. By way of illustration of why, I'd like to recount his last two races of this season. First, the Donington Park from back in July. At this race, the sky opened up and flooded the track. Of the 21 riders to start the race only 11 finished and of those John was the final rider across the line. The reason for his last place result was that like 10 others, he crashed during the race. But after his crash, he was the only rider to drag his dirty bike out of the gravel trap, ride it back to the pits for repairs and then rejoin the race. In a race series that is often filled with prima donnas the fact that Hopkins was willing to got back out and keep riding means he deserves every one of the five points that eleventh place finish earned him. Having the work ethic to get back on a crashed bike and race, even when its cold, rainy and miserable is good for the rider, good for the team and is good for the sponsors. If you aren't standing on the top of the podium then every lap you turn on a race track is a valuable lap in the hopes it makes you a little bit faster the next time out.
My second example of Hopkins' dedication is that he followed up his Donington Park performance by riding at the Sachsenring after a qualifying crash that was so vicious he had to be helped on and off the bike. The crash dealt out a broken foot, sprained ligaments in his hand, bruised ribs and just a general beating all over his body. Despite having an excellent excuse to call it a day and prep for this chance to drive a Formula One car at Silverstone he instead got on the bike and was actually riding hard in the race before a second trip to low earth orbit sent him back to the medical center. Now I'm not saying it was necessarily smart for him to race after that first accident but it says a lot about his character that he tried.
Now I know that character alone doesn't win championships. However, I think that Hopkins has always tried to make up for what the bike lacked by riding over the limit. This has often cost him race results but he deserves a lot of credit for his drive and enthusiasm. Its that sort of effort that allows us race fans to ponder what things would be like if he were on a bike capable of running at the front rather than sticking his neck out lap after lap for a 10th place result.
One final observation to back up this view of John Hopkins…I've been watching a lot of my old video tapes lately and have thus had a chance to watch races from late 90s through the present. One thing that has been painfully clear is that everyone that has ridden for Suzuki for the last decade has faced the same issues. Even going back to the glory days of Kevin Schwantz in the late eighties and early nineties, the Suzuki GP bikes have never been as good as the Hondas and Yamahas. What Schwantz did to win against Lawson, Rainey, Doohan, et al was to ride over the limit lap after lap. As a result, his wins were memorable and his crashes spectacular. His 1993 world championship was perhaps the most deserved of any rider, if only because of the physical abuse he took to earn it…just two years later he retired from GP racing. The same story is true of Kenny Roberts Juniors 2000 500cc championship, though unlike Schwantz most of KRJr's amazing get-offs happened after his title rather than before. Roberts rode convincingly en route to his 500GP crown but his title defense the next year was a disaster, highlight mainly by brutal crashes. In the years since that crash filled 2001 season he has steadily reduced the number of crashes but his race results have suffered as well.
I think everyone that rides for Suzuki's GP team becomes a familiar face in the gravel traps of the worlds' race tracks. As a rider you can either dial it back to save your skin (like Roberts Junior seems to have done this season) or you can try to over compensate for the machine's failings in the hopes that your efforts are eventually rewarded with either a championship or a ride on a better bike. Lets hope that Hopkins gets a better ride in 2006 so we can see what he can really do…I'm not sure he can survive another year on the Suzuki.
[image from the John Hopkins web site.]