Back in January I did a blog entry announcing that the 2005 Iron Butt Rally would start and stop in Denver this year. Well, the time is now upon us.
This past weekend a small army of Iron Butt contestants, staff and volunteers descended upon the Doubletree Hotel Denver. Just before 10:00 in the morning on Monday, August 22, 90 endurance riders will be given their rally packets and, after a short time of frantic map reading and bonus point calculations, will hit the road. For the next 11 days, the riders will ride a minimum of approximately 1,000 miles per day. In the past, their route has taken them to the four corners of the US and often times into places like Alaska, remote regions of Canada and even into Mexico. This year the rally route will be somewhat different as it starts in Denver, has a checkpoint back at the start line 4 1/2 days later (Friday August 26 between 7 and 9pm), then another checkpoint 2 1/2 days later in Maine (Monday August 29 between 9 and 11am) and finally returns to Denver four days after that (Friday September 2 between 8 and 10am).
What is all this about? Well, the rally itself was first started in the mid-80s and is only held every two years. Riders with prior experience in other Iron Butt events or with demonstrable endurance riding experience may apply. The 90 or so riders who will actually take part in the event are chosen roughly 18 months before the start of the rally by random ballot selection. (A few riders are approved directly by the IBA staff but the vast majority go the ballot route). After a year and a half of preparation, everyone travels to the start location to begin the rally.
At the start of the rally, the Iron Butt Association staff of rally masters (aka, the Rally Bastards) of Bob Higdon, Mike Kneebone and Lisa Landry pass out the route packets. These folders not only contain the details of required checkpoints but, more importantly, also contain the initial list of bonuses (additional bonus listings may be given out throughout the rally). The most basic requirements for the rally is simply to start on time, hit all the required checkpoints within the two hour window they are available and make it to the finish within its 2 hour window. Accomplishing this, while sustaining the grueling physical strains imposed by eleven straight days of endurance riding, will earn the rider a Iron Butt Rally (IBR) finishers medal. However, the bonuses are what really change the Iron Butt from merely being a test of stamina to being a strategic game of survival. The bonuses are various locations that can be visited by the riders which earn bonus points above and beyond those awarded for hitting the checkpoints on time. Some of these are small and easy, others are nearly impossible but very rewarding. It is up to the rider to make the necessary decisions about what bonuses are achievable without missing the checkpoints. The more bonuses a rider can snag the greater their points tally. At the end of the rally, the rider with the most points wins. Sounds simple in theory but in practice it is fiendishly difficult especially when paired with the toll already exacted by riding such long distances over so many consecutive days.
"What?!?! Are these guys insane?" I can hear you thinking. Well, on that particular topic I am neutral. Like the Isle of Man, top speed runs on the Bonneville Salt Flats or motorcycle Endurance roadracing, organized long distance rallies are undoubtedly dangerous. Then again, riding a bicycle at 50 miles per hour in a measly pair of spandex bike shorts for hours at a time is dangerous as well (just witness all the crashes in this year's Tour de France). Ultimately, some people will always find ways to push themselves to the limit. It isn't any one's job to baby sit riders, so long as the consequences of their actions are no worse than those that any other vehicle can impose. As for the riders themselves, I don't think they are reckless thrill seekers. There is a quantifiable difference between people that take calculated risks and those who are downright stupid. All the riders in the Iron Butt know exactly what they are up against and they spend an inordinate amount of time preparing for it including skills training, bike preparation and self assessment. All that said, I think there are three basic categories of riders that compete in the Iron Butt Rally.
First, there are those just out for a finisher's trophy. Many of these riders are on "odd" machines…small displacement bikes, vintage motorcycles, bikes of questionable build quality, etc…and are going to do the minimum mileage possible while still hitting all the checkpoints. In the end, they will have the satisfaction of knowing they completed the Iron Butt Rally and will probably have the tales of a lifetime for having done so on something everyone thought couldn't possibly survive such a harsh trip. Surely these people are pushing the boundaries by simply being in the rally but they are the most conservative of those involved even if their choice of bikes would sometimes indicate a questionable level of mental stability.
The second group are those that are going to push themselves a little harder by going after some bonuses but realistically know they aren't going to win the rally. Some of these riders are just practicing for future rallies or are just out for the satisfaction of knowing they will have pushed themselves to their personal limits. All of these riders are somewhere on the "'unusual" end of the spectrum of motorcyclists but hardly suicidal in nature.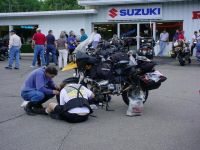 Finally, there are the big dogs. Riders like 2003 winner Paul Taylor who went after a seemingly absurd bonus in Prudoe Bay, Alaska but still made the required checkpoints. The pool of potential winners are pretty easy to spot. First of all, they have specialized bikes with auxiliary gas tanks, enough wattage in their head lights to turn a deer into venison jerky, more navigational aids than the space shuttle and more accessories on their bike than a typical Harley has shiny chrome bits. Many of these riders have long lists of sponsors who help defray the costs of these bike modifications and nearly all of them have prior history at competing in the IBR. As for these guys, a year or two in serious therapy should probably go along with a winner's trophy!
Me, I'll be watching longtime 'net acquaintance Jeff Earls who will be competing again this year. Jeff had a DNF last year after 7773 miles. In 2001, he finished 16th with a total of 11,241 miles. In 1999, his first IBR, he finished in 24th with 10,906 miles. That is two "gold medal" finishes in three starts. Not bad! If you're so inclined, you can follow the daily reports which will be posted on the IBR web site by Bob Higdon and watch Jeff's progress throughout the rally.
[image from Martial Mason's motorcycle photos web page.]