Author: site admin
Category: AMA Superbikes
I'm still playing catch up, this time with the AMA Superbike races held at Mid-Ohio Sports Car Course a week ago. Seems like there are some interesting ways of measuring success at Mid-Ohio, so I'll focus on some unique forms of quantifying differences.
First and foremost, the biggest story of the weekend was that it was raining cats and dogs on Thursday night and the linger affects of this weather influenced the whole weekend. The first practice sessions on Friday were slower than cold molasas to get started because water was bubbling up through the track. More rain was forecast for the weekend and this made the topic of racing in the rain on the tricky Mid-Ohio track a hot one. Most of the riders felt the track surface was inappropriate for a rain race and Mat Mladin went so far as to declare he wouldn't race if it rained Saturday or Sunday. While it did eventually rain on Sunday, it was just a wee sprinkle and the track was dry by the time the Superbike race was flagged off.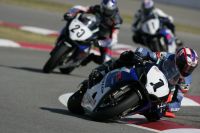 But for the first race on Saturday afternoon rain wasn't an issue. On a dry track, Mladin continued to do what he's done all season…start from the pole and just clear off on the rest of the field. Mladin's win was bodacious, carding a 11 second lead over second place Ben Spies and third place Eric Bostrom. Aaron Yates ran in second place for most of the race but crashed out 3/4 of the way through the race, handing the place to his Texan teammate. Also notable was that American Honda's Jake Zemke ran in the top five for the early laps but a mechanical failure on his CBR took him out of the race.
When the boys finally lined up on Sunday, after being delayed a couple of hours while waiting for the track to dry after a morning shower, all eyes were on Mladin. He had won the first race by a country mile and given his form this year was expected to do the same in race two. A second win would net him a 44 point lead over second place Ben Spies and surely set the stage for a conservative run over the last four races to sew up the title. Instead, Mladin got a lousy start when the green flag flew while Ducati's Eric Bostrom got one of his patented killer starts to take the holeshot. Mladin started charging forward, eventually turning the fastest lap of the race. Eric pulled a gap over second place Yates while Mladin closed up on the rear wheel of his fellow Yoshimura Suzuki rider. On lap eleven, Bostrom drifted a little wide at the Carousel and Yates tried to tighten his line to go for a pass. Instead, he asked for just a smidge more traction than this rear tire could deliver resulting in a lowside. Mladin, directly behind Yates at the time, followed Yates off the track and eventually tipped over on the wet grass. Bostrom inherited a monster lead and took the checkers with a 6 second gap over surprise podium visitor Miguel Duhamel in second and Ben Spies in third. Zemke was again out with a mechanical, giving Honda a schizophrenic pair of race two result. The Red Riders got another boost, in addition to Duhamel's fantastic second place, when Kurtis Roberts brought his Erion Honda home in fifth behind Neil Hodgson, making this Kurtis' best finish of the season. While Suzuki was disappointed losing two of their three factory riders in a single crash their pain was lessened a tad by Jordan Racing's Steve Rapp coming home sixth and teammate Jason Pridmore following him home for seventh.
The mathematics of the weekend work out like this. Mladin loses a boatload of points to Ben Spies and now only has a 9 point lead in the championship battle. Bostrom gained a massive 66 points on Aaron Yates and leapfrogged into third in the championship. In fact, the points accruals starting at Pikes Peak show an interesting story. Spies has earned a stunning 177 points in the past six races while Mladin has earned 170 and Eric Bostrom 167. Yates, in stark contract, has only added 87 to his tally. This tells the story, as Spies and Mladin have pulled a nearly unassailable gap on everyone else but the race for third has tightened up considerably between Bostrom and Yates.
The trends are equally interesting. Ducati have won four of the last six races but the two teammates on the 999s have also had three DNFs in that same time period. Mladin has three wins, two seconds and one DNF over that time while fellow Yosh rider Spies has maintained his amazing rookie season performance with two second place and two third place finishes. Clearly the Ducatis have come good here at the end of the season but its mainly been because of the misfortune of Mladin on two occasions that things look as rosy as they do. Eric's three wins at PPIR, Laguna and Mid-Ohio have come just in the nick of time, as silly season is hard upon us and EBoz's two year contract comes to an end this September. Surely this late charge by one of the most talented riders in the paddock won't go unnoticed by team managers.
One rider that doesn't have to worry about next year is Mat Mladin who announced at Mid-Ohio that he had signed a contract renewal with Suzuki that will seem him racing with them through 2008. I'm sure Mladin, soon to be a six time AMA champ, is making a metric shitload of dosh (and deserves every penny) and may well be in a position to run his own team next year, should he desire it. Whether its Mat or someone else, expect the Mat Mladin team to expand to two riders in 2006.
The history books will show that Hodgson, Spies and Bostrom all won races in 2005. Unfortunately, those stats don't show just how one sided the season has been. Luck is an important part of racing and Mladin has had a skosh more bad luck this year that the other riders. Other than his Fontana clutch failure and being taken out by Yates at Mid-Ohio, he has only been off the podium once: his forth place finish at PPIR after pitting for new tires. For him to go into VIR in a tight points battle is good for the fans but ultimately shows how the AMA points system rewards consistency over outright wins. Spies has only been off the podium three times (Infinion, Road American and Laguna), which is astounding for his first full season on a Superbike, but has only won once. He deserves accolades galore for his riding but that record shouldn't give him a shot at the title against so dominant a rider as Mladin. I'd rather see a points system that encourages riders to go for the win…then I think we would get a truer measurement of the series champ.
[image from the DC Sportbikes web site.]