Author: site admin
Category: WSBK
Despite the June WSBK race at Silverstone officially being called the "European round", this weekend actually marks the second time this season the World Superbike guys have come to the UK to race. (Hopefully, they will get better weather than the torrential downpour that greeted the MotoGP guys three weeks ago at Donington Park). With 70,000 fans flooding into Silverstone for the WSBK race in May and 75,000 showing up for the drenched MotoGP race at Silverstone last month, anticipating a large turnout at the Brands Hatch circuit should be a foregone conclusion especially considering its proximity in Kent putting it so near London.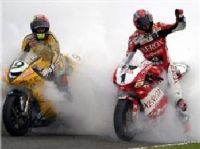 This is the eighth round of the twelve round series, so we're at the 2/3 mark for the season. After this, the riders get nearly a month off before returning for the September race at Assen. As such, all the riders would like to go into the break with a good pair of results. With silly season in full swing, the motivation is that much higher. Finally, the two brits of Toseland and Walker, along with the British based Renegade team, would all like to do well in front of their home crowd so expect that little bit extra from them.
The track itself is a great one. Brand's Hatch has been on the WSBK calendar since 1993 and as mentioned above has been one of the best attended throughout that time. The circuit is 2.62 miles in length with 9 (or 11) turns depending on how you measure it. The track has a few "straights" that actually contain a kink so these sections are particularly fast (as well as confusing when tallying the curves). In addition to the fast turns there is also a lot of elevation change around the circuit, so suspension setup becomes particularly tricky. The fast corners need some plushness to the suspension to keep the tire from lighting up over small bumps while the elevation changes require a stiff suspension to avoid bottoming. Expect to see different riders make different choices and thus have bikes that react differently in the various parts of the circuit. Another feature of the track is the difference in safety between the old classic track and the newer, faster "new" portion of the track. The new section runs through the woods making it both scenic and a bit more dangerous in the event of an accident.
Another unique aspect of the track is it's history. Only two brands have ever won at Brands, Ducati and Honda, despite having hosted 22 superbike races. Even odder, of the 11 rounds held at Brands, 7 have resulted in double wins as Falappa, Foggy, Edwards x2, Bostrom, Byrne and Haga have all "done the double" here. Of the riders currently in the series Chili, Bostrom and Haga have all had good results at this track. Last year, the race was dominated by Haga with double wins on his Renegade Ducati. Equally memorable was the vicious race one highside experienced by Chili while leading the race. He rebounded to an amazing second place finish in race two. Laconi also had a mixed bag last year with a second place in race one but then a crash in race two. The final memorable ride was Corser who brought home a fifth on the Petronas, one of their best finishes ever. Unfortunately, he DNF'ed race two, keeping at least part of the FPR reputation alive.
This year, things are looking much better for Troy Corser. First, he comes into Brands with a 94 point lead in the championship. Second, he starts the weekend a new father as his wife Sam just gave birth to their second child, a baby girl, last week. Third, he won three weeks ago at Brno, his first win since race one at Monza, which shows that the early season speed of the Suzuki hasn't been completely eclipsed by the Ducatis, Hondas and Yamahas. Finally, he grabbed provisional pole position in qualifying today. If he can follow that up in Superpole it will be his third straight pole, which will net him his 34th career pole position and 72nd front row start (out of 217 races…that is a staggering 33% ratio of front row starts in his 13 year WSBK career). The man is a machine when it comes to qualifying!
So, who (other than Corser) should you watch? Well, most of the riders had inconsistent results at Brno so its tough to tell. Haga won race two but was down in seventh in race one. Vermeulen carded a third in race two but was behind Haga in eighth in race one. Likewise, Laconi was third in race one but sixth in race two. Even Toseland (2/8), Walker (4/10) and Abe (9/4) were a little schizophrenic in the Czech Republic. Only Corser really shined with his first and second place results.
If you look elsewhere for a sign, the Silverstone races in June casts things in a different light. In front of the English fans, it was Toseland that "came good" with a third and a win. Laconi also looked strong with a win in race one but a crash in race two. Haga showed flashes of improvement with a third in the second race to bounce back from a crash in race one. There was a lot of consistency just off the podium as Vermeulen earned a pair of forths, Chili was fantastic with double fifths despite a broken collarbone and Walker wrestled the Kawasaki home for twin sixth place finishes. Corser, naturally, finished the doubles by getting second in both races to extend his points lead over Kagayama. Silverstone was the first sign of trouble for the Japanese WSBK rookie as he was eleventh in race one and seventh in race two. The British track was the beginning of the end of Yukio's challenge of Corser for the WSBK title.
So first and foremost I'll be watching the Brits. Toseland seems to find that extra little bit when racing for his fellow countryman so expect something special from him. Likewise, Walker did well at Silverstone and the Kwack is improving every race so he should be able to run closer to the front. Laconi seems to run well at Brands, when he isn't crashing, and his past few races show a "win it or bin it" attitude. Given the addition of some animosity with his teammate, if Toseland runs up front I suspect Laconi will as well since he seems to believe in the "beat your teammate first, everyone else second" philosophy. Corser, naturally, should be at the pointy end though that 94 point championship lead means he can play it safe if things get too hairy. Finally, Chili is perhaps more popular in Britain than the British riders. He has had many spectacular rides at Brands over the past 12 years and if he can keep it on two wheels expect him to be at the front. Finally, I really want a Yamaha to challenge for the podium to prove that Haga's Brno win wasn't a fluke. The series *needs* a competitive Yamaha R1 to go with the GSXRs, CBRs, and 999s.
[image from the Official Brands Hatch Circuit web site.]