Author: site admin
Category: AMA MX/SX
The last two Supercross races have brought two of the most visible racers back to the series after recovering from injuries and had two completely different results.
First, the bad news. As many, including myself, predicted Travis Pastrana's return to the Supercross season was short lived. Very short lived. In fact, he made it through morning practice but crashed on the second lap of the first heat and injured his right leg. He came back a little later to win his semi-final and earn a spot on the gate for the 250 main but a gash in his leg, general body bruising and that all too frequent sense of deja-vu meant he didn't make the race. Now I know that accidents happen and I know that Travis has sometimes been taken out in the past by other riders but really now, how many times does someone have to miss most of a season with injuries before he gets bounced off his factory ride? Sure, Travis is a PR and Marketing gold mine but if he's on Suzuki's insurance policy, he's already cost them more than they would have spent just giving people free bikes. Ultimately, Travis seems to lack focus. Maybe he wants to race Supercross, maybe he wants to do Freestyle, maybe he wants to race Rally cars, maybe he wants to race SCCA cars, maybe he wants to race beach races, maybe he doesn't know what he wants. I don't know either. I do know the guy is talented but in the end the history books only list the folks with championship titles, not the ones that had a big fan base for a couple of years. Suzuki has given Travis more than enough chances…he isn't spending much time on the SoBe Suzuki so give it someone with the will and focus to win.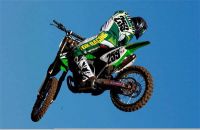 But Travis crashing, yet again, is such small news compared to the bombshell of the Dallas SX that it is hardly worth mentioning. The real headline news was James "Bubba" Stewart. After his impressive showing at Orlando, which lead to his third crash in three races, there was still a big question mark in the air about whether Bubba could get it together. Well, consider those concerns were well and truly squashed.
Let me back up a second and give a quick re-cap of the season up until the Dallas round. Basically, the AMA Supercross season had boiled down to two riders: Ricky Carmichael and Chad Reed. In fact, it didn't really boil down to that, it boiled down to Carmichael consistently stomping the field with Reed struggling to find the pace. Periodically, Reed would surge and get the job done but mainly it looked like RC had the whole season under control. In the last few races, RC started having uncharacteristic front end problems, leading to crashes, but generally he still seemed to be able to run a faster pace than Chad and certainly faster than anyone else. Summary: Ricky Carmichael is the best Supercross rider on the circuit. That has been the case in both SX and MX for the past few years.
Now, lets catch back up to this past weekend and Stewart's performance. After crashing out of the lead in Orlando, Bubba apparently had that mystical moment of transcendence. All was clear and Stewart came to Dallas full of confidenceand ready to race. He then put on a showing that surely shocked everyone. From the first lap of practice he was fast but it was in the races that he really blew everyone's mind. When the gate fell in his heat race, he pulled three bike lengths in the sprint race to turn one…that is amazing enough but Ricky Carmichael was in that heat not just a bunch of mid-pack guys. Eye opening! Within three laps, Bubba had a *six* second lead. A six second lead over the person that has demolished the Supercross field. Carmichael tried to pick up the pace and run with Stewart only to crash. Twice. Okay, so maybe RC had a problem. You can't judge a man on one race alone.
Well, then it comes time for the main. Before the start, Bubba explained in an TV interview that he realized in Orlando that he could slow down and still win races. Whew, that's confidence! Stewart, Carmichael, Reed, Windham and everyone else lined up for the main with all the anticipation originally built up for the opening race at Anaheim last winter. The gate drops and *boom* there goes Stewart with another two bike lead going into the first corner. Three laps later, its another six second lead this time over Reed. He pulls out to an eight second lead by mid-race, then cruises for awhile. Reed and Carmichael give chase but aren't really getting close to the incredible lap times thrown down by the Kawasaki rider in the opening laps. With a few laps to go Bubba cranks it up again and wins easily. In the end, James "Bubba" Stewart gets his first 250 Supercross win. Reed gets taken out by a back marker and RC gets second to extend his points lead in the championship. In the post-race interview, Bubba explained that he lost his front brake after the first lap and ran the entire race without it. Wow.
What does it all mean? Well, it means that Stewart is truly an awesome rider. He's another Galileo showing the earth isn't flat…before this weekend everyone thought that Carmichael was the best Supercross rider in the world. Now Bubba has shattered that belief. I'm still in disbelief over what I saw. It also means that, for the first time, Ricky Carmichael's mental strength is going to be challenged. He came apart in his heat race in Dallas so we'll see how well he responds to this pressure for the rest of the season. As for Chad Reed, I didn't think I could feel any more sorry for the guy but he was again a sad case after Dallas. He's taken a beating from RC all season and dug deep to rebound again and again. Now the pressure has been ratcheted up again. How will he respond this time? And the big picture? Well, its too late for Bubba to win the SX title this season but when the outdoor Motocross season starts this summer, he could be re-writing record books every weekend.
As a final note, I do want to again commend Ricky Carmichael on his sportsmanship. When he's been beaten this season by Chad Reed, he's always publicly congratulated him and lauded the accomplishment. When he got trounced by Bubba at Dallas he again showed what a fantastic representative of the sport he is by being the first to congratulate Stewart and even going so far as to hold Bubba's hand in the air. RC is not only full of talent, he's full of class too. Bravo!
[image from the MX Large web site.]