Author: site admin
Category: MotoGP
Just before the official IRTA MotoGP tests, I did a blog entry commenting on how generally healthy the MotoGP riders were at the start of the season. Well, after two test sessions and one race, the injury report looks completely different.
The biggest news is the shoulder injury to Honda's Sete Gibernau. After the impact with Rossi on the last lap of the Jerez GP, Sete immediately grabbed his left shoulder. According to a press release from Team Gresini, Gibernau has an injury to his previously damaged shoulder and is now questionable for this weekend's race at Estoril in Portugal. The Spanish press has already picked up the story and is no doubt fanning the flames of the millions of Spanish fans that are on the war path for Rossi's head. How much of this press release is true, and to what extent it is true, is open to debate but if there is really a chance Gibernau may not make the next race it will be a blow to the series. I doubt the all-Italian FIM would actually take any action against Rossi, even if it was obvious that he was reckless in the Jerez incident, but I do believe they should take a close look at what effect potentially having one of their three stars out of the championship race at only the second event will have and then take stricter measures to discourage contact in future races.
On a more positive note, Honda's Nicky Hayden had his injured thumb checked out after Jerez and his x-rays came back negative for any breaks. It looks like he just has a sprain and will be cleared to race for this weekend. I'm sure he'll still feel the pain when the next green flag starts. Whether he can repair his broken momentum after his Jerez crash is another issue.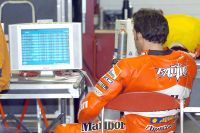 Also questionable for Esotril is Ducati's Loris Capirossi. The Ducati team hung around Jerez for another day after last weekend's race to get in some additional testing but Loris missed the session because of his fractured ankle. While he is likely to race this weekend despite the injury he will have an even more difficult time than last Sunday, when he finished 13th, because Estoril is a short, tight and physically demanding track.
Meanwhile, his teammate Carlos Checa did test at Jerez on Monday despite the shoulder injury which slowed him last weekend, where he finished 10th. His times from Monday's test were better that his race times so hopefully his shoulder wasn't re-injured during his bump with Tamada during the previous day's race. Like Capirossi, it is likely that Checa will also be held back by his injury at the Portugese bullring this weekend.
The only other possible injury from last weekend's race was Ruben Xaus who crashed on the first lap but he is such a pro at crashing that he undoubtedly came away uninjured. Other than causing another wound to Yamaha's racing budget thanks to more shattered bodywork, the Fortuna rider will show up in Portugal ready to race.
In a freak situation, Shane Byrne actually had an accident *after* the race when he was involved in a pit scooter crash which took some skin off his hands and arms. This is another set back for the KTM-Proton team so don't expect their results to improve at the second race.
With four factory riders slowed by injury, including the second place finisher from the first race, along with the rider from one of the "privateer" teams, the injury list now looks a lot worse than it did just a month ago.
[image from the GP One website.]