This past weekend's superbike races would seem, at first glance, to have been a story of old timers sticking it to the youngsters. In both the World Superbike and the AMA races, 30+ year old veterans won handily over a field that included both series regulars and bright young stars. Likewise, both riders took early commanding leads in two races each and those double wins put both in positions atop the points table with large enough margins to miss a race without threatening their advantage. Impressive stories to be sure. However, I found that the race reports show an equally interesting development further down the podium.
…but first, the race reviews:
In World Superbike, it was another Troy Corser weekend. As in the first two rounds, TC was unbelievable all weekend. In both races, he jumped out to an early lead and held that till the finish. The focus therefore shifted to what was happening behind him. In race 1, that was highlighted by a crash-fest. It all started before the race when Ducati mounted title contender Regis Laconi crashed in morning practice and was too concussed to race. In the race, nearly all the Australian riders, with the exception of Corser and Vermeulen, visited the gravel including Pitt, McCoy and Martin. German Neukirchner had a particularly nasty highside on his Honda early in the race that sent Muggeridge and Lanzi off track with Italian Lanzi breaking his collarbone. The later stages of the race boiled down to a fascinating battle for second between Honda's Vermeulen and Yamaha's Abe. The Pirelli tires appeared once again to be crap and in the second half of the race all the riders were sliding everywhere. This finally bit Abe and sent him down the track, handing third place to Suzuki's Kagayama. Another notable finish was Frankie Chili crossing the line in seventh just two weeks after breaking his collarbone in Australia.
The second WSBK race started as a mirror of the first with Corser clearing off early. Vermeulen put up a better fight and stayed a little closer but it still seemed TC could manage the gap, upping the pace if necessary. Once again the focus turned to the Australian youngster in second place this time because Kawasaki's Walker made a surprise appearance at the front. As with Abe in Race 1, Walker put a tremendous amount of pressure on Vermeulen. Also as in the first race, it appeared that the Honda used up the rear tire sooner than the following bikes which made Vermeulen's job of holding off Walker all the more difficult. In the end, the talented Honda rider did just that to take home another second place trophy. Walker performed brilliantly to get onto the podium after struggling in the early races of the season. The other big surprise for race two was Ben Bostrom's fantastic sixth place. It appears the Renegade Honda rider may finally be getting the new bike sorted out.
In the weekend's AMA Superbike races, the headline was Mat Mladin's continued romp towards a sixth title. In just the second race weekend of the season, Mladin has already pulled a 22 point advantage in the points chase. This is shades of seasons past where Mladin creams 'em early in the season and plays it smart in the second half, while others come apart under the pressure. In both races, Mladin lead immediately and just pulled away throughout the race, turning laps a second a lap faster than anyone else. The trailing pack was limited to Suzuki teammates Yates and Spies, as well as Ducati's Hodgson. Yates was easily the second fastest guy of the weekend, able to gap the following riders but not catch Mladin. The race for third in the first race boiled down to a wonderful battle between the ex-World champion Hodgson and the superbike rookie Spies. At the end, Spies threw down an amazing move through traffic and clinched the final podium spot.
The second day's Superbike race at Barber Motorsports Park started with another rocket maneuver from Mladin. Second was briefly a battle between Yates and Hodgson with Yates eventually pulling a gap but then having a rear tire vibration which forced a pit stop, handing second place to Hodgson. The focus then trailed back down to Spies who was in a see-saw battle with Honda's Duhamel. This fight came down to the last lap, when Duhamel pulled a brave last corner pass but was then pushed wide allowing Spies to sneak back underneath for the win. Another exciting race for the rising star from Texas.
The only AMA support race that was televised, the 600 Supersport race, was a thrilling race as well. Yamaha's Jamie Hacking was on fire all weekend and took off from pole position (both times actually, as there was a red-flag induced re-start) with Kawasaki's Hayden brothers in close pursuit. The race pace was very fast which eventually caught Roger Lee out causing him to run off the track and lose touch with the two front runners. Tommy kept pressure on the Yamaha and finally made a run at him on the last corner of the last lap but came up a little too short to make the move. Jamie's victory ties up the points battle. Particularly noticeable in the race was how slow the Suzuki GSXR600s are this year. Despite some hard riding by the racers, the first Suzuki was in 10th place. Yamahas and Suzukis filled the first nine positions. Its time for Suzuki to put some of its GSXR1000 engineers to work on the smaller bike. Mention should also be made of Yamaha mounted privateer Robert Jensen who finished seventh. That is a phenomenal placing for a privateer in a class so loaded with factory backed talent and it definitely highlights the guy's riding skill.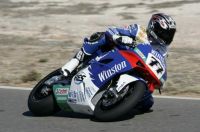 With all that out of the way, my focus will be on the two young stars that showed their metal through some extremely tough races. On the World Superbike stage in Valencia, Spain that star was Chris Vermeulen. While he didn't quite have the speed needed to challenge Troy Corser, he survived two grueling race long battles with more experienced racers. In race one, it was ex-GP winner Norik Abe and in race two it was ex-GP racer Chris Walker. Both racers applied considerable pressure and in both cases, appeared to have tires in better condition and thus better mid-corner speed. Despite these advantages, Vermeulen kept his wits and rode a superb race to beat both of them. I'm sure his previous World Supersport experience really helped here since that class is all about racing in a tight pack. I also believe that him continuing to get this experience, as he did last year in Superbike, will forge him into a better and better racer. The guys that lead races from the front may become better technical racers but its the guys that know how to fight it out that build a skillset that helps them in the long run. Expect Chris V to be replacing one of the under-performing MotoGP riders next season.
In the AMA Superbike series, this same kind of performance was turned in by Ben Spies. He was able to go to school with ex-WSBK champ and ex-GP rider Neil Hodgson and then in race two do the same thing with multi-time AMA champ Miguel Duhamel. Both of these riders are smooth, precise and smart. All attributes that, should they rub off, will be useful to Spies throughout his career. The fact that the Suzuki rider bested both veterans in their respective races shows he is a quick study and that he has bucket loads of talent. If anyone is going to be able to step up and challenge Mladin this season, it may well be Spies as he continues to grow as a rider.
Bravo to both these riders, as well as the two old guard masters who should be their targets.
[image from the Italian Motorsport web site.]