Author: site admin
Category: WSBK
Back in December, I did a blog entry about an ex-Colorado racer named Nicky Wimbauer who has gone on to race this season at an international level in the newly created World 600 Superstock championship. This class, along with World Supersport and World Superstock, are support classes for the European rounds of the World Superbike series. It is a more "stock" class when compared to the well established World Supersport class (which are stock framed and "superbike" engined 600cc bikes) and was specifically created to bring new talent into the series by giving young riders under the age of 21 that have risen to the top in their national series an arena for further competition. What makes this particularly exciting is that some of the existing World Superbike and World Supersport teams have already started to support the new class. Belgian based Moto 1, a successful Suzuki supported team in World Supersport, picked Nicky as their rider in World 600 Superstock and have thus given him a great opportunity to join the WSBK circus aboard a competitive bike.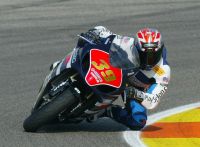 This past weekend was the first race of the class as the World Superbike series opened its European dates with a race in Valencia, Spain. Wimbauer had some challenges in qualifying and ended up 17th on the grid for the start of the race. Once the green flag fell, he showed why Moto 1 put such faith in him by charging his way through the pack to finish eighth roughly 20 seconds down on the leader. The field ahead of him consisted of two Frenchmen, two Spaniards, a German and two Italians most of whom were older than the 17 year old Wimbauer. If he continues to ride smart, finish this well and to learn at each race you can be sure we'll see him on a Superbike very soon.
You can follow the series and Mr. Wimbauer's results on the Official World Superbike web site.
[image from the Nicky Wimbauer web site.]