Author: site admin
Category: MotoGP
Sometimes even the predictable can be unpredictable and today's MotoGP race proved to be one off those times. From the first laps, it was obvious that the race would boil down to three men: Gibernau, Rossi and Hayden. The three immediately pulled out away in front with the young Melandri showing fantastic speed to follow but still steadily falling back. After just the first few laps, the front three pulled a gap over Melandri who then pulled a gap over surprise fifth place Nakano.
As the race wore on, the race came down to the bitter enemies from last year, Yamaha's Valetino Rossi and Honda's Sete Gibernau with Sete leading from the front and Rossi parked on his rear tire. The scene was eerily reminiscent of last season where Rossi regularly stalked Sete during races and, with one exception, was always successful.
The first thing that showed the race would be unpredictable was the scene of Nicky Hayden pushing his Honda out of the gravel. After looking so fast and comfortable at the last test session (at Jerez) and all through practice and qualifying, he ended his race in the pits with a dusty RC211V and with a hurt thumb.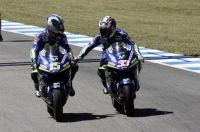 With two laps to go, Rossi put the move on Gibernau that everyone had expected for the previous 25 laps. Rossi cut up the inside of him with ease but didn't pull away. Instead, Sete hung tough. On the final lap, Rossi made a mistake and Gibernau charged through into the lead. Rossi made another bid for the lead halfway through the final lap but still came into the last turn in second. At the final left hander, the reigning champ threw his Yamaha up the inside of the Honda mounted Spainard and ended up punting Gibernau into the gravel trap. The Italian crossed the finish line first with the Spanish crowd going haywire at the indignity of seeing their hero treated so harshly. Melandri, well back from the leading pair, crossed the finish line in third. The podium finish a credible way for the new Honda recruit to start the season.
With the race over, a number of newsworthy items were highlighted.
First, the ruthlessness of Rossi's pass. Valentino ended the 2004 season with a reputation that he was willing to mix it up with his rivals to earn both a points and psychological advantage. Some of his more aggressive moves, like hitting Gibernau at Assen, were brushed off as mistakes. Given Rossi's near complete mastery of his bike, as well as his shrewd race strategy, I am highly skeptical of this explanation. Thus when Rossi made what appeared to be a banzai move on Gibernau in that last corner and then appeared so jubilant when crossing the finish line after sending his Honda rival off the track I tend to think it wasn't an innocent "that's racing" accident. Personally, I think Rossi owes Gibernau a public apology but I know that the psychological stakes are too high. Not only that, I think Rossi was aware that the only way he would make it through that final corner was to push Gibernau out of the way. Its too bad that the season is starting surrounded with such bad blood and that racing this year may be more physical that in years past. Any sport with 200 mph top speeds doesn't need any more danger.
I was also sorry to see that Hayden is still making rookie mistakes. He's been in MotoGP for three years now and should have known that third place points are better than starting a season injured and with a goose egg for his points tally. He had Melandri comfortably covered and wasn't likely to catch the front two. Whether he was sent down by a dusty track or overly aggressive braking, the end result is that he wound up in the kitty litter and the others didn't. Now he'll have to get his head around his failure, hope that his thumb isn't too badly injured and try to re-build the momentum he had going into this race.
Making it a two-for-two, lets talk about the other Repsol Honda rider, Max Biaggi. It seems that Max decided to try something different this year. After years of coming apart like a cheap shirt at the end of the season while contending for the championship, he apparently decided to come apart at the first race this time around. He ran poorly at Jerez in the pre-season test, blaming his team for his lackluster times, and has followed that up by qualifying horribly in 16th and running outside the top ten for most of the race. His seventh place finish shows some attempt to recover but considering the misfortune of other racers even that finish was a gift: Checa is riding with an injured shoulder, Capirossi is riding with a fractured ankle, Roberts Jr. DNF'ed with a mechanical, Hopkins was fighting the flu, Xaus crashed on the first lap and, as already noted, Hayden crashed near the end. Surely, neither Honda nor Biaggi are satisfied with finishing like that.
Ducati apparently decided not to send its battered riders out into the race with their new electronics package after both were again smacked to the ground during pre-race practice because of it. What was revealed just before the race is that the reason for Ducati's insistence on the high tech addition is their concern over fuel consumption on their GP bike now that the fuel tank capacity has been reduced to 22 liters. The Ducati is clearly a powerful motorcycle and they either have to reduce engine power or find new ways of improving fuel efficiency while maintaining their current engine design. Fortunately, both riders made the finish line without running out of fuel but the folks back in Bologna better decide what hurts there championship chances the most, fuel usage or injured riders.
Edwards wasn't the factor that he appeared earlier in the week. A poor qualifying result didn't help but ultimately his pace was that of the mid-pack bunch rather than the front runners. As the #2 man at Yamaha, he's expected to be taking points from the front Honda men, not fighting with the Kawasakis and Suzukis. As with Checa last year, being a teammate to Rossi may not be the dream job Colin thought when it was first offered. Rossi can get pole position, lap record and win on the bike so the pressure is really on Edwards.
My final MotoGP comment is giving some props to the Kawasaki team. Their pre-season testing indicated they we struggling with their new "Big Bang" engine layout but the riders had commendable showings at Jerez. Both qualified well and Nakano finished a phenomenal fifth, continuing the results he had last year. Hoffman finished in eleventh so both Team Green riders brought home points in the opening race. Kawasaki's performance over the past two seasons should have the engineers at Ducati and Suzuki glowing red with embarrassment. Clearly I underestimated them and I'm glad to see them doing so well as the series needs all the competitive equipment it can get.
The 250GP race wasn't nearly as excited as I had expected, mainly because Pedrosa started from pole position and a fantastic hole shot. When the young Spanaird is ahead on the first lap, he can get into his rhythm and just run away from everyone else. Despite the talented field stacked up against him, no one could get ahead of him in the first laps and turn it into a passing battle. Porto showed he's able to run fast but couldn't quite match Pedrosa in the closing laps. Perhaps it was the Spanish crowd willing him own that gave Pedrosa that extra little tenth of a second advantage or may Pedrosa was just sand bagging in pre-season testing. Either way, he had them all covered at Jerez.
The main news item here is just that Pedrosa is still a force to be reckoned with and it is the "old timers" that came closest to running with him rather than any of the class rookies. Pedrosa was consistently fast last year and it appears he is carrying that momentum with him this year.
Like Pedrosa, Stoner and de Puniet picked up exactly where they left off last year by both throwing their bikes down the track. These guys, clearly following in the footsteps of Melandri and Xaux, seem to have decided that spirited crashing is their ticket to MotoGP stardom. Maybe they are the real reason that Aprilia went bankrupt last year. Both, along with Porto, are probably the only people that can run Pedrosa's pace but these two don't have a prayer in the championship race unless they can stop falling off their bikes.
Dovizioso, the 2004 125GP champion, had a fantastic opening race in the 250s with a forth place finish. He appeared to be well off the pace of the front two but he beat many others who have a lot more 250 experience. He also used his head and stayed on his bike with others fell off. In fact, twelve different riders failed to finish including spectacular crashes by Aoyama and Jenker, in addition to the ones already mentioned by Stoner and de Puniet. Smart riding by the young Italian and something to build on throughout the season. Bravo.
I'll have to wait two weeks to watch the 125GP race, since Speed isn't showing it until April 26th. So I can't really comment on it yet.
Anyway, it was an interesting start to the season. With the next race just a week away in Portugal, I suspect that the simmering hatred between Sete Gibernau and Valentino Rossi will not have cooled any. I suspect hoards of Spanish fans will trek to Estoril giving Pedrosa overwhelming fan support. Riders like Nicky Hayden and Casey Stoner will have their opportunity to get back on the horse, hopefully before their recent crashes get too far into their head. …and TV viewership in Spain and Italy will be at an all time high! I certainly plan to catch it on Speed this coming Sunday.
[image from the Gresini Racing web site.]