Author: site admin
Category: AMA MX/SX
ESPN2 screwed up their grid guide this past Sunday so I was unable to watch the Seattle round of the AMA Supercross race on TV. Nonetheless, from what I've read it appears that the top four riders were all news makers.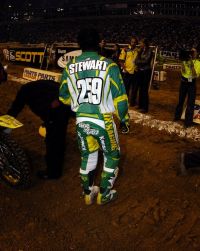 First, Bubba Stewart pulled another performance like at Dallas a couple of weeks ago and simply crushed the field. From start to finish he was plainly faster than anyone else. More importantly, he kept it upright and didn't throw the bike down the track. If he does this a few more times, maybe he'll start making habit of it.
Second, Kevin Windham put in a tremendous ride to get a second place, his best finish since the second round of the series back in Phoenix. Beating both Carmichael and Reed is going to be another boost to his confidence and he'll need that for the upcoming motocross season.
Next up, Ricky Carmichael rode a smart and safe race to fill out the podium and get the final points he needed to take the World Supercross GP championship. He also finished ahead of Reed and thus kept his points lead for the AMA Supercross title.
Finally, Chad Reed gets a consolation prize. After getting parked in the first turn and punted off the track by a sliding Windham and Stewart, Chad turned in an amazing ride to charge back to forth. While it doesn't do much for his title hopes, it does show he's got the speed needed to consistently beat early season rival Carmichael.
My thoughts from this one are pretty simple. Stewart continues to show just how phenomenal a rider he has become by effortlessly turning lap times a second a lap faster than anyone else. Windham always seems to do best when his confidence is high and he's gaining momentum here at the end of the season but will have to deal with the Stewart show from now on which may be worse than anything Ricky has dished out thusfar. Speaking of Carmichael, RC is playing it smart but has to be worried about Stewart's speed. With Stewart committed to running a proven two-stroke in the outdoors, Carmichael may be reconsidering his decision to run the new four stroke. Finally, Reed really needs to get some sort of award for mental strength since he just keeps coming back again and again. Crushing defeats, crashes, mistakes and getting punted off the track but he still turns in fantastic rides.
My only other comment is the near complete meaninglessness of the "World Supercross GP" title. The FIM has decided that tacking on a mandatory pair of Canadian rounds onto the front of the AMA Supercross series somehow qualifies it for a separate "world class" championship. There needs to be more non-American rounds and a lot more non-US riders to get any sort of world title status. Right now it is just a bonus the AMA Supercross champ gets for running a couple of practice events before the official season starts. Ideally, a World Supercross series would differ enough from the AMA series that riders couldn't run both, meaning they either race for money in the US or for a world title in a seperate series. At the moment the AMA series has the best Supercross riders in the world but a World championship should at least be unique whether it has the best riders or not.
[image from the Moto X Sports website.]