Author: site admin
Category: AMA MX/SX
Okay, so this is about Pontiac, Michigan and not the Pontiac cars…in case you didn't catch the connection, I snagged the marketing slogan for the GM subsidiary as the title of this blog entry…
The excitement in Pontiac this past weekend was two fold as the AMA 125 East division would crown its champion and the 250 class would see another head-to-head battle among its star studded ranks.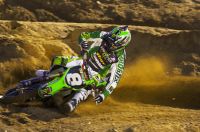 In the 125 class, it was an interesting race. Not because of the close racing but because of the point battle and the required finishing positions of the three men in the title hunt. In the race, Josh Hansen pulled out to an early lead, which was pretty much required since he has a long list of enemies that would have been happy to put him into the tuff blocks and because the AMA probation after his altercation with Josh Grant meant he in turn had to be cautious around other riders. Grant Langston and Davi Millsaps both had bad starts giving Hansen a mathematical chance at winning the title. Millsaps, with nothing to lose, charged through the pack to eventually finish second to Hansen. A great ride but not enough to swing the championship his way. Finishing third was the relatively unknown Joaquim Rodrigues. He rode an excellent race but unfortunately his podium was overshadowed by the point battle between other riders. Langston had to bring the Kawasaki home in forth to tie Hansen in season points, at which time Langston's superior number of wins would determine the tie-breaker and give him the championship.
After looking very smooth in most of the races this season, Grant looked particularly sloppy in the 125 main. He took a major slide in the first corner on the start, nearly ending his race right there. All through the race he was visibly riding worse that is his norm but yet he still managed to hold onto forth position though the middle stages of the race. Late in the race Steve Boniface started to challenge but Grant ultimately held it together for the forth place finish and the 125 East title. In the post race interview he admitted to being very nervous and riding very tight. Fortunately, he's talented enough that even when riding poorly he could do what he had to do.
Congratulations to Grant on his Championship.
In the 250 race, everyone was watching the Stewart-Carmichael-Reed show. Fortunately, after a string of races in relative obscurity, Windham was able to re-emerge as a front runner by winning his heat race over Reed. Stewart again beat Carmichael in the second heat, giving these four the primary gates for the main. The rest of the gates might as well have been empty, now that these four riders have so completely taken over the focus of the Supercross spotlight. Everyone was else was out there just to fill out the grid…
When the gate dropped there was another surprise as Windham pulled the holeshot and started to lead the race. After having been so thoroughly beaten by Stewart, Carmichael and Reed lately, I'd basically written the Honda rider off but he showed he's still a solid rider by keeping everyone at bay for over half the race. I think he has been slow to rebuild his confidence in his riding but this day appeared to be a big step forward for him. If he can keep these performances up for the last few races, he should be in great shape to start the outdoors back in the role of a title contender.
Stewart was the next one to shake things, as he put the Kawasaki into the dirt on lap four after gaining a position on each of the previous laps. He crashed while going after Carmichael for second position. Last week, I was raving about Stewart and his dominating win in Dallas. Well, this week I'd have to say the doubts are back. He's crashed in all but one of his 250 SX races, meaning he's tasted dust in four of five appearances. While its commendable that he came back to finish forth after his crash the trend is still something to be concerned about. People that regularly crash, no matter how talented, will eventually get hurt. In Bubba's case, that would be hurt again since he just finished healing up from his wrist injury sustained at Phoenix. Sure, the front four riders are so good that even if they crash they're nearly guaranteed a fourth place finish but that's playing dangerous odds. Stewart still has to learn the patience not to push too hard to soon, the ability to pace himself so he only rides as fast as necessary to win and the championship mentality of taking points when you can, even if it means passing up standing on top of the podium.
Reed showed solid form in running down Windham and Carmichael, then going on to take the win. His string of wins have to be helping rebuild his confidence, something that will help keep his SX championship dreams alive and put him in good shape for the upcoming outdoor season. He's won four SX races so far this season, second only to RC's seven, and three of those wins were in the last four races. Certainly a positive trend for the Aussie rider.
Finally, the real winner coming out of Pontiac was Ricky Carmichael. He has, at least momentarily, put his crashing trend behind him and rode with skill and brains. He was able to run down Windham in the middle part of the race, then ride smart after being passed by Reed, since he knows that a second place puts him closer to the title. Had he tried to run with Chad and ended up making a dumb pass on a backmarker or sliding out on the very hard and gravely Pontiac track, he would have lost more than he possibly could have gained. At this point he needs to sew up the title, then try to return to the psychological warfare against his opponents at the season closer in Vegas.
But at the end of the night last Saturday, it wasn't the 250 guys that made the front page news. It was Grant Langston who finally, after four years of trying, finally brought home an AMA Supercross trophy. That's building excitement!
[image from Grant Langston's web site.]