Author: site admin
Category: MotoGP
The opening race of the 2005 MotoGP season is this weekend at the Jerez Circuit in the Andalucia region of Spain. The final IRTA test of the season was held at Jerez a couple of weeks ago so all the teams have some recent test time there under their belts. This is in marked contrast to past seasons where the opening race has been held in South Africa, a track that is at high altitude and where the teams rarely test. As a result, all the teams should have their bikes dialed and their riders confident when the flag drops this Sunday.
The whole galaxy of MotoGP enthusiasts are, like last year, orbiting around Rossi. He has been such a force in Grand Prix over the past eight years that every conversation starts with him. Well, I can be different. I can talk about the other bright stars in the MotoGP universe. I can but I'm not. I mean really, you have to start the 2005 MotoGP with the assumption that Rossi will win since he's spent the past few years steadily surpassing every doubt people have had about him.
So, with that excuse out of the way, on to talking about Rossi (again). The one thing that is still obvious, after all the laps of winter testing, is that Yamaha look set for another good year. The pairing of Rossi and Edwards on their factory bikes, without a question the two best development riders in the world and both very, very similar in riding style, means they have put together a solid test plan for the winter and executed it without a hitch. Sure, the new version of the M1 appears to have some of the same chatter problems that plagued the Hondas last season but Yamaha appear to have worked through them. As some of the expert journalists like Julian Ryder, Toby Hirst and Dennis Noyes have pointed out, Rossi and Edwards ride their bike the same way. As a result, they could split their winter testing program so that Edwards could focus on testing tires for Michelin, something perfect for him given his longstanding relationship with the French company, while Rossi could focus on going through bike testing as Yamaha released new parts. For any other pair of riders this would be disastrous because the tires wouldn't fit the bike when the two were combined. Yet with these two, they could both return to cutting fast laps when the testing was done and both have a bike that suited their style.
The secondary Yamaha team of Xaus and Elias have struggled all through testing. Ex-250 racer Elias has to adapt to the big four stroke and Xaus is just too big for the bike. Still, Xaus' experience in MotoGP is undoubtedly being passed down to rookie Elias and Elias' setup information has surely helped Xaus, since the lanky Spaniard missed the first two test sessions with butt injuries from squeezing onto the tiny M1. Neither rider is on the pace of the lead Yamaha team, nor the Hondas, but both have the talent, team and bike to pick it up as the season progresses.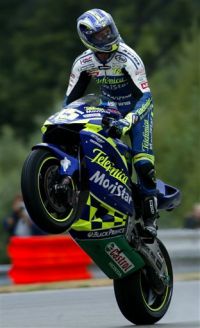 In contrast, Honda has seven amazing riders but with one possible exception, also has seven seperate test programs going on simultaneously. There is certainly no love lost between Hayden and Biaggi and their riding styles can't be more different. Gibernau is probably willing to share setup information with his teammate Melandri but Gibernau is rumored to be on full factory tackle while Melandri works with the "b" level bike. A lot of Sete's setup information probably isn't valid for Marco. Tamada, unquestionably a superb rider, is in a team by himself so the information that has been gathered from his fast laps isn't going anywhere. That leaves the Pons team of Barros and Bayliss. They are probably willing to share information but both have generally been off the pace and both have opposite riding styles. What's the point of sharing data if it isn't the right info? Despite these hurdles, it appears that Honda's isolated development efforts have born fruit since many of their riders have topped the timing charts at the tests and have put in consistent race-speed laps when doing race simulation tire tests.
The other big topic has been the end-of-testing speed shown by the Suzuki. Its only been at two tests that Suzuki have performed well, so its really to early too say, but at least at this time they appear to have finally found the direction to go with their bike. While I doubt Hopkins or Roberts will fight for the win, and probably not even for the podium, at least they appear to be pulling a gap on the backmarker teams.
Kawasaki has taken a bold approach in completely changing their engine, like Yamaha did, to have a "Big Bang" format but haven't impressed anyone with any new found speed. After having such a spectacular year in 2004, it seems they haven't leaped forward as fast as some of the other teams. Their target last year was the podium, something they achieved multiple times, but this year I think they'll simply be trying to beat the Suzukis and Ducatis.
Speaking of Ducati, it looks like they have slipped up the most. 2004 was a step backwards from their freshman year and it seems they haven't gained much in the off season. Like Aprilia before them, Ducati seem to be trying out a lot of fancy electronics to tame their always fast but usually brutal Desmosedici. These gizmos seem to be getting about the same reception from the riders as they did back at Aprilia with Checa and Capirossi both having crashes rumored to be caused by the new equipment. We'll have to see if during the first few races they can recover the test time they lost in trying out spiffy electronics and become competitive again. I'm guessing no…
That leaves the others…Blata-WCM, KTM-Roberts and D'Antin. The least dim star here should be the KTM powered, Roberts framed bike with Byrne at the controls. The bike is unlikely to run with the Japanese but should better the others. With only one rider, development goes half a fast but at least they seem to have a solid starting point and good tires. D'Antin, with last year's Ducati in his hands, would look best in this regard but he has a MotoGP rookie in Rolfo (a talented GP rookie with past 250GP success…but a MotoGP rookie nonetheless) on the bike, crap Dunlop tires, only a single rider and perhaps a smaller budget than even KTM-Roberts. The struggles this team will face would make a fan cringe were it not for Blata-WCM having an even bleaker future. As forecast, they have been unable to build their v-6 GP bike fast enough to make the first race of the season. Instead, Ellison and Battaini will start with last years inline-four bike. This bike could barely run fast enough lap times last year to qualify for races and, with the step forward made by other teams, may not even make the grid this year. What they have to look forward to is a humiliating start to the season, followed by trying to frantically build and develop a brand new bike while racing it. Just ask Team Roberts about how well that works out.
This huge gap between the top four or five teams and the last three, along with losing two teams from last year, signals that the costs required to race at the MotoGP level may finally be reaching a watershed moment. Even Suzuki, Kawasaki and Ducati are struggling to spend money as fast as Yamaha and Honda, so that gap between the top two and the mid-pack bunch may continue to grow as well. In the end, I believe that the ever increasing financial requirements to race prototype four stroke motorcycles will kill off half the grid, will prevent companies like BMW or KTM from joining and will eventually boil down to a struggle between the two giants of Honda and Yamaha.
In that vein it looks to be another Honda versus Yamaha year, with Yamaha the pre-season favorites. At the last test session in Jerez, there was a lot of talk about how some of the youngsters like Hayden, Melandri and Hopkins were the top names on the timing charts. While I'm glad to see these guys getting press and I do hope they all prove worthy of the faith people are putting into them, I personally didn't read too much into these fast times. Any time the top guys in the class, namely Rossi, Gibernau and Biaggi aren't topping the charts I'm willing to bet there is a reason. In this case, I believe its a sign of their experience in the series. They had one final weekend to cram before the start of the season. As a double incentive, the first race would be held at Jerez, the location of the final test. I think these teams were smart enough to put away the qualifying tires, ignore the time sheets and spent those last critical hours making sure their bike was ready for the first race.
Things are very interesting in the 250GP class, where experience also seems to have the advantage. Reigning class champion Pedrosa has been fast in testing but has generally been matched in pace by his rival from last year, the Argentinean Porto. With the first race being run on Spanish soil, Pedrosa will have the home field advantage but will have more than just Porto to worry about. Also returning from last year will be fast guys like de Puniet, Aoyama, West and de Angelis. Newcomers joining the class include last years 125 GP champ Dovizioso and 125 stars Vincent, Locatelli, Stoner, Barbera and Lorenzo. Given the relatively weak field of the 250GP class last year, this should be a much more exciting season. I think Pedrosa, Porto and de Puniet will be the ones to watch but I'm not willing to predict a champion.
The 125 GP class is full of new talent this year and with Dovizioso moving to the 250GP class there isn't a defending champion to be the odds on favorite. The 125 class always provides close racing, perhaps the most exciting class at the GP level, and this year's new faces mean it should be even more fun since we'll get to watch the cream of the crop rise to the top. My best guess is that past champion and ex-250GP rider Poggiali will be the one to beat, if only because he has more experience that anyone else. He also has great motivation because if he's not at the top, given his abysmal performance in 250s last year, he'll be out of a job next season.
So when the green flag drops on Sunday, I hope to see a big group fighting for the lead in every class and I hope that continues throughout the whole 17 race series. But in the end, I think the earth would have to move before the bright star that is Rossi will be eclipsed. The 250s should be excellent given its depth of field and I'll got out on a limb and say Porto will take the first race. In the 125 class, I'll take Poggiali but it will probably be a tight pack all the way to the finish. Whoo hoo, its GP racing time again!
[image from the Italian Rai Sport web site.]