This weekend servers up a three course meal made up of double shots of production bike racing. First, the World Superbike series lines up for their ninth weekend of a twelve race season in Assen, Holland. Then the AMA boys take a visit down south for their final race of the season with a double header at Road Atlanta. As if four superbike races weren't enough for one weekend, the local MRA club has their first ever double header weekend at PPIR. Regional, national or international, this Labor Day weekend has you covered.
First up, lets cast our eyes on the International stage. The World Superbike series is entering the final quarter of their season with this weekend's race at the famous Assen TT Circuit. With Troy Corser on top by 110 points, it seems unlikely anyone will be able to win the title without the Aussie having some sort of problem but since they don't give out the trophies until the final checkered flag it is still a bit early to declare him the champ. The riders that will have to step it up here at the end of the season to even keep their hopes alive are Honda's Chris Vermeulen and Ducati's Regis Laconi. Unfortunately, Laconi threw his Duc down the track in practice this morning and ripped a few holes in his body. At a time when he needs to be at his best, he may be at his worst. I think today's highside has ended the Frenchman's '05 championship run. So that leaves Australian Vermeulen as the great hope if the Superbike championship battle is to stay exciting for the last four races. Fortunately, his Dutch Ten Kate Honda team are on home ground this weekend which may be enough of an advantage to tip the balance in Chris' favor. Chris has been consistent over the last three rounds with four podium appearances in six races (two 2nds, two 3rds) but hasn't won since the second Monza race back in June. He needs to get back to his winning ways this weekend. Haga, on the other hand, has won two of the last four races but with him mired down in fifth in points he is just racing for pride at this point. Vermeulen doesn't need to crash but he does need to maximize his points. Haga, if he continues with his current form, is going to hamper that goal as he may well take much needed points away from the Honda rider this weekend. As with the MotoGP guys earlier this summer the World Superbike guys are visiting this Assen track for the last time before a major construction project dramatically changes the layout and just like the GP riders the WSBK riders are already bemoaning the changes to the track. Lets hope this weekend's race is a good one and that it doesn't end up going down as the last of the great Assen motorcycle races.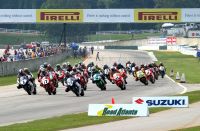 Closer to home, the AMA Superbike series has their last race of the year this weekend. What isn't unusual is that Mat Mladin comes in as the clear favorite to win the championship having won 10 races so far this year. What is unusual is that the now traditional Rd. Atlanta double header is closing out the season where normally it is held earlier in the year. Strangely enough, despite the event being the last on the calendar all four AMA classes come to the Georgia track without a champion in any of them having already been decided. Thus all the races this weekend will be closely watched to see who is crowned but none of them will be more highly anticipated that the two Superbike races. Mladin leads teammate Spies by a scant 21 points after his double wins at VIR last weekend. As with the World Superbike points race, Mladin has the upper hand and only a crash or a bike problem will keep him from earning his 6th AMA Superbike title. However, problems have often found Mat at this track including his spectacular rear tire failure in '03 and his nearly running into an ambulance in '99. Since Mladin opened his weekend at Road Atlanta by turning laps a second faster than anyone else, the odds are clearly in his favor even considering his infrequent bad luck on the back straight. With the other Yoshimura riders also riding well at Road A, another pair of Suzuki podium sweeps may be likely. This morning, Honda's Miguel Duhamel and Ducati's Neil Hodgson were also fast so expect them to be involved in the fight for the final podium spot.
Finally, the MRA is heading down to southern Colorado to knock out a double header weekend at Pikes Peak International Raceway. This will be the seventh and eighth of the ten round season and the points earned this weekend may well lock up the premier Race of the Rockies titles…in practice even if not in points. Shane Turpin has trounced the competition this season having won every RoR GTO race. The only reason he hasn't already tied up the title is that second in points Dan Turner has been nearly as consistent only failing to finish second on one occasion (when he finished forth). Turpin currently holds a 28 point lead over Turner with Rich Demming a further 14 points behind. Turpin also leads the RoR GTU class with a 31 point lead over Marty Sims and a 45 point lead over Greg Greenwood. It seems nearly certain that Shane will be the double #1 plate holder for the MRA in '06. The MRA has 28 different classes so there will be lots of racing this weekend and plenty of excitement for those following the points battles. As I've mentioned before, I'm not a big fan of PPIR. However, I do hope people will turn out for the races this weekend, not only because I want to see people support the MRA but I think PPIR deserves a little as well after they supported the Racing 2 Save Lives event earlier this summer.
Alright, so I'll admit that all the major title chases have lost the majority of their interest. Suzuki seems to be ruling the production bike roost and the points leaders have seemingly insurmountable leads. Still, the racing in all three series is fantastic and the competition seems to be working hard to close the gap on the GSXRs. There may yet be a surprise or two in store for us fans. I plan to spend at least a little of my Labor Day weekend watching racing and hopefully you will too.
[image from the Road Atlanta web site.]