Author: site admin
Category: WSBK
This past weekend the World Superbike series had its most exciting race to date, which is saying alot considering how fantastic the racing has been so far this year. All this excitement is primarily because of four men, so I am dubbing them the Lords of the 'Ring. Those four are: Troy Corser, Chris Vermuelen, Noriyuki Haga and Lorenzo Lanzi. What makes this particularly exciting is that these four all represent different manufacturers which shows that WSBK has not only overcome their "Ducati Cup" reputation but they have also become the most competitive motorcycle road racing series in the world. Impressive. As for the riders, their weekend adventure goes like this:
Troy Corser - The Suzuki rider's job for the weekend was simple. Play it safe, gain some decent points and let the season wind down. So long as Corser finishes in the top five at every race for the remainder of the season, he will win the 2006 World Superbike title. An easy job, right? Well, for race #1 of the weekend it certainly looked that way. Troy got a good start, ran at the front and basically kept fellow Aussie Vermeulen and Japanese ace Haga honest. At the end of the day Troy had a respectable third place finish. His second race started out the same, with another phenomenal start, but went south quickly when he crashed in turn one on the second lap. He got the bike back on track but could only salvage a thirteenth place finish. While any points are useful, he must be disappointed that he crashed while leading when a more conservative approach may have netted him more points. The crash cost him valuable points, something he can't afford to do against Vermeulen who is on a late season charge that has seen him cut Corser's points lead in half. I think Corser is so enjoying being on a competitive bike again and being in a position to actually fight for the lead that he can't restraint himself the amount necessary to just think championship.
Which brings me to Chris Vermeulen - What an amazing kid and what an amazing streak. (Were it not for Colin Edwards memorable 2002 late season charge, I would declare Vermeulen's current trend to be miraculous.) Chris has won three times in a row, including an amazing race one victory over Haga, to take a big bite out of the points lead that Corser enjoyed before the mid-season break. While it is still a long shot that he will win the title, his impressive riding over the past month should really have the Honda bosses looking for a factory GP ride for the kid or at least build a full factory World Superbike team around him. He slides the bike as comfortably as Haga but doesn't seem nearly has hard on this tires. He's been able to deal with pressure from Corser and Haga in recent races without making mistakes and doesn't seem the least bit intimidated by aggressive riders. He is nearly guaranteed second place in the championship and still has a shot at winning the whole thing. Amazing.
Noriyuki Haga - Yamaha's Nitro Nori also continues to impress after a first half the season that looked really disappointing. His team has publicly stated that getting a single win for the season was their goal for '05 while they developed the bike with only minimal support from the factory. Well, Haga has already won twice for them this year, once at Brno and then again at Brands Hatch, and has been on the podium seven of the last eight races. As I've mentioned in all my WSBK reviews so far this season, it is vitally important for the series that the Yamahas become competitive and that definitely appears to be the case. Haga still has some setup work to finish up so that they can get the R1 to run the pace without chewing up tires but he's able to ride fast and loose, just like he likes it. His recent battles with Vermeulen, Corser and Toseland show that the Samurai of Slide is definitely back.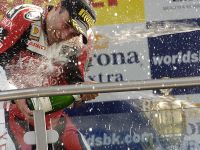 Lorenzo Lanzi - The Italian was the single biggest story of the weekend. He was called up by the factory Ducati team at the last minute to stand in for the injured Regis Laconi. He then surprised everyone by immediately putting the Xerox Ducati on the pole. In race one he got pushed wide in the first corner and came back in a questionable position. This was clearly against the spirit of the rules as he gained a few spots in the process and was thus called in for a ride-through penalty. Before making his mandatory visit to the pits, he proved a point by moving into the lead. Point made, he took his punishment and then charged back through the pack to an eventual eighth place finish…a performance that certainly raised some eyebrows. It bettered this in race two by staying on track through turn one and then moving forward to lead the race. He had a fight with Haga in the middle portion of the race that made it look like he was a seasoned pro rather than a first year superbike rookie. He then broke away for a convincing victory. Surely we will see the young Italian on a factory bike…probably a Ducati…in 2006.
The Lausitzing ring shows that the season is now at the point where the primary news is focused on the top three and then emerging new talent. There are some amazing riders that are mired outside this spotlight, including reigning world champ James Toseland, early season phenom Yukio Kagayama, elder statesman Frankie Chili, perennial top ten finisher Andrew Pitt and the consistently inconsistent Max Neukirchner. Don't expect to hear much about these guys until the season wrap-up. The Lords of the Lausitzring were defiintely Corser, Vermeulen, Haga and Lanzi.
[image from the Ducati web site.]