Author: site admin
Category: WSBK
"Bip, bomp, bam alakazam
But only when you're grooving
With the Double Dutch Man
Put on your skates don't forget your rope
Cause I know I'm gonna see you
At my Double Dutch Show"
— Frankie Smith, Double Dutch Bus
Back in April, during the early rounds of the '05 World Superbike series, I did a blog entry about how Aussie rider Troy Corser ruled at Philip Island. Well, there is now another Australian rider ruling at his home track (even though its not down under). I mentioned on Friday that Chris' Ten Kate Honda team is based in Holland but I didn't point out that his grand parents are also from Holland. That makes two reasons for Vermeulen to do well at Assen and he backed it up with double wins at a track known as the "Cathedral of Speed".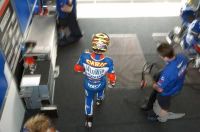 Not only did Chris win twice at Assen but he did it in two completely different ways. During both practice and qualifying, the Honda rider was incredible turning in laps nearly a second faster than anyone else. In the one lap dash that makes up Superpole he was able to turn a 2:04.179 to earn his first ever pole position. On Friday, I also commented that two riders needed strong rides at Assen, Chris Vermeulen and Regis Laconi. With pole position secured, Chris was doing his part but Regis went the opposite route. The Frenchman got pitched off his Ducati twice on Friday and the second off was a nasty highside which resulted in a damaged arm which ruled him out for the weekend and dashed any hopes he may have had for a top three finish for the season.
In the first race Chris got a good start and quickly moved to the front ahead of Corser, Haga and Toseland. One thing Assen is known for is close racing mainly because the track's majority of high speed bends allows for a flowing riding style that isn't interupted by a lot of stopping and accelerating. Apprently no one told Vermeulen that racing at Assen had to be tight because once he got to the front he proceeded to turn in lap after lap that was half a second faster than anyone else. With the Honda disappearing out front, the Yamaha of Haga, the Ducati of Toseland and the Suzuki of Corser started scrapping for the left overs. Corser eventually took an uncharacteristically conservative approach and appeared to concede the podium spots to the mix of bikes ahead of him. That meant the only battle to watch was the Haga-Toseland fight and fortunately it didn't disappoint. Toseland and Haga traded places at least once a lap, usually with daring passes in the amazingly fast flip-flop bends. Toseland seemed to have the advantage, making the majority of his passes in the final turns before the finish line and this proved to be pivotal. With Vermeulen out front by 3.5 seconds, Toseland was able to make the definitive pass and hold on for second over Haga. Corser came home in forth.
With an easy win from the front under his belt the Ten Kate rider decided to shake things up the second race. He got off to a slower start, ending the first lap in sixth place, but was able to move forward after multi-lap dices with Kagayama, Corser, Pitt and Toseland. Around half-race he finally made the pass for the lead and then spent the majority of the remainder of the race in a titanic struggle with Toseland and Haga. Unlike race one, in the second event Vermeulen couldn't check out and was hounded by Haga for the last three laps while Toseland slipped back by around a second from the two leaders. On the last lap either rider looked capable of winning but in the first few turns the Aussie made the final pass and then cranked up the speed to hold off his Japanese rival for the remainder of the lap. The margin of victory at the line was only 0.085 second. Toseland came home in third and Corser again rode to a steady forth.
Vermeulen did what he had to do in order to keep his championship hope alive. Chris took back 24 points this weekend, so with three rounds (six races) left to go in the season Corser holds a 86 point lead over his countryman in the title chase. With 25 points available per win, there are still 150 points left in the season, it is unlikely a champ will be crowned this coming weekend at Lausitzring but it also means that Troy would have to have finishes worse than forth (assuming Chris can sweep the rest of the races) before he would jeopardize his championship lead.
While Vermeulen was definitely the big news for the weekend, it wasn't the only news. Also notable were some events that will impact the rest of the season: As I've already mentioned Laconi was out before the race even started with his highside. He will be having surgery this week to repair ligament damage but will likely miss some, if not all, of the remaining races. Then in race one, an accident sent Chris Walker to the hospital with a broken elbow probably taking him out for the year. Race two saw the other PSG-1 Kawasaki rider crash while still recovering from his own broken elbow. Time will tell if he can race in Germany this coming weekend. Finally, Fonsi Nieto won't be riding his Scuderia Caracchi Ducati any more this season but not because of injury. Instead, he was sacked by the team during the first day of practice because of his poor results this year. Sadly, it appears that Fonsi's career has continued to self destruct after he came so close to winning the 250GP title in 2002.
This weekend, like the season as a whole, seems to indicate that the Aussies do in fact rule in World Superbike.
[image from the Ten Kate Honda Team web site.]