Author: site admin
Category: MotoGP
This weekend is the first of five consecutive "fly away" races which help close out the '05 MotoGP season, this one at Japan's Motegi Twin Ring Circuit near Tokyo. From there they visit Malaysia, Qatar, Australia and Turkey before returning to Spain for the final race on November, 6th. These fly away races mean the teams are operating out of shipping containers and hotels, rather than their normal garages and RVs, so stress levels will be high. Add in that all four of the Japanese factories consider this "home turf" and figure the pressure on the riders and teams is getting turned up another notch. Then spice the whole thing up by putting the race firmly in the middle of silly season when the riders will most want to impress those very same factory bosses. Ditto that for the two Japanese wildcard riders, Ukawa and Matsudo, who want to do well at their home GP. Finish off the entire thing with the Japanese made Bridgestone tires who expect the best from their technicians and teams…this may be the most intense race of the season.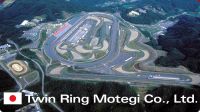 The track itself, like the Lausitzring in Germany where the World Superbike guys raced last weekend, is not the best track for motorcycle racing. The oval was built in 1997 by Honda so they would have a place to test their Indy cars. They incorporated an infield road course into the design and started hosting GP races in 1999. The bad news: the 2,983 mile circuit crams 14 turns inside the banks of the oval meaning it is primarily a series of short straights linked by second gear corners. The good news: it has a perfectly smooth surface so suspension can be set up for acceleration and braking without worrying much about bump absorption. The other good news is that Honda has their museum at the track which is nearly as good a reason to visit the place as the actual racing. Pretty much everything else fails somewhere between those extremes…the track lacks character other than just being a lot of short drag races and the most memorable thing about it is the "tunnel" made where the track crosses under the Indy oval. Things made of hard walls aren't usually appreciated on race tracks no matter how novel it may seem. While the tunnel isn't particularly dangerous, the riders go through it in a straight line at around 90mph, it doesn't add much either.
I suspect that the track will favor the Ducatis since they have, if nothing else, monster acceleration. The Ducs are often near the front at the start of a race when their horsepower can give them a definite advantage. Well, each of these little straights is a test of a bike's power so the men in red should be looking good. This is was also Bridgestone's test track for MotoGP racing for about three years so they have a huge amount of data about the place. Expect the Bridgestone teams (Ducati, Suzuki and Kawasaki) to have the perfect tires for the weekend. Finally, the track is owned by Honda and the company has an impressive string of wins at the track having won the last four back-to-back. There should be no excuse for the Honda teams not to have the perfect setup at Motegi.
As for the riders, its a mixed bag. There are a few people missing most notably Honda's Troy Bayliss who recently broke his wrist while training on his motocross bike. Also MIA will again be Shane Byrne who is caught in the middle of the Team KR/KTM ugliness. Bayliss will be replaced by ex-Honda GP rider Tohru Ukawa who was previously scheduled to race as a wildcard on the Moriwaki bike. Ukawa is being replaced by ex-Yamaha 250GP racer Naoki Matsudo on the Honda powered Moriwaki framed bike. Japanese wild card riders have a long history of upsetting the apple cart when world motorcycle racing series visit their home. While I doubt either rider is capable of winning this weekend both may well give the mid-pack guys some trouble.
Speaking of Japanese riders, Honda's Makoto Tamada and Kawasaki's Shinya Nakano where both on the podium here last year and both riders are a threat to do so again. Tamada is been clawing himself out of an injury caused mid-season slump and Nakano has been waiting for more horsepower to show off his considerable talent. Tamada is healthy again and there should be a revised motor in the green team's bike this weekend so keep an eye on both.
Rossi is always a threat, though his Yamaha will likely be down on power relative to the Hondas and Ducatis. Still, let me repeat, Rossi is always a threat. If he gets a top two finish, he will tie up GP championship number seven so expect him to race hard enough to be up front but perhaps not be as cut throat as usual when it comes to winning. Edwards needs to do something but no matter how much I want to support him I don't think he'll find it in Japan. He'll be chasing faster bikes and won't be able to exploit the excellent mid-corner handling of the M1. Likewise, no matter how bad the Texan struggles it won't be anything compared to the second string Yamaha team of Elias and Xaus…they'll be fighting with Ukawa and Matsudo.
Capirossi, if he can keep from causing another turn one pile-up, should be strong. He's resigned with Ducati for '06, he's on the rocket from Bologna and he's wearing 'stones. Checa has struggled all year and since it is looking unlikely that he'll be racing in MotoGP next year he will probably continue to struggle. Roberto Rolfo on the D'Antin Ducati just hopes that a decent ride will keep him in the minds of team bosses for a move up the team ladder in the future.
Next up is the army of Honda riders. The thing to watch there is the intra-team Repsol battle. One of the two factory riders will almost certainly get the boot at the end of this season so both Biaggi and Hayden desperately need to prove themselves in front of the Honda big wigs. Hayden is the only one of the two to have won a race this year but Biaggi has been more consistent. Both riders are locked in the six rider battle royale for second place overall in the championship along with Melandri, Barros, Gibernau, and Edwards. With only 17 points separating the first and last in this group Biaggi and Hayden both need a strong finish at Motegi and both should be getting some "special" parts from Honda to help their RC211Vs with the task.
Meanwhile, golden child Gibernau has been in the news lately because of a possible change to Ducati for 2006. Honda may well keep the "good stuff" away from the Spainard's bike which may end up hurting both parties. Gibernau is probably the only rider really capable of pressuring Rossi over these last races and if he's denied upgraded parts then Honda has no chance of slowing the Yamaha juggernaut. One person who may benefit is Gibernau's teammate Marco Melandri as he may suddenly become the recipient of the third "factory" bike that was originally Sete's. However, I don't know if this will help because Marco's problems lately seem to be mental rather than mechanical. His confidence needs to bounce back from his post-Assen tail spin before a faster bike will help. The final Honda rider who definitely needs to be mentioned is Alex Barros. The Brazilian was supposed to be washed up after last season but has been consistent enough this year to be involved in the scrap for second place as well as being the only rider other than Hayden to have been Rossi in '05. He is looking to prove that he deserves to be back again next year and he's done well at Motegi in the past. Given that he is the hardest braking rider in the GP paddock and is riding a Honda he should be well positioned for a good result with the stop/start layout of the Twin Ring.
Over in the Suzuki garage, things couldn't be a greater contrast. John Hopkins has resigned with Suzuki and has been riding really well over the last few races. His confidence is up and that will be boosted further because of the Bridgestone tire advantage. Meanwhile Kenny Roberts Jr is still without a 2006 contract and is fighting to impressive someone so he will have a ride next year. Both of the American riders were taken out in Capirossi's first turn accident last year so both are hoping for better this year but their records for this season include a lot of finishes outside the top 10 so anything above that probably counts as success. The only chance they have of running up front is to do daily rain dances.
Like KRJr, Kawasaki's Alex Hoffman is also fighting for a job near year as it is unlikely that he will be greeted with a contract to ride the Ninja again next year. He hasn't performed well this season and I don't expect his breakthrough to come at Motegi. Expect the talented German to be mired in the mid-pack battle with the second string Yamahas, the Suzukis and the Japanese wild cards.
Lessee, that just leaves WCM. Well, they're showing up which makes them one step better than Team KR who aren't even making the trip.
Should be an interesting race weekend and by Monday there should be more news about what is happening with silly season. Oh and before I forget, I'm keeping a simple web page to track next year's riders and will try to get it updated early next week.
[image from the Honda web site.]