I've been late in getting this posted, mainly because there have been so many races and a bike trip that I wanted to write about. For those that read my blog primarily for the race coverage you will be happy to know this is the last of my Iron Butt Rally postings.
Friday, September 2, was the final checkpoint of the 2005 Iron Butt Rally. The checkpoint opened at 8am and closed two hours later. Any rider that arrived after that was disqualified, no matter what their prior accomplishments during the rally may have been. The riders had left Portland, Maine on Monday with a final list of bonuses and with four and a half days to get back to Denver. The bonus packet presented the horns of a bull. On one hand, drag your tired butt from Maine to a light house near Seattle, Washington for a single large bonus. Get the requisite photo and then sprint for the Colorado mountains. The other horn of this rider goring bull was to instead sweep down the east coast getting a lot of smaller bonuses hoping that time and the remnants of Hurricane Katrina don't dash your plans. The light house in New Brunswick Canada, the same one offered as a bonus in the first leg, was again offered along with a length list of ferry crossings, ponds, lakes, dams and miscellaneous other points paying locations.
The star-traxx site showed the remaining GPS equipped riders were split about 80/20 between the east coast and the west. Within an hour of the bonus packets being handed out in Maine, some of the riders pointed the front tire of their bikes towards the Pacific Northwest and tried to get across the Great Lakes region before being completely engulfed by Katrina's left overs. The rest headed either north to New Brunswick or the opposite direction through New England and then down into the south.
Based strictly on weather, the east coast guys made the right choice. Since the little bonuses also added up to more than the Washington light house, a thorough rider could also outscore those making the longer ride so from a strategic perspective it looked to be the better decision as well. But as with everything in the Iron Butt rally, there is no determining a winner until the fat Preparation H bottle sings.
Friday morning I headed down to the check point to watch the riders come in. While most of the riders looked tired it wasn't the parade of walking zombies I was expecting. Clearly these guys know how to pace themselves and make at least some effort to be safe while still pushing themselves to their limit. The bikes, on the other hand, weren't nearly to perky. Worn tires, duct taped bike parts and a wholesale slaughter of insects on windshields were in high attendance. Some bikes had leaking auxiliary fuel tanks. Some had obvious crash damage and a few were missing parts that had simply vibrated off during the eleven straight days of riding.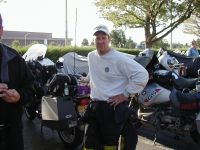 I ran into my buddy Jeff Earls at the checkpoint and heard his tales. He left Maine in second place and had taken the east coast route. He opted not to head to New Brunswick, taking a slightly more conservative route. Jim Owens, who led in Maine, was reported to be out with a mechanical problem on his bike so Jeff felt good about his chances at the overall win but wouldn't know for sure until the winner was announced at the banquet that night. In the meantime, he was too keyed up to actually sleep despite having clocked over 11,000 miles in the previous 11 days. Ah, the joys of adrenaline!
I stood around the parking lot talking with various friends while watching bike after bike pull into the parking lot and go through the check-in procedure. By 8:30am, I left to head to work and wait for the final report which would announce the winner. When the news finally broke, it turned out that Jeff didn't win. Two other riders, Shane Smith on a Honda ST1300 and Chris Sakala on a BMW R1150GS had done the New Brunswick bonus and swept the east coast bonuses. They gained enough points to leap frog over Jeff to to get first (Smith) and second (Sakala). Jeff Earls came in third. All told, 90 riders shoved off for the rally on August 22 and 69 of those made it back to Denver within the window allowed to be considered a finisher. Most rode at least 11,000 miles during the eleven day rally, with the high mileage award winner being Mark Kiecker who rode 13,354. But the rally is not just about clocking miles but about efficiently balancing bonus points earned per mile ridden. Mark finished fourth, one place behind Jeff, despite having ridden 2,400 more miles.
My take on the overall rally is mixed. First, I'm again amazed at what endurance riders can accomplish. Riding a single 1000 mile day is challenging. Doing them back-to-back for eleven days is unfathomable. Doing so while also searching out bonus locations, keep track of paperwork and trying to avoid falling asleep while riding is just amazing.
Second, the route laid out this year by Lisa Landry was both interesting and novel. The water theme was entertaining and the minimum 60,000 point requirement meant that finishers couldn't just get on the bike and ride. The bonus strategy aspect that has always made the Iron Butt Rally so unique was forced on everyone that participated not just those that were going for the overall win.
Finally, the hypocrisy that has long threatened the Iron Butt Association seems to have finally been made obvious. For years the IBA has tried to present an image that the Rally isn't a race. If a rider bragged about riding fast or about riding dangerously impaired or of anything else which might give critics a foothold then the rider's IBA awards were rescinded (For a very public example of this, research what happened to Motorcyclist magazine's Aaron Frank after he published a story about doing 2200 miles in 44 hours on a Yamaha R1). This draconian action has been regularly taken despite the rather obvious nature of the rally which means illegal riding is basically required by the people trying to win and the equally obvious situation where riders doing eleven consecutive 1,000 mile days are going to become at least somewhat impaired. This year some of the riders carried GPS units which allowed people to track their progress in real time via the Internet. Watching FJR rider Doug Chapman go from Denver to Miami, a distance of 2000 miles, in 36 hours made it blatantly obvious that he was traveling above the speed limit and also indicated that he only made two short stops for naps. If he wasn't exhausted when he arrived in southern Florida then he's a robot and not a human. I understand the IBA's attempts to present a polished image of the rally but its the old "information wants to be free" thing…you can tell people not to talk but anyone that scratches below the surface will learn the truth anyway. In this case, all of us that were watching knew that the '05 Iron Butt Rally riders were doing the very things that the IBA has reprimanded others for saying…riding fast and riding tired.
In '07 I think the IBA will either have to ban GPS units, blog updates and press releases or will have to swallow their pride and admit they have unfairly penalized riders that have talked about their experience in public forums when what they've done isn't all that different from what is done by all IBA riders. Like the Isle of Man roadraces, the Erzberg Enduro rally, the Paris-Dakar off-road race and free-style motorcross the critics of the rally will *always* think its stupid whether they know the details or not. Grow up all ready…
That bitch aside, congratulations to the Iron Butt Association for putting on another fantastic Iron Butt Rally, I can't wait to see what they come up with for '07, and congratulations to all the finishers for their incredible performance. I once again stand in awe.
[image from my photo collection.]l