Author: site admin
Category: Bike reviews
I made a blog posting a few nights ago about how the biennial Paris Motorcycle Show was this weekend and that this is the time of the year when all the new models and wild concept bikes are announced. I've also posted a few times this summer about how I had planned to buy a new bike this year (though that project has, in both the interest of financial responsibility and the hope that KTM imports the 990 Super Duke in '06, been pushed until next year). With those thoughts still bouncing around in my head I thought I'd take a moment to mention some of the 2005 bikes that I think are exceptional but which, for one reason or another, aren't actually on my list of potential purchases. Consider this a sort of "Coolest bikes of 2005" posting for motorcycles which are impractical to own but well worth drooling over.
First, any time I start talking about dream bikes the first thing I always mention is having a full on GP bike for the street. Well, Ducati said in 2004 that they would be making a street version of their MotoGP bike to be called the Desmosedici RR. Unfortunately, it doesn't appear that the bikes made it from concept to sellable product in 2005 but since rolling models have been displayed at least it has made the leap from drawing board to prototype. Assuming this bike ever becomes reality (and wishfully thinking I could afford the purchase price which will likely be over $50,000) it will be the closest I'll ever get to riding a Grand Prix machine. I consider this the ultimate on my list of impractical but lust worthy motorcycles. (Now, if only Honda would release a Nicky Hayden replica RC211V in 2007…)
A bike that is much more real, though not much more attainable, is the new $45,000 wonder bike from MV Agusta: the F4 Tamburini. The standard F4 is stunningly beautiful and, unlike so many other salon bikes, brutally effective. With the Tamburini edition, MV has pushed to the absolute limits of what a company can achieve when they aim for a very select (and well heeled) sport bike audience. The bike has all the right modifications in that MV has focused on increasing horsepower, improving handling and removing weight. Perfect. The purchase price is the *only* reason the F4 Tamburini isn't in my garage.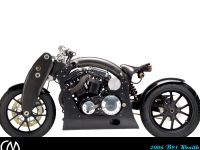 The Confederate Wraith got a lot of press in 2005 and, unlike nearly every other V-twin powered custom bike, I think it actually deserves it. Both the engineering and visual design are incredible and yet the core philosophy has been to make a bike that not only looks unique but is thrilling to ride. In fact, it is even built to be ridden hard. The Wraith really seems innovative in its styling while distancing itself completely from the choppers that generally come to mind when I think of a v-twin powered custom. I don't think I would ever drop $50,000 on one but if I had that kind of money laying around I'd at least give it a serious look.
As long as I'm talking about customs, I might as well give some props to the Honda Rune. When it comes to bikes which can be generally classified as cruisers I can only if I find out that it is something different from the norm can I muster even the smallest amount of interest. I don't mean different in the way that chopper builder TV shows find new themes with which to bolt together crappy, unrideable bikes but different in the sense that someone looked at the basic concept of a cruiser with fresh eyes. That is what appeals to me about the Wraith and it also gives me a huge amount of appreciation for the Rune. The fact that Honda, a company that rarely takes styling risks, are the ones that made it gives me that much more admiration for the accomplishment. Taking the monster motor from the Gold Wing, giving it retro inspired design and then making the whole bike seemingly bigger than life just pegs my cool meter. The fact that it costs half what a Wraith goes for just means it is almost within reach of us mortals.
Another bike that goes in a surprising new direction for a company is the MGS/01 Corsa model that was first shown by Moto Guzzi in 2004. Like Honda building the Rune, having a company like Moto Guzzi which has reputation for building large, clunky engines with long, low profiles suddenly come out with a full on sport bike is shocking. The fact that the MGS still has some characteristic "Guzziness" to it just means that the designers were on their A Game when the penned the bike. The MGS is supposedly being marketed to Guzzi owners who want to go to the track…that has to be a very select group but hopefully this bold step (along with a big infusion of cash from new owner Piaggio) will shatter Guzzi's previous image and help the company create a reputation for bold and exciting motorcycles and thus gain an entirely new market. As someone who loved the Sport models from afar this MGS comes close to winning me over.
If Moto Guzzi seems to be being metaphorically reborn then Norton has been through the real deal. The name Norton has been missing from the motorcycle market place for nearly thirty years as the brand was one of the many casualties of the wave of Japanese made motorcycles that appeared in the 50s and 60s. Now ex-Norton restorer Kenny Dreer has acquired the rights to the name and has built an entirely new bike which will wear the Norton name. The 952 Commando pays serious hommage to the famous Norton Commando by using a parellel twin engine derived from the original but is otherwise thoroughly modern with fancy Ohlins suspension, massive Brembo brakes, 17″ forged rims, a reasonably light 415 lb dry weight and at $20,000 it is almost reasonably priced. I think this bike is damned near perfect. Unique, beautifully styled, well engineered and the right blend of new mixed with old.
There are also a few honorable mentions I'd like to throw on here at the end:
First is the Aprilia SVX 4.5 supermoto bike. When I first read about the race only model that broke cover last year I put it very near the top of my dream bike list. However, now it is actually being released as a production bike so it isn't quite so exotic as it seemed earlier this year. Still, while it is probably too specialized to make it onto the list of bikes that I will consider purchasing it is very, very close. A lightweight supermoto bike with 20% more power than the competition and with a 13,000 redline sounds like more fun that you should be allowed to have with your clothes on.
As I mentioned above when talking about the Rune and Commando I have a soft spot for nuevo-retro styling. Bikes which have a distinctly retro look but which have been updated to more modern specs. There are three bikes which definitely fall into that catagory for me and all three are either now available for purchase or will be in the next few months. They are the Triumph Bonneville Thruxton, the newly announced Triumph Scrambler and the Paul Smart 1000 bike from Ducati's "Sport classic collection. When it comes time to get out the checkbook and lay down cold, hard cash I can't justify any of these but if I lock that rational part of my brain away then all three just seem so *right*. Fantastic classic styling but with modern engines, modern suspension, modern brakes and modern wheels. They are an excellent balance of the form versus function design philosophy and are all the more tempting since they aren't outrageously priced like most dream bikes.
When it comes down to buying a new bike, I don't think any of these bikes would ever make the cut either because they focus too much on styling, focus too narrowly on their market or simply because they are out of focus with my financial reality. Nonetheless, any one of them is more deserving of a TV show than any of the so called "exotic" custom choppers that seem to find their way onto my boob tube. These are my dream bikes for '05.
[image from the Confederate Motorcycles web site.]