Author: site admin
Category: AMA Superbikes
This past weekend was a great one for Suzuki as the brand tied up three championships: AMA Motocross (Ricky Carmichael), AMA Superstock (Aaron Yates) and AMA Superbike (Mat Mladin). Way back in April I did a blog entry that forecast Suzuki would have a banner year in production racing and with the GSXR1000 winning both AMA classes for which it is eligible and likely to win World Superbike as well, the Hamamatsu, Japan based company have a lot to be proud of this year. However, even more proud has to be the Mat Mladin family. Not only did Mladin do what he needed to do at Road Atlanta in order to tie up the 2005 Superbike championship, his *sixth* AMA Superbike title, but he also earned pole position which finalized his sweep of pole positions for the season. He did everything in 2005, short of a Carmichael-esque series sweep, to stamp his authority on the Superbike grid. Marty Craggill, the rider sponsored by Mladin, finished out the AMA Superbike season in 7th as the top privateer which is another phenomenal achievement for Mat. Finally, he goes into pre-season testing with a new three year contract with Suzuki meaning he can enjoy his time off and then come back for winter testing focused on how to keep him championship steamroller going in 2006.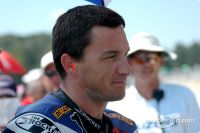 But I'm getting ahead of myself…Mladin came into the Road Atlanta round with a relatively small 21 point lead over teammate Ben Spies. Despite Mladin having been dominant all season his two DNFs, along with consistent riding by Superbike rookie Spies, meant his seemingly insurmountable mid-season points advantage had been eroded to what is paid for a single win. If Mladin had bad luck in either of the Road Atlanta races then Spies could still snatch away the 2005 championship. This meant Mladin had to walk a fine line between conservative rides that wouldn't risk a crash or mechanical while still riding hard enough to gain valuable points. Spies, on the other hand, needed to run the table: Get the single point for pole position, get the two points available for leading the most laps in the two races and finally get the full 72 points available for two wins. From the first laps of practice, it looks like Spies hopes were evaporating fast. Mladin was fast straight out of the truck and then threw down a stunning lap in qualifying to get pole by 1.5 seconds over Spies. (As a side note, this was the 47 AMA Superbike pole position for Mat, the final needed to sweep the poles for this year and the 1:21.685 time bettered the Road Atlanta lap record by nearly 1/2 a second. Impressive!)
When the riders lined up on Saturday for race one, Spies did what he needed to do off the start by grabbing the hole shot. Unfortunately, for him, Mladin also got off to a good start and Spies lead didn't even last one lap. Mladin went to the front and slowly pulled away. However, it appeared that Spies luck may yet improve because the race was red flagged on lap 18 because Heath Small crashed and knocked himself into another realm of (un)consciousness. The riders were re-gridded for an eight lap sprint race which appeared to favor Spies…Mladin is rougher on clutches that his Yoshimura teammate. When the race was restarted, Spies again got a great launch and held it longer, this time a full lap, before being passed by Mladin. Unlike the first stint, Mladin didn't pull a gap and was pressured by Spies for the entire eight laps. Meanwhile the two inched away from their third teammate Aaron Yates. With two laps to go, Mladin gained a little breathing room and Yates threw his GSXR into the turn 10 gravel trap. Mladin carded his eleventh win of the season and gained another six points over Spies in the championship hunt. Yates crash was particularly painful because not only did it end another potential all-Suzuki podium but it also ruined any chance of him overtaking Eric Bostrom for third in the championship battle…ruling out a Suzuki 1-2-3 in the title race. Ouch! Yates misfortune gifted Miguel Duhamel with the final podium spot which was a nice reward for the slow but steady improvement the American Honda squad has been dealing with all season with their CBR.
On Sunday, the riders lined up for the last race of the season and all eyes were on Mladin and Spies. At the start, Mladin rocketed to the lead but an immediate red flag called everyone back for a complete restart. As was seen in race one at VIR, Mladin's clutch didn't hook up well on the restart and he ended up mid-pack. Spies, meanwhile, got yet another holeshot and started to pull away. It took Mladin most of the race to conservatively work his way from 20th to 4th…high enough in the points to lock up the 2006 championship. Meanwhile Yates, sensing a win was his only chance to catch back up to EBoz for third overall, was on a mission. He caught, then passed and then pulled away from Spies. Yates took the win by over 6 seconds from Spies. Neil Hodgson bookended his 2005 season by ending on the podium (this time in third, in contrast to his second place in the season opener at Daytona).
When all the points were tallied, the top five in the championship battle were:
1 - Mat Mladin (536)
2 - Ben Spies (514)
3 - Eric Bostrom (431)
4 - Aaron Yates (414)
5 - Miguel Duhamel (392)
6 - Neil Hodgson (384)
7 - Marty Craggill (331)
8 - Steve Rapp (305)
9 - Josh Hayes (302)
1o - Lee Acree (301)
Mladin now has six AMA Superbike championships, twice the number of any other racer. Additionally, his 11 race wins this season pulls him well clear of Duhamel when it comes to the total number of AMA superbike race wins. Mladin now has a total of 43. Whether you like Mladin or not, there is no denying his unbelievable talent and his unstoppable work ethic. The raw stats show that Mladin is the best superbike rider the AMA has ever seen.
If Mat's fellow competitors have anything to look forward to in 2006, its that those same stats may provide a small glimmer of hope. His six US championships have been spread over seven years broken into two strings of three years each: Mladin topped the points table in 1999, 2000 and 2001, then winning again in 2003, 2004 and 2005. Nicky Hayden sits in the middle of that streak as he took the 2002 title. Anyone believing in numerology may having something to look forward to…for the rest, there is always the fight for second place…
[image from the Motorsport.com web site.]