This weekend offers up quite the contrast when it comes to racing motorcycles. At the ultra-modern EuroSpeedway track in Lausitz, Germany the World Superbike regulars will be racing their ultra-modern sport bikes. Meanwhile, at our local Pueblo Motorsports Park in Pueblo, CO the AHRMA guys will be racing their vintage bikes. Both are equally fascinating though they are such completely different experiences to watch.
First, the World Superbike event in Germany… This will be the third to the last race weekend of the series and probably the first chance for Troy Corser to lock up the title (assuming he gained the maximum 50 points by winning both races and Chris Vermeulen failed to gain a single point). This is an unlikely scenario so expect the title fight to continue into the penultimate weekend at Imola in three weeks. For this round, expect Chris Vermeulen to continue to ride hard and expect Corser to continue to balance conservative riding with opportunistic grabbing of points. Regardless of the championship's status, the track is bound to throw a wrench into many of the riders' plans. The 2.6 mile long track, placed inside a huge Indy car oval, is a series of fast straights which are tied together with 13 curves many of which are slow first and second gear corners. Things are further complicated by the fact that the relatively narrow track and the tightness of the turns means that passing in very, very difficult. Expect the race to turn into an hour long series of drag races as riders attempt to get their bikes upright exiting turns and try to pull up along side other riders before slamming back down through the gearbox for the next turn. I think that aggressive riders on bikes which accelerate hard from low speed will be the ones to watch. I think this will favor the Suzuki GSXRs, as they seem to have massive power *everywhere* along with riders like Vermeulen, Haga and Toseland who have proven themselves very aggressive over the past few races. Also interesting in that Lorenzo Lanzi will be stepping up from the Scuderia Caracchi privateer Duck to fill in for the injured Regis Laconi. Since Scuderia just fired their other rider, Fonsi Nieto, it will be interesting to see who they have on their bike this weekend.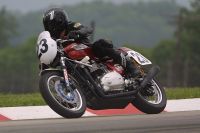 At the other end of the spectrum are the old bikes, and often old riders, who will be joining the American Historic Racing Motorcycle Association (AHRMA) for their annual visit to the American south-west. In this case, they are visiting Pueblo Motorsports Park which, in my opinion, has the most interesting layout of any of our Colorado area tracks with its 2.2 mile long, 10 turn road race configuration. The track surface isn't the greatest, something that will be particularly noticeable on the poorly suspended vintage bikes, but at least it has a mix of straight aways, fast turns and slow turns. I find all the AHRMA road racing classes interesting but the one I'd most like to see is the modern Triumph Thruxton Bonneville bikes being raced in the Thruxton Challenge. These nearly identically prepared bikes have all the right look for a race series tied to a vintage organization but have the added benefit of running more reliable engines in more modern chassis. Since this is a spec class, the racing should be close and the winner's advantage should clearly be in skill rather than machinery. As a final incentive, some of our local MRA racers, including the guys at Foothills BMW/Triumph, where I have my Beemer serviced, will be there. Unfortunately, I'm out of town this weekend and won't be able to catch the races…definitely my biggest motorcycle racing disappointment of the year.
Old bikes or new bikes, Multi-million dollar international race circuits or modest local tracks, world champs or aging enthusiasts…either way watching motorcycle racing is good stuff.
[image from the 2WF web site.]