Author: site admin
Category: MotoGP
The weather in Malaysia this time of the year is always a challenge for the MotoGP teams and riders. When its raining, its dumping water like only a monsoon can. When its not raining its so hot and humid it still feels like a steam room. Temperatures over 100 aren't unusual and track temperatures can easily reach 125 degrees. Racing in this kind of sauna means that the riders have an even greater reliance on the tires than normal. As a result, my coverage of the Sepang race has as much to do with the rubber as the riders.
The first sign of this came in the first practice sessions. Despite never having visited the podium at Sepang before, the Bridgestone tires seemed to have a big advantage from the first time wheels turned on the track. As if the hot temperatures and a rain shower on Friday weren't making life hard enough for the tire technicians there was the added problem of a dirty track. Unlike past years, it seemed that dirt had somehow embedded itself in the track surface and significantly reduced tire traction. The lap times in practice were slower than expected and it was the Bridgestone bikes that rose to the top. In fact, qualifying showed just how big the tire technology gap was in terms of dealing with the unique situation found in Malaysia. Four of the top five bikes were wearing 'stones including pole sitter Capirossi. Gibernau managed to snag second on his Michelins but Hopkins in third and Nakano in fourth were close behind to make it four different bike brands in the top four positions. Anytime the Kawasakis and Suzukis are on the front two rows you know that either hell has frozen over or the tires are dictating the results.
When the boiling hot sun rose on Sunday there were rumors that Michelin had brought in a special container of tires on Saturday night to address the problems found during practice on Friday. These new tires gave a new lease on life to many of the riders as Gibernau topped morning practice with Hayden in third and Rossi in sixth. As long as these new tires could go the distance it looked like the Michelin riders could line up for the race without bringing the proverbial knife to a gun fight.
The race was slow to get underway because the starting lights appeared to malfunction but when things finally went green it was Loris Capirossi that won the drag race to turn. Second place was a four way traffic jam as Melandri on the far inside and Hayden in the middle of the track were split by Gibernau who went in too hot pushing Hayden out into Checa's space. Hopkins, who was out run off the line on his underpowered Suzuki and was on the outside of the track, got shoved out wide by Checa. The whole gaggle had to work hard to keep everything under control and fortunately no one went down. Melandri was gifted by the turn one chaos and came out of turn two in second place with Nakano in third and Hayden recovering to fourth. Two laps later, Gibernau was again rubbing on Hayden to make the pass into the top four but at the end of the same lap tried a banzai passing move on Nakano for second only to crash and take them both out. This makes for two DNFs in a row for both of those riders. A lap later, Nakano's temporary teammate Jacque was out with a mechanical problem. Giving Kawasaki another disappointing weekend of having to pack up their pit space early.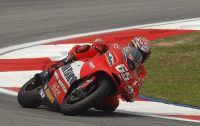 As things calmed down, Melandri started to slide backwards while Rossi moved forward. Just a few laps in and it appeared the battle was going to boil down to a firefight between Capirossi, Rossi and Hayden. Those three riders pulled a gap over the following riders and all of them seemed to be running similar lap times. Just over half race distance Rossi made the pass on Hayden for second and then continued past Capirossi for the lead. Rossi was able to up the pace but both following riders were able to stay with him. As the laps wound down, Capirossi used the power of the Ducati to move back to the front, Hayden began to lose the pace and slide backwards and Carlos Checa started to charge forward on his Ducati. With just a few laps to go, the front pair spread out as Capirossi pulled a half second a lap on Rossi. The following pair closed up with Checa making two successive pass attempts on Hayden but ran wide on both allowing Hayden back through. On the penultimate lap Checa made pass stick on Hayden and then quickly closed the gap to Rossi. On the last lap, Capirossi cruised to a comfortable second consecutive victory while Checa came up on turn short on making the pass on Rossi. Rossi's second place earned him the points necessary to win his fifth premier class title and his seventh world championship.
Hayden came on home fourth while Melandri struggled with his seriously injured foot for a fantastic fifth. Biaggi has another puzzling weekend to finish sixth. The Bridgestone's carried Suzuki to two top ten finishes, a seventh for Roberts Jr and a ninth for Hopkins, the two riders split by Honda mounted Alex Barros. Colin Edwards rounded out the top ten.
Ultimately, it was a Bridgestone weekend. Some riders not normally seen in the top ten all had strong finishes. Had both Nakano and Jacque not been taken out early, though through no fault of their own, they were on course to improve the Bridgestone record even further. Having two Ducatis on the podium is fabulous for the series but only time will tell if this is an improvement in the bikes, the riders or just a tire advantage in the unique Malaysian conditions. As much as I'd like to believe otherwise I'm fairly certain the later explains the top ten finishes for the two Suzukis.
As for the Michelin riders their tires just couldn't handle the heat. Both Rossi and Hayden faded in the final third of the race while the two Ducatis were still turning consistent lap times. Nicky's retreat from second to fourth is disappointing but I'm willing to cut him a lot of slack since he was the top Honda and the second Michelin rider behind Rossi. Sure, he still has some room for improvement but I don't think he's to blame for missing the podium in Sepang. Besides, I still think the real battle for him is to continue to beat Biaggi so he can keep his Repsol ride next year. He definitely managed that. Finally, I want to reiterate how amazing it is for Melandri to bring his Honda home in fifth considering he has thirty stitches hold his foot together. MotoGP racing in general requires amazing endurance but doing so in the Malaysian heat with a big hole in your foot is extra-ordinary. Melandri showed back his 250 days that he has an amazing capacity to race through injury and he has proved that one again.
With the Asian sun setting over Kuala Lumpur, its obvious that Capirossi is hot but Rossi is positively radiating. Seven championships and most of them with dominant performances is astounding, including his sewing up this year's championship with four races left to run. I think Rossi will make it an even eight next year so the other riders better hope the rumors are true that Rossi will go to F1 in '07…
[image from the MCN web page.]