Author: site admin
Category: Bike Updates
No new blog posting tonight since I had to catch up on some bike tasks.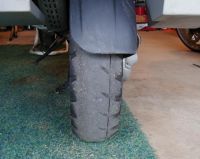 First off, I had to mount up a new rear tire to replace the one that I wore down to the chords on my recent Wyoming trip. I keep saying I'm going to try out a new model of tires but can't seem to get both the front and rear to wear out at the same time. I again decided that I wasn't going to do anything different this time around so I just got another Metzeler T66X.
The other bike related tasks for tonight were gear related. A few years ago I got a hand-me-down Widder Lectric-Vest from my buddy Todd Unprounceable. I used it on my Beemer until I replaced it with a Gerbing jacket liner last year. At that point the Widder passed on to my wife who used it all last winter. Well, during this past Saturday's afternoon ride over a snowy Togwotee Pass the Lectric-Vest started shorting out. Tonight I got it boxed up to send back to Widder for repairs.
Finally, I also got my wife's Roadcrafter suit boxed up to send back to Aerostich for a cleaning and re-sealing. The unfortunate reason for sending her suit in for a cleaning is because one of my cats decided to use it as replacement for the cat pan. Rather than have my wife spend the rest of her riding career smelling stale cat urine I decided to be proactive and get the suit in the mail ASAP. Hopefully, we'll have it back in a few weeks so she can get in a little more riding before the end of the riding season.
[image from my photo collection.]