Author: site admin
Category: MotoGP
Things are big in Malaysia. The buildings are big, the temperatures are big, the distances are big and even the economy is big. With the world's largest building, the Petronas Tower, Kuala Lumpur has bested the world when it comes to being big. The country has big religion, with 52% of the population being Muslim as well as a large Buddhist and Hindu segments of the populace. The place also has big weather with September forecast varying between huge monsoon rain storms and sweltering high temperatures with stifling humidity. Yup, just about everything is big.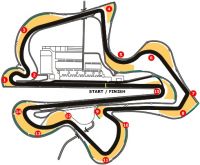 More importantly, for the topic at hand, the Sepang circuit that is hosting this weekend's Malaysian Grand Prix is a big facility. Not content to have a world class race track it also contains a fancy hotel, a big shopping mall and even a golf course. Even the track itself is big running 3.447 miles in length and containing 15 of the widest variety of corners on nearly any track in the world. The surface is wide and smooth with a mix of slow turns, fast turns, straights and even elevation changes. There are two long straights that start and end a lop and both mean that acceleration and braking power are needed but that is overshadowed by the requirement for great suspension action in the sweeping turns. Turn three, for example, is taken in 4th gear while rocketing the bike from 65 to 155mph, As if the sweeping turn wasn't hard enough on the front tire, the wideness of the track means that riders can take a long sweeping entrance into the turn meaning the bikes are pushing that front for that much longer. Oh, and turn three isn't the only fast curve. Turns five and twelve are both taken in third at around 100. Both of these turns, particularly turn twelve, spice things up even more by cresting hills. The riders will need a sweet suspension setup to deal with having the front go light while charging over a hill banked over at a hundred per. The track is big in right side tire wear too as ten of the fifteen turns on the track are right-handers.
The riders are in for a big weekend as well. First and foremost, this is the next big chance for Valentino Rossi to take the title. A top four finish, assuming Biaggi wins the race, is all that is needed for Vale to take home the championship. Since he's won here two years in a row he is once again the favorite. The excellent handling characteristics of the Yamaha should really shine in Malaysia so expect Rossi to use this in the sweeping turns to make passes.
Speaking of Rossi, this weekend is going to be a big test for Marco Melandri's courage. Despite 30 odd stitches in his right foot after being taken out at Motegi by Rossi the Honda rider showed up at Sepang to race. Given the degree to which the weather can sap the strength of even perfectly fit riders, it will be amazing if Melandri can even race. If he does run the main event it will be in an effort to get whatever points he can since he is still in the seven rider battle for second place overall in the series.
There is some big motivation over in the Ducati camp as Loris Capirossi is fresh off the team's maiden win of the season. What's more, Ducati has never done particularly well here in Sepang so Capirossi is looking to break the drought this weekend. If the Ducati can do well in Malaysia it will also mean that Capirossi can win at a non-Bridgestone track which will be a big statement indeed.
Finally, this weekend is also represents a big break for a few riders. First, Shane Byrne is been asked to ride the Camel Honda to fill in for the injured Bayliss. A week ago, it looked like Byrne was locked up in a contract with KTM who would no longer be racing this season, effectively ending the Brit's chance continue racing. Now he is not only back in the paddock but has a multi-race deal to ride a semi-factory Honda which is perhaps the most coveted ride in the pits. Clearly this is a big chance for him. Second is Olivier Jacque who is getting another opportunity to ride the factory Kawasaki. However, rather than bring a wild card he is instead substituting for Alex Hoffmann who injured his foot in his recent accident in Japan. Since there is a big chance that it may rain, Jacque may be another chance to show off his rain riding skills after his big finish in China earlier this year.
Not everything is big, though. There are some little things too…
The first little bit of information is that James Ellison is back from injury and will be again riding the WCM Blata bike this weekend. Since the team still doesn't have their new Blata engineered V6 Ellison will again be riding last years bike which is little more than a fancy Yamaha R1. As a result, he has little chance of a good finish.
There is also little hope for Max Biaggi keeping his title hopes alive. Even if the Honda rider could pull out a win over Rossi this weekend, it is very likely that his countryman will still finish close enough to the front to tie up the title. Biaggi is now racing to secure his fourth championship runner-up finish (and his seventh top three). If ever the FIM decides to retire someone's number, it should be to hang up the #2 in honor of Max.
Finally, there is little rest of the weary. The Sepang race comes one week after the race in Japan and the Losail race is less that one week away after this one finishes up. Expect this run of three straight fly-away races to test the endurance of the riders and the organization of the teams.
All in all, it should be a big weekend of racing…
[image from the Sepang Circuit web site.]