Author: site admin
Category: AMA Superbikes
Well, I once again missed the weekend's racing due to a technical problem with my VCR (…oh, and yes I do know how to spell DVR so spare me the emails…). Since I can't write about the Japanese GP until I see the re-runs this coming Tuesday I'll have to go through the backlog of articles that I've been meaning to do when I found the 'Roundtuit and write something. Well…I pulled a random thought out of my head and it turned out to be doing my long overdue review of the '05 AMA support classes so here it goes:
The AMA support races were unique this year because all three came down to the final round before crowning a champ. With the factories all splitting their attention across the four classes, there were top riders in each as well as a mix of new model bikes and aging machines. Thus some of the support classes become as important, if not more so, than the "premier" Superbike class.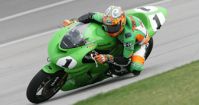 First and foremost is the Supersport class. With the status of the AMA's "premier" class still unclear, it seems like the manufacturers have decided the two "stock" classes are where they have settled down for a head-to-head battle. With 600cc sport bikes the most popular sports bikes in the big four's lineup a Supersport championship helps move a lot of bikes off showroom floors and it may in fact be the most important trophy that a factory can bring home. Yamaha, Kawasaki and Suzuki all had full factory efforts in Supersport. Kawasaki started the season with the advantage of having the #1 plate on the front of defending champ Tommy Hayden's ZX-6, along with brother Roger Lee as his teammate. To counter this, Yamaha put forth their four rider "dream team" of Jamie Hacking, Aaron Gobert, Damon Buckmaster and Jason Disalvo on the new R6. Finally, Suzuki kept their toe in the Supersport waters by having rising star Ben Spies ride the little changed GSXR-600. Even the factory support teams like M4 Suzuki and Attack Kawasaki put riders like Geoff May and Ben Attard in the class. Finally, some of the top up-and-coming riders like Chris Peris, Robert Jensen, Blake Young, Danny Eslick and Nicky Moore decided to use Supersport as the showcase for their talents in the hopes of getting better rides next year.
The season started out as a Yamaha-Kawasaki duel with both Hacking and T. Hayden taking five straight podium finishes in the first half of the ten round series including two wins each. Likewise, this was mirrored by their teammates where R. Hayden and J. Disalvo each had a DNF but also had consistent top four finishes in the other four races. No one else was close to these four and by mid-season the championship fight was confined to them. Unfortunately, Hacking had an accident after PPIR while training on his bicycle which broken both of his wrists and put him out for the rest of the season. This opened the door for Tommy to build up a sizeable points lead which he held despite an accident at Laguna Seca which broke his hand. The main story of the second half of the season was the injuries of Hayden and Hacking but the sub-plot was the emergence of Rog Hayden and Disalvo stepping up to make their grab for race wins and a late season points charge for the title. Tommy won round six at Road America but from then until the end of the season every race was won by either Roger Lee or Jason. Rog ultimately got the better of the battle with three straight wins compared to a single win by JD. Tommy Hayden put in amazing rider with a broken hand to card two amazing second places finishes in the final four rounds. His worst finish of the year was a sixth at Lagana earned just a few hours after his bone breaking crash. At the end of the year, the top three were T. Hayden, R. Hayden and J. Disalvo. Hacking slipped down to 12th in the standings after his injury. Spies came through in forth, followed by May, Gobert, Buckmaster and Attard. Class rookies Jensen and Peris filled out the last two spots of the top 10. A great season of racing with a lot of interesting stories and very deserving champion. A great story for Kawasaki, a respectable showing from Yamaha and a less than stellar endeavor for Suzuki.
Super-size the Supersport class and you get the Superstock bikes. These are the 1000cc bikes but in a configuration that is closer to stock (though things are a bit confusing since they run racing slicks rather than DOT tires). Like the smaller displacement class, three of the four manufacturers went head-to-head in Superstock. Yamaha brought back defending champ Aaron Gobert on the R1 along with his three compadres of Jamie Hacking, Damon Buckmaster and Jason Disalvo. Kawasaki put the two Hayden brothers on the big ZX-10Rs and Suzuki put Aaron Yates on a GSXR-thou. Again, a number of the factory support teams like Jordan Suzuki (Steve Rapp, Montez Stewart, Jason Pridmore), M4 Suzuki (Vincent Haskovec, Geoff May, Michael Barnes), Corona Suzuki (Brent George, Tony Meiring), Hooters Suzuki (Eric Wood, Jimmy Moore), Hypercycle Suzuki (John Haner) and KWS Suzuki (Lee Acree) chose to focus on Supersport. Since nearly all these teams ran GSXRs, Suzuki had to be the favorite for the title if only because of the raw number of their bikes entered in the class.
The season started off with an emotional win by M4's Czech rider Vincent Haskovec at Daytona with Yates and Pridmore filling out the all-Suzuki podium. Round two mixed things up with a Kawasaki win from T. Hayden, a runner up for Disalvo and a third for Yates. Another shuffle at round three with Disalvo getting a win, Hacking second and Rapp preventing the Yamaha sweep. Round four had Yates notch his first victory of the season while Hacking and Disalvo rounded out the rostrum. The fifth winner in five races was crowned with Hacking taking his first class win for '05, followed home by Yates and T.Hayden. It has to be exciting racing when every weekend puts a new face on the top step of the podium. In the second half of the season, things changed completely. Aaron Yates decided he better win this thing and proceeded to win four straight, only backing off at the final round to tie up the championship with a conservative ninth place finish. When Yates started his roll, only Disalvo could hang tough. JD scored five straight podium finishes, including three seconds, while trying to keep Yates honest. Also notable was Tommy Hayden who dropped out of the class after he crashed and broke his hand at Laguna while leading in Superstock. Until the accident he was in the top three in points and a threat for the title. His brother Roger Lee showed he can ride a big bike by getting on the podium three times in the second half of the season and winning the last race of the year. Another rider that emerged was '04 star privateer Geoff May who got two podium finishes this year in Superstock while riding for the M4 team. The top ten for the 'stockers shows just how competitive the class really was with Suzuki (Yates), Yamaha (Disalvo), Suzuki (Rapp), Kawasaki (R. Hayden), Suzuki (J. Haner), Suzuki (J. Holden), Yamaha (Buckmaster), Suzuki (May), Yamaha (Gobert) and Kawasaki (T. Hayden) finishing in that order. Yates winning the championship earned him for than a #1 plate has he seemed certain to lose his Yoshimura ride in '06 until the final race of the year when he was suddenly re-signed. The Superstock championship undoubtedly earned him that contract renewal.
The final AMA support class is their "other" premier class which is Forumla Xtreme. For years FX was an "anything goes" class but the upgrade of Superbikes to 1000cc bikes made the two classes nearly redundant. As a result, the AMA "downgraded" FX to be a 600 Superbike class for '04. A great idea, really, and one that has been discussed for years but unfortunately they failed to get buy-in from the manufacturers before creating the class. For two straight years, Honda has been the only factory to race in the class meaning it is essentially a nine round marketing campaign for HRC. (As an aside, I think all the factories should be racing in Superbike and FX, leaving the 'stock classes to privateers and factory support teams but I'm not the one that has to manage the R&D costs for the factories…) Anyway, for '05 everyone knew that FX was going to be a two-man battle with everyone else just around to fight for the final podium spot. This turned out to be precisely the case. Honda's two star riders of Miguel Duhamel and Jake Zemke lined up with their CBR600RRs as the two championship contenders. The second tier Erion Honda riders of Kurtis Roberts and Alex Gobert were there as well, meaning Honda should have been sweeping the podium on a regular basis. The most likely folks to challenge Erion for that third spot were M4 Suzuki riders of Vincent Haskovec and later Michael Barnes. Ben Attard and the Attack squad put a green Kawasaki in the field but the rest of the pack was made up of privateers like Danny Eslick, Chris Peris, Opie Caylor, Nicky Moore and Mike Hale.
As expected, the season was a titanic struggle between Zemke and Duhamel. The two earned every win and only gave up two second place finishes to other riders. In fact, the only surprise was that there were only two Honda sweeps of the podium over the nine races (FX didn't race at Laguna Seca, thus the "missing" race) both with Roberts doing the honors. The battle for third place was primarily between Haskovec, Attard, Barnes and Jensen. The tragedy of the season was at the forth round at Infinion Raceway where Haskovec crashed and slid into a unprotected tire wall. He bike followed him in and the resulting accident ended with one of the most promising riders in the series being paralyzed. In better news, Kurtis Roberts was only set to race two events in Formula Xtreme and was on the podium in both races, showing that perhaps Erion should have focused the youngest Roberts in that class instead of Superbike where they struggled all season. The real breakthrough, though, was Danny Eslick who came into the year with minimal road racing experience but got top five finishes on five different occasions. Likewise, Ben Attard deserves credit for being in the top five in every race, except the season opener at Daytona, including two third place podium finishes. But in the end it was all about Zemke and Duhamel. They battled all season long with Zemke winning out on raw wins with five compared to four from Dahamel but the Canadian taking the championship thanks to a crash by the Californian while leading at the final round. Despite the class being a bit of a snooze-fest, the final race was probably the best race of the year in any class. Proof that even predictable races can be very exciting. Eslick finished the season a fantastic third overall, showing that the youngster is a new emerging talent in AMA road racing. Attard was forth and Aaron Gobert fifth. The final five were Barnes (the replacement for Haskovec), Peris, Moore, Caylor and Knapp. Hopefully, more factories and/or factory supported teams will enter the FX field in the years to come making it more exciting series and reserving the other classes for those who can't afford to race in Superbike spec classes.
All in all, a great year of racing. All the champs rode hard and all three has phenomenal teams behind them. The days of a privateer winning over the factories in the support classes are probably long gone. However, I do have two observations:
First, while a number of talented new faces showed up this year including Eslick and Peris, three of the four AMA champions are seasoned veterans. Duhamel is at least 37, Mladin 33 and Yates is 32. Even Hayden, at 27, is hardly a youngster any more. The promising stars of tomorrow like Spies, R. Hayden, Zemke, Disalvo, Attard, Eslick, Peris and Young need to start winning championships. Some, most notably factory riders Spies, Zemke, R. Hayden and Disalvo are already winning races and their second place finishes in the various classes give some hope that a new generation may finally be ready to take over. While I'm happy to see old guys winning not just in the AMA but also showing well in World Superbike (Corser, Haga) and even in motocross and supercross (Larocco, Dowd) I do think it is a sign that the young guys aren't working hard enough. Lets hope the racers still in their twenties can start sticking it to the vets next year.
Second, I think that Vincent Haskovec's injury is a huge loss for Haskovec, for the AMA and perhaps for the sport. If nothing else, it is a frightening reminder of just how dangerous this sport can be. At its worst, it is a situation where a talented racer has had his life dramatically changed, a series has lost some of its prestige and the sport may have lost some fans. That's bad mojo all around. While Vincent's accident has spurred a renewed interest in making our tracks safer, no end result can justify the impact this has had on his life. Lets hope that the AMA and the tracks make a huge step forward with track safety for next year so no other riders will have to suffer this kind of accident.
So while I offer congratuations to Tommy Hayden (Supersport), Aaron Yates (Superstock) and Miguel Duhamel (Formula Extreme) for their championships, I want to close by sending out my thoughts to Vincent Haskovec for the price he ultimately paid in providing the entertainment that AMA road racing offered in '05.
[image from the Kawasaki web site.]